Posted:
May 17th, 2017 |
1 Comment »
WEDNESDAY, MAY 17, 2017. Toronto, Ontario.  This coming Monday we will celebrate locally what is known here in Ontario (and other Canadian provinces) as Victoria Day.  (In Quebec the same holiday is now more sensibly called  Journée nationale des patriotes.)
The holiday is nowadays defined as "the last Monday preceding May 25." And this entrenches its status as part of the present-day Canadian people's first long weekend of the summer season. It is nicely timed for opening cottages at the lake, getting serious about gardening in your yard, or just lounging around your urban apartment (condo), mentally preparing for the brief burst of treasured hot weather in June (if we're lucky), July, and August.
Historically, the holiday was first celebrated in 1845 in the old United Province of Canada (ie modern Ontario and Quebec, somewhat organized as one province in partial response to the Lower and Upper Canadian rebellions of 1837–38).
Then and for many years after Victoria Day was celebrated on the actual day of May 24 — which was in fact the actual birthday of Queen Victoria, Queen of the United Kingdom, 1837–1901, Empress of India, 1876–1901, and first head of state of the Canadian confederation that will be 150 years old this coming July 1, 2017.
You might wonder why a holiday dedicated to the birthday of a Queen who lived across the ocean in another country, and has now been dead for 116 years, would still be celebrated in the diverse and almost grown-up Canada of today. A school-child's rhyme that people my advanced age learned at their mothers' knees might give the best answer : "The 24th of May / Is the Queen's birthday / And if they don't give us a holiday / We'll all quit school."
In the Toronto of the early 21st century the Victoria Day weekend has also acquired some sparse notoriety as a time when "Canadian republicans" who want to see the end of the British monarchy in Canada (and are nothing at all like "American Republicans") come out to advance their argument on a (hopefully) sunny holiday afternoon.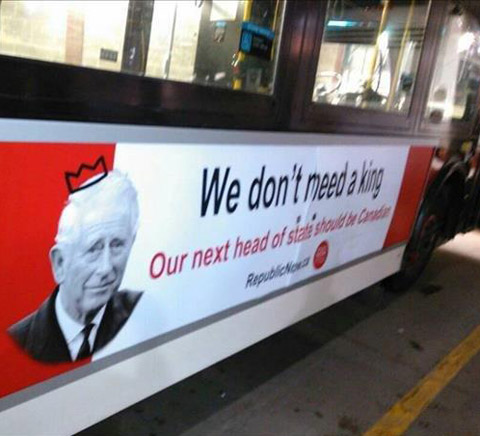 This will remind at least a few of us as well that two nights before last showed how "King Charles III airs after sudden death of actor Tim Pigott-Smith … Recording of Tony-nominated performance airs Sunday on PBS."  (Our local PBS station in Toronto is "WNED Buffalo.Toronto.")
And this TV show then reminded me of the new "We don't need a king bus ads in Toronto," that the counterweights editors noted just a week or so ago : "Next to a somewhat bemused photo of next-in-line Prince Charles, the ads proclaim : 'We don't need a king — Our next head of state should be Canadian.'"