In Crazy Town 2014, have you had any third, fourth, or fifth thoughts about Rob Ford yet ????
Feb 4th, 2014 | By
L. Frank Bunting
| Category:
In Brief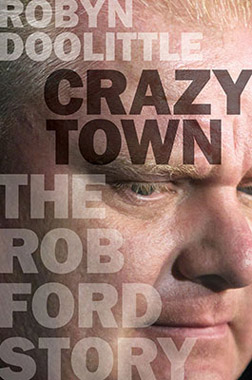 I suppose you just can't keep a good man down.  In any case here on the northwest shore of the former Lake Iroquois we have just lived through yet another "week of Rob Ford gong shows, from alleged beating to jaywalking."
(And, as a sign of just what's so new and almost intoxicating in all this, note that the jaywalking actually took place in Greater Vancouver, on Canada's Pacific Coast. Or more exactly : "Sorry, Rob Ford: Pedestrian safety is important in Coquitlam … Coquitlam Mayor Richard Stewart speaks out after the Toronto mayor was ticketed for jaywalking.")
Now, as the new week began, we were also treated to the much anticipated release of Toronto Star reporter Robin Doolittle's new book, Crazy Town : The Rob Ford Story.
As the CTV website reports on Ms Doolittle's work : "The Toronto Star reporter's book focuses on Rob Ford's ascent from the fringes of city council to his election as mayor, and the allegations of substance abuse that have come to overshadow his political accomplishments … As one of just three journalists who have seen a video of Rob Ford smoking what appears to be a crack pipe, she's uniquely qualified to write the story."
Ho hum, you might say. And this is always my first and second reaction to all news about Mayor Ford (and/or his brother Doug, etc). I am, however, coming to my current contemplation of the latest Fordist adventures through this past Friday's Episode 305 of "Real Time With Bill Maher" – with John Ridley and Stephen Merchant as guests, and a panel that included new MSNBC Host Ronan Farrow, California Republican Congressman Darrell Issa, and new Liberal member of the Canadian Parliament, Chrystia Freeland.
At one point in the panel debate Bill Maher noted the current terrible trio of Canadian troublemakers south and north of what used to be the undefended border – Justin Beiber, Ted Cruz, and Rob Ford. And he asked Ms. Freeland to explain just what was going on in the former little Mr and Mrs Perfect Canada. Why was it now spawning such troubled souls?
While quite rightly disclaiming all responsibility for Ted Cruz (who left Canada as a child), Chrystia Freeland came up with what I thought was a pretty good answer, presented in a clever and apparently effective way. The key thing is, she said (more or less), that Canada is suddenly getting more interesting. But she posed her point almost as a question. What did Mr. Maher and his panel think? Was that a good answer? Is Canada really getting more interesting?
Bill Maher seemed to think so. He suggested that maybe he should start visiting Canada  more often, now that it was getting more interesting – with strange characters like Justin Beiber and Rob Ford (and, yeah ok, if you're really going to visit more often, even Ted Cruz as an infant in Alberta, 0 to 4 years old).

1. Some new mythology of Canada as an interesting place in North America has at least begun?

A number of real (and pretend) deep thinkers, with experience in both the United States and Canada, have taken recent stabs at elaborating on the view Chrystia Freeland was shopping around on Episode 305 of Real Time With Bill Maher.
On the last day of this past October my colleague Dominic Berry was explaining that: "Like it or not, there is a real Ford nation. The mayor of Canada's current biggest city speaks in a voice that more than a few of we-the-people who usually feel left out of public life identify with …In a city as resolutely multicultural as early 21st century Toronto, more than a few of those who identify with Mayor Ford are also non-anglo and non-white …"
Just this past November on this website Randall White was similarly trying to explain how "Rob Ford's strange comedy has become a story about how Toronto is changing .. and maybe Canada too?"Â  And Dr. White was pointing to a November 5, 2013 piece in the New York Times – "Toronto's Hot Mess … What Mayor Rob Ford Knows About Toronto" – by Stephen Marche, a Canadian writer who does a monthly column for Esquire magazine.
Mr. Marche had interestingly explained how : "Mr. Ford is a populist, no doubt, but his popularity is real. He captures, better than anyone, the deep currents of outsider rage against the city's institutions …
"Mr. Ford's support exists principally in the immigrant-heavy neighborhoods on the outer edges of the city, and he has built his support on the basis of their alienation. He speaks the language of thrift and outsider status to the powers that be – City Hall and the media …
"The old Toronto is fading, the Toronto with responsible, bland civil servants who were invisibly effective, the city of the purse-lipped women who quietly judge, the city of The Globe and Mail and the worship of boredom, the city with the question from the old Alice Munro story always on its lips: Who do you think you are? Toronto the bland is going, if it isn't already gone. It had dignity. Give it that …
"Toronto is the city of Rob Ford now, an expanding hot mess, fueled by dark secrets, inarticulate desires and inchoate fury. Overcoming nearly 200 years of sensible decisions and ingrained humility, Toronto is starting to get interesting. It has become a city making a spectacle of itself."
2. Does Gary Shteyngart who lives in Brooklyn really know anything about Canada?

The latest and/or most up to date variation on the theme seems to appear in a Canadian Press piece by Victoria Ahearn, which I found on the Calgary Herald website, February 3, 2014. It's called "Author Gary Shteyngart says Rob Ford may help diversify state of CanLit."
Mmmmmmmmmmm, you may well say. Especially when you remember that "Gary Shteyngart (born Igor Semyonovich Shteyngart; July 5, 1972) is an American writer born in Leningrad, USSR. Much of his work is satirical and relies on the invention of elaborately fictitious yet somehow familiar places and times."
And then you may also remember that Gary Shteyngart, who moved to the USA when he was seven years old and now lives in Brooklyn, NY, got himself into trouble in Canada not too long ago, when he made some critical remarks about the (frequently alleged) Canadian public culture of government grants to authors, publishers, and much else that moves. (And what real Canadian author etc is going to complain about that, even if it does barely exist, at best.)
Shteyngart nonetheless has some very tidy things about the changing scene in Toronto (and maybe Canada too?). They are summarized  in  Victoria Ahearn's February 3 piece about diversifying the current state of CanLit .
In a nutshell (so to speak) Shteyngart says : "I think Rob Ford will give Canada licence to do something else … Because now literature – the idea of this sort of perfect country, which is how many people see it, where everything just hums along smoothly and people are polite – you've got Rob Ford and that raises the bar, and I think literature has to meet that bar in some way … Because now we know that there's a craziness underneath it all that exceeds any insanity that we have in our craziest states – in Jersey, Alabama. I mean, this is beyond crazy. This is so crazy that, as a satirist who invents countries like Absurdistan, I could have never invented this. And this is here in Toronto. It's spectacular. Congratulations."Â  (Italics mine.)
I think it's a good idea myself to promote the image of Toronto (and maybe even all of Canada, and especially Vancouver?) as some freshly interesting place. (It's just good business!)
And I admired the un-presumptuous, consultative, and very old-style Canadian way Chrystia Freeland was running the idea up the flagpole last Friday night, on "Real Time With Bill Maher." (How refreshing it would be to have a cabinet in Ottawa with ministers like her.)
If Rob Ford has had something to do with all this (and he probably has, somehow), he should get credit where it's due. And, between now and October 2014,  I think the forces of progress I like to support myself in Toronto city politics ought to be sending recurrent diplomatic missions of friendship to the various amalgamated-city lands of the Ford Nation.
But I do not think anything Rob Ford has or has not done means that he should be re-elected for a second term as mayor of Toronto. And I'm not going to vote for him.
To me there are still too many things about our situation today he does not understand. And I'm reminded of this every time I see  the increasingly run-down and unrepaired streets in my neighbourhood. We seem to learn so little from history, perhaps because we know less and less about it, as the increasing sheer volume of the data on the present and future overwhelms us. But, as best as I can tell, starving the public sector has never been a successful recipe for reviving economic growth. And that just plain wrong proposition does seem to be what Mayor Ford finally believes in.