RIP Charles Roach : "Emancipate yourselves from mental slavery ; none but ourselves can free our minds"
Oct 4th, 2012 | By
Randall White
| Category:
In Brief
For all our vast technical progress over the past few centuries, we mere human beings still don't seem to know much more about the vast mysteries of death than our ancestors several thousand years ago.  And perhaps it is true enough – in some profoundly mysterious way – that certain kinds of people more or less die together.
Yesterday morning on the world wide web I accidentally stumbled across a reference to "Eric Hobsbawm, the brilliant Marxist British historian, who died Monday at the age of ninety-five." In what almost (if nonetheless quite mistakenly) seemed part of some near-divine design, the encounter came while I was still pondering the sad but not unexpected news that "Veteran Toronto civil rights lawyer Charles Roach dies at 79."
So far as I know, Charles Roach, who spent most of his adult life in Toronto, Canada, never actually met Eric Hobsbawm, who lived in London, England (and sometimes taught in New York, NY). And I don't know that Charles Roach can be properly described as a "Marxist" – in even the very loose and strictly pejorative sense in which people like Jon Voight (or even Clint Eastwood?) appear to use the term. But I think it is at least close to some important truth to say that Mr. Roach was the kind of person Mr. Hobsbawm wrote about in such books as Uncommon People: Resistance, Rebellion,  and Jazz.
Obituaries in the mass media and other similar fare have sketched the life and times of Charles (aka Charlie) Roach. He was born the son of a trade union organizer in Belmont, Trinidad and Tobago, on September 18, 1933. His mother was "instrumental in his spiritual development. The family began as Protestant Anglicans, and through her influence, eventually became Roman Catholic." In 1955 her son Charles arrived in Canada, to study for a religious vocation at the University of Saskatchewan. Inspired instead by the rising American civil rights movement, he went on to study law in Toronto, where he was called to the bar in 1963.
Caribana and the Black Action Defence Committee

Charles Roach was both a creation and a creator of his time and place – and particularly of the new home he made in Toronto. He worked as a staff lawyer for the City of Toronto for several years, and then established his own private sector law practice in the city in 1968.
By the late 1960s the Caribbean or West Indian community in late 20th century Toronto (of largely African descent) had begun to put down serious roots. Charles Roach became one of its most fearless and popular leaders.
His leadership went beyond narrow conceptions of civil rights: "After law school, Charlie owned and operated a club called Little Trinidad." In 1967 (also Canada's 100th birthday) he was a key founder of what has become Toronto's annual Caribana festival, now known as the Scotiabank Caribbean Carnival – and "the largest cultural festival of its kind in North America."
Then, for two decades his life focused on local political struggles. To quote directly from the Toronto Star obituary: " In the 1970s, Roach fought for people seeking refugee status, as well as the rights of migrant workers … When Buddy Evans, 24, was shot dead by a police officer in 1978 during a brawl at a Toronto disco – an event that led to an 11-week inquest – it mobilized the black community. The government responded by creating a civilian complaints commission pilot project in the 1980s … During that time, Roach co-founded the Black Action Defence Committee with Dudley Laws, Sherona Hall and Lennox Farrell. Questioning whether police were able to properly police themselves, the group fought for civilian control of policing. In 1990, the Special Investigations Unit (SIU) was launched to investigate civilian deaths and injuries involving police officers."
Charter challenges to the British monarchy in the Canadian citizenship oath

By the 1990s Charles Roach's concerns had broadened to take in an issue that affected the wider  community in his adopted country at large, from coast to coast to coast. At question here over the longer term was the future of the British monarchy in Canada. But Charles's most particular focus, which has now continued until his death, was on the legislative requirement that new Canadian citizens must "swear that I will be faithful and bear true allegiance to Her Majesty Queen Elizabeth the Second, Queen of Canada, Her Heirs and Successors …"
Charles himself, despite having become a very active and impressive Canadian, never formally became a Canadian citizen because of his principled objections to this mandatory monarchist oath of allegiance. His friend and fellow civil rights lawyer Peter Rosenthal has nicely summarized this side of Charles's legal career – for a Canadian Press obituary by Andy Blatchford, "Man who fought the monarchy oath dies without becoming a Canadian."
I quote from this obituary, as it appears on the website of the Calgary Herald : "Rosenthal said Roach's desire to become a Canadian citizen was extremely important to him, but his conscience wouldn't allow him to swear allegiance to the Queen … Roach had fought to change the country's citizenship requirements to allow people to swear an oath to Canada instead of the throne, which he said represented a legacy of oppression, imperialism and racism … Roach, who said he believed there were many other residents of Canada like him, initiated the first of several court challenges to remove the royal reference from the oath in the 1990s … He wanted Canada to follow Australia, a Commonwealth country that amended its citizenship oath in the 1990s by replacing its promise to the monarchy with a pledge of loyalty to 'Australia and its people.'"
Charles lost his first Charter challenge to the monarchist citizenship oath by a 2-1 decision in the 1990s (largely, some non-lawyers might somewhat heretically think, because the justices on the majority side had not actually read the Constitution Act, 1867 for many years). He had better luck with a fresh action that began in 2007 and then proceeded in a revised form this past spring of 2012. The Canadian Press obituary goes on: "His latest legal battle will continue after his death because there are other applicants, said Rosenthal, who will argue the case before the Ontario Superior Court … The next court date is July … Rosenthal will argue that the citizenship oath violates freedom of conscience and equality rights under the Charter of Rights and Freedoms."
Charles Roach as pioneer Canadian republican

In the 1990s as well Charles Roach's particular concerns about the British monarchy allusions in the Canadian citizenship oath led him into his final avocational career. He became a path-breaking pioneer in what has become at least the beginnings of an active Canadian republican movement, whose ultimate goal is to retire the British monarchy in Canada, in the ultimate interests of the "free and democratic society" alluded to in the Constitution Act, 1982 (also home of the Canadian Charter of Rights and Freedoms).
Charles Roach's career as a Canadian republican pioneer began with a Toronto organization he founded in the 1990s known as the Alliance for a Canadian Republic. In the early years of the  21st century this gradually folded into the broader Citizens for a Canadian Republic, in which Charles Roach continued to play an important role. He was most recently a guiding light in a related new Toronto-based ginger group known as Republic Now.
Throughout all these organizational permutations and combinations, the Toronto law offices of Roach Schwartz & Associates on St. Clair Avenue West, at the top of Christie Street (and above the World Class Bakers coffee shop) became a kind of unofficial head office for local republican action. Charles Roach was a courtly and genial host, who frequently provided refreshments from the World Class Bakers, at his own expense.
Non-partisan "street level" political agitation was one great North American legacy of the civil rights movement of the 1950s and 1960s. Beyond court cases, it was also Charles Roach's main approach to Canadian republican action. As a practitioner of this (usually) gentle art and craft he had his share of human flaws, like everyone else. But he had a remarkable energy and determination to make things happen. He was unusually broad-minded. And while not without his necessary steely edges from time to time, he was (unusually again, some might say, for anyone involved in any kind of real-world politics) very encouraging, fair, and generous in his human dealings. It is these last qualities, I think, that account for the warm feelings about him entertained by so many of his many friends and supporters.
Charles Roach as artist, musician, poet, and spiritual being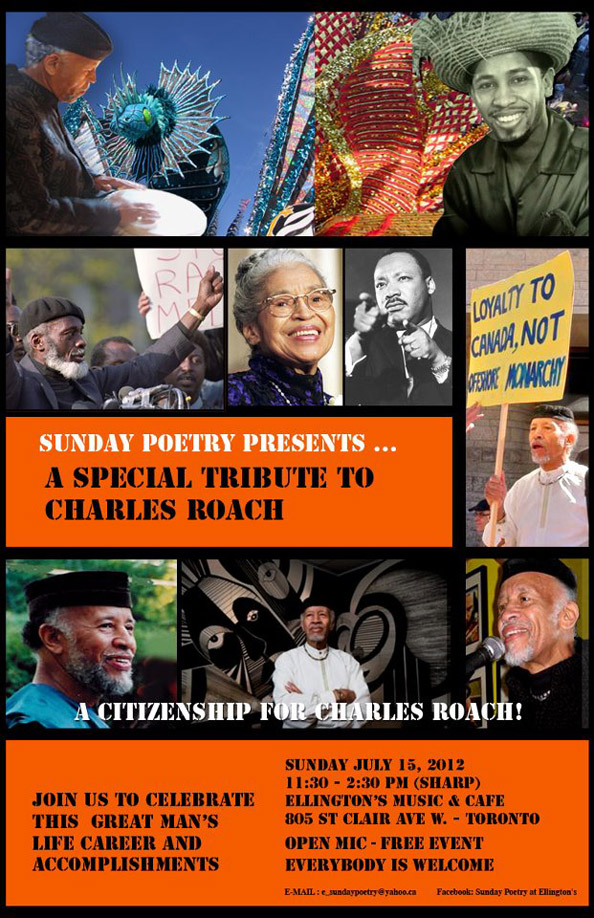 When news of Charles's unhappy death surfaced yesterday, the Trinity–Spadina Toronto MP Olivia Chow tweeted "Charles Roach: a global citizen, a civil rights advocate, a warrior for justice, pride, human rights. Lover of arts. We miss you. RIP."
It is very apt, I think, that she included "Lover of arts." Along with all his other accomplishments, Charles Roach was an artist or painter (often under the name "Mende"?), and a poet – and a musician.
I attended a few exhibitions of his paintings at his law office on St. Clair West. Some of them were apparently generated with the help of a computer. (Charles was careful to keep up with the latest technology.) They were quite intriguing.
At one of these exhibitions, Charles also had a ring binder of his poems set out on a table. I spent some time leafing through them. I seem to particularly remember one about "multicultural woman in Toronto" or some such thing. I especially liked it. I hope that at some point someone will make his poems more widely available.
We Canadian republicans in the Greater Toronto region and not too far beyond will remember as well that Charles Roach has bequeathed our still too fledgling movement a song. Its lyrics go "Rise up, rise up O Canada /It's about time." (A somewhat shaky performance of the song, by a Charles Roach already besieged by the brain cancer that would kill him all too soon, can be seen at minutes 28:50 to 29:40 of the Agnes Cseke video on You Tube, "Vigil for Lount & Matthews – April 12, 2012,")
I have known myself of Charles Roach's reputation for many years. I first came to know him personally, a little, about 10 years ago, in connection with his Canadian republican activity. Like others, I was shocked to hear about his brain cancer this past spring. He had always seemed to me a man of iron, who would go on forever, despite his advancing age.
One of the last times I heard Charles Roach speak in public was in the middle of this past summer, at a place called Ellington's Music and Café on St. Clair Avenue West. The event was hosted by a Sunday Poetry group he had belonged to, in special tribute to him.
At first the word was that he was too ill to attend his own tribute. But, in his man of iron style, he finally did show up, about half way through the event. And her talked for some time, already knowing of course that he did not  have all that much longer to live.
One thing he said that has stuck in my mind was how much he liked Canada, and especially how much he liked Toronto – and especially what Toronto has become in the past half century. I have been around all that time too. And I think he is right. Toronto is a better and more interesting city now than it used to be – and that is partly because of Charles Roach himself (and others like him too, as he would be the first to stress).
I can remember Charles once saying that at least certain kinds of church or religious groups had interesting things in common with the republican cause in Canada. I did and still do not quite see exactly what he meant. But once people start getting involved, it does seem that the republican cause in Canada has quite a few different dimensions. People agree that the colonial or imperial symbolism of the British monarchy ought to be retired, but for many different reasons.
I similarly acquired a strong sense over the past several years that Charles Roach had some strong religious convictions. He grew away from the religious vocation that originally took him from Trinidad to the University of Saskatchewan. But something of what he took from his mother's religious convictions seems to have hung on. It is an agreeable thought, to me at any rate, that these convictions helped him navigate his last days with his customary strength of character.
In any case, he was a remarkable man, and a great Canadian pioneer of his generation. In the midst of my sadness about his death I am at least happy that I knew him at least a little. I hope he finally wins his continuing court case on the Canadian citizenship oath. And I hope he inspires we Canadian republicans to rise up higher, and enlarge the beginnings of a movement he and others have now bequeathed. Because, as he said in his song, it certainly is about time.
"Emancipate yourselves from mental slavery ; none but ourselves can free our minds" in the title here is from the Bob Marley song "Redemption." Charles Roach alluded to the passage in a recent article on him by Fiona Raye Clarke.