Is Toronto Raptors' first outside-US championship 2019 just the start of a new NBA in the global village?
Jun 14th, 2019 | By
Counterweights Editors
| Category:
Sporting Life
"GREATER ONTARIO". FRIDAY, JUNE 14, 2019. As rarely enough in Toronto these days, there is sun in the sky (along with intermittent foreboding clouds for tomorrow). According to our latest reports from the streets, it's almost warmer than lately too.
It is impossible not to be affected in some happy way as well by the great news that finally, after so much extended game-end agony, even with mere seconds to go on the official clock, the Toronto Raptors (We the North) became 2019 National Basketball Association champions, for the first time in their 24-year history.
It was, to start with, the Six in Six. And close to all residents of the local city region today feel some elemental joy, beyond all foolish attempts at written description.
And then, with all due allowances to local exaggeration on this front, "We the North" was also "Canada's team." As Kyle Lowry from Cardinal Dougherty High School in Philadelphia nicely explained, when asked about a message for the fans : "We brought it home baby. O Canada." (And then in Toronto proper or Whitby or Barrie or Mississauga or Oakville on TV we could see the local Jurassic Parks and related celebrations in such places as Halifax and Regina or even Montreal and Vancouver. It is impossible not to be locally happy about that too!)
Then again for sympathetic observers beyond Canada, the ultimate Toronto Raptor fan base is in the much larger global village. According to the Associated Press in the USA : "A global NBA now has a truly global champion."As viewed by the Guardian in the UK : "'It means the world': Toronto Raptors win first NBA title after beating Warriors."
The AP piece (by Tim Reynolds) also explains how the global, Canadian, and local themes finally tie together. It points to former NBA veteran Jamaal Magloire, who "has been on the [Raptors'] staff since his playing days ended" and "is a Toronto native." As Magloire "said as he watched champagne spray all over the locker room .. 'Canada and Toronto especially are very diverse places. And this team, all the diversity that we have, it served us well'."
From where we sit as (in a few cases at least) other Toronto natives, it is finally impossible not to be happy about the various good ways in which showing support for the We the North Raptors has helped (and will continue to help) all we diverse Canadians of 2019 express the shared enthusiasm and solidarity we feel for our community life in challenging times.
Mr. Reynolds's AP piece notes as well that : "At NBA headquarters in New York, they truly didn't care who won the series … That doesn't mean they don't realize the Raptors' title is a good thing for the league's future."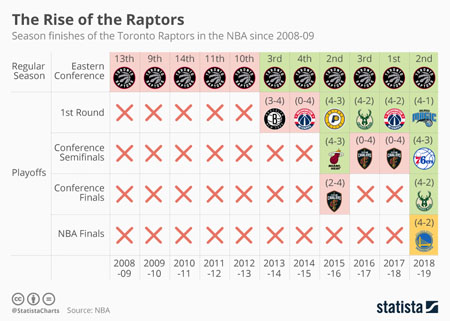 The NBA in the United States, that is to say, is ultimately going global. And the Toronto Raptors in Canada who have become 2019 NBA champions are just a step in this long-term direction. All of which can have some crazy echoes in a city which once described the late 1920s new headquarters of its Canadian Bank of Commerce as "the tallest building in the British empire" (on which the sun, as they used to say, never dared to set). History, in the words of the T.S.Eliot who grew up in St. Louis, Missouri and died in London, England, "has many cunning passages."
PS : For something completely different try "Democracy is what finally makes America great (& Canada too etc, etc)," on our reviving companion "music and the arts" site, birdhop – named in honour of the great master of modern jazz, Charles Parker Jr., born in Kansas City 1920 and died in New York City 1955. (If he were alive today, we think he'd be a Raptors' fan too.)