Blue Jays 2018 : Stocked with talent and caveats, they could be either contenders or pretenders .. or just a team in limbo
Mar 29th, 2018 | By
Rob Sparrow
| Category:
Sporting Life
From the outset of 2017 something was amiss. The day before the first full-squad workout in the spring, all-star Josh Donaldson suffered a tear in his right calf and did not find his stride until late July.
Then Canadian Blue Jay prospect Dalton Pompey suffered a concussion at the World Baseball Classic and spent the entire year on the disabled list. Later in March, Roberto Osuna and Francisco Liriano suffered neck and back injuries that left them chasing full strength on the mound to begin the season.
Next, and most crushing, Aaron Sanchez developed a blister far bigger than any previous one on his pitching hand and spent the whole year in search of a solution.
Then the bell rang, and the team with the oldest players in the majors limped out to a 1-9 start from which they never recovered.  Doomed before they'd even cracked the roof at the Rogers Centre for the summer.
The losses continued to pile up for the underperforming Blue Jays, who were mired in last place in the American League East for every single day of the season, save the last when the Jays handed the basement over to the equally woeful Baltimore Orioles.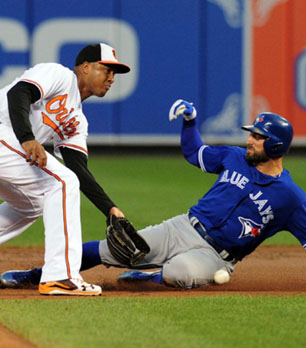 Then somehow, the Blue Jays extended their losing streak beyond the baseball season and into the offseason with the widespread purging of 20 back-office employees by CEO Mark Shapiro in October.
Good people at their jobs were let go. Reasons were not really given. Explanations were not provided.  On the surface, the moves came across as petty, even mean-spirited, as in the case of visiting clubhouse manager Lenny Frejlich, one of the few charter employees with the club.
Shapiro and GM Ross Atkins came to the Jays from Cleveland following the 2015 season and have been accused by many observers of wanting to mould the clubhouse in their own image, bringing in cronies and getting rid of as many old -guard employees as possible.
They fired a bunch of long-serving back-office people, none of whom actually made baseball decisions or were tasked to hit home runs, for no particularly good reason other than they could do it. Or maybe it's got something to do with "culture"–  a word that these days gets thrown around so often by this management team to explain away bad decisions that it's beginning to sound Orwellian.
The offseason also saw the loss of long-time Blue Jay favourite Jose Bautista, whose contract was non-tendered by management after a less than spectacular 2017 in which he hit .203. He will be remembered for thrilling Blue Jay fans for over 10 years in which they serenaded him with "Jose!…Jose!..Jose!", highlighted by 54 HRs in 2010 and one memorable bat flip in the magical 2015 season.  A place will be made for him one day on the Blue Jay Level of Excellence.
Further losses to the team included one broadcaster (Gregg Zaun) getting swept up in the #MeToo tsunami for his "inappropriate behaviour and comments," and also to long-time radio broadcaster Jerry Howarth, who after 36 years of being the voice of summer for the Blue Jays, retired before the start of spring training due to ongoing health concerns.
But perhaps the greatest loss of the offseason occurred on Nov 7 th, 2017 when former Blue Jay great Roy Halladay perished after crashing his plane in the Gulf of Mexico …
Roy Halladay, Blue Jay Legend …

Few players have meant as much to Blue Jays fans as Roy Halladay.  During his dozen years with Toronto, the 40 year-old native of Denver posted a 148-76 record in 313 games, pitching a total of 2,046 2/3 innings and 49 complete games for the team, the most in baseball during that period. Halladay was the genuine article: a gentle, charitable soul with the most aggressive, attacking pitching style you could ever find.
At his peak during the 2000s, nobody was better. So driven was Halladay that he had one goal every year, to finish with fewer walks than games started. He actually did it three times (2003, 2005, 2010), including twice while striking out more than 200 batters. Halladay and Cy Young are the only pitchers ever to combine precision and power quite like that.
Halladay changed pitching during the aughts. His boring cutters and sinkers, two pitches that appeared the same to the hitter, except that one would break late to the left and one to the right, became a new pitching template. Many pitchers copied his style. Nobody was as expert at it as Halladay.
The sad truth of Halladay's Blue Jays career, of course, is that not a single one of those starts truly mattered; the Jays were never in a real playoff chase, never in the post-season. Halladay went 18-6 against the Yankees for Toronto, with a 2.84 ERA. It didn't matter in the big picture, but if you loved the Blue Jays despite everything, it probably mattered to you. Nobody will remember those teams in the early 2000s fondly, if at all. But they'll remember Doc.
Roy loved Toronto and Blue Jays fans, in the stadium, around the city and across the country. He loved them for the way they respected his privacy when he was out in public with his family. He loved them for the reaction to his huge charitable contributions led by Doc's Box, with the Hospital for Sick Kids.  Many of those stricken families stayed in touch with the Halladay's when they headed south.
Halladay would go on to pitch for the Phillies from 2010-2013, amassing another Cy Young award in 2010 while pitching only the twentieth perfect game in Major League Baseball history.  He would also go on to pitch the first post-season no-hitter since 1956; yet his goal of pitching in the World Series would sadly elude him.
Upon leaving the Phillies in 2013, he signed a one-day contract with Toronto so that he could retire with the club that gave him his chance.  "Honestly it wasn't so much a decision, it's kind of the way that I looked at myself, that's just how I considered myself," he said. "I always felt like I was a Blue Jay, I just felt that I had this unique opportunity for a couple years to have a chance to chase a dream with the Phillies. But I felt my roots, and everything else, and everything I had become and everybody that helped me become that were all in Toronto. So it wasn't like I had to sit down and make a decision. It was honestly the way I thought of myself."
To that end, the eight-time all-star and two time Cy Young award winner will become just the second player in Blue Jay history to have his uniform number retired.  The team, which will wear Halladay-inspired No. 32 patches on their uniforms this year, will celebrate his life and storied career during the pre-game ceremony when the club hosts the New York Yankees in the home opener on March 29th.  A most certain Hall of Famer and Blue Jays legend, gone too soon …
A Most Confounding team…

The Toronto Blue Jays head into their third season under president and CEO Mark Shapiro on unsteady ground.  Perhaps more so than any other team in the major leagues in 2018, the Blue Jays are its most confounding team.  Posing the question; will the Blue Jays contend or continue to regress further gutting the team that went to the post-season in both 2015 & 16.
The Jays are seeking to rebound from a 76-86 finish in the AL East, where both its main rivals the New York Yankees and Boston Red Sox are loaded and improved. Franchise cornerstone Josh Donaldson is a pending free agent after off-season extension talks didn't come to fruition and is most likely in his final year with the team. Top prospects Vladimir Guerrero Jr., and Bo Bichette need more time to develop in an improving farm system that is not quite ready to help the big-league team. The club's veteran roster is stocked with both talent and caveats, which is why, in equal measure, they could be either contenders or pretenders.
This then is somewhat of a team in limbo, your classic middle-of-the-road team, which is the worst place to be these days when your position on the win curve drives everything.  Since arriving here, Shapiro and Atkins have preached youth and done the opposite thing. They've talked about building up depth in the minor-league system, which is still a desert. They've made no substantive new roster commitments to a team that had just recently made the postseason two years running. Quite the opposite, whenever possible, they've let the most expensive high-end talent leave such as Edwin Encarnacion in 2016 and Jose in 2017. And now they're poised to let Donaldson walk in 2018.
Shapiro has done two full tear-down rebuilds during his tenure in Cleveland. He calls those times the "blank-stare period."Â  "You believe in what you're doing, but everybody around you gives you the blank stare."Â  He further went on to say the real impediment to fixing the Blue Jays is their customers.  "I've said all along, if we were just running our team without fans and it was an intellectual exercise, we would've hit a reset over a year ago".  Thus, after two years of holding course, Shapiro's team may not yet be in that reset territory, but the Jays wagon train is headed there.
That will enrage some people. This sort of course, the middle way, the maybe-things-will-turn-out way led the Jays into two uninterrupted decades of mediocrity.  But the Jays are somewhat stuck in this model for financial reasons.  Though a loser last year, Toronto still drew substantial crowds (over 3.2 million fans was most in the American League) and still had healthy TV numbers (averaging in the neighbourhood of 800,000 viewers a game). The club knows from experience that support and interest will evaporate if the team is publicly seen to be giving up. So waving the white flag is a non-starter from ownership's perspective.
At some point, the Jays will have to jump from "win right now" to whatever's coming next. If so it's going to be a considerable distance –  perhaps a couple of depressingly mediocre years at the very least. But no one in the Jays corner suites is ever going to say the word "rebuild" in front of a microphone. There are many millions of reasons not to.
Early projections this spring have them contending for a wild-card spot, but with injuries already impacting Troy Tulowitzki, Josh Donaldson, and Marcus Stroman, it's a reminder of how reliant they'll be on good health. The first month or two of the season could be telling for Toronto. With several tradable assets, particularly on the pitching staff, "rebuild" could quickly become the defacto plan.
Here then are some keys to the coming season…
Five Burning Questions approaching the season …

(1) How are the Blue Jays going to score with the big guns in the AL?

Perhaps the most vexing question is how precipitous the fall was from the heights of 2015 when Toronto was an offensive powerhouse and led the league in most hitting categories.  Last year the Blue Jay offence was dead last in the American League scoring only 693 runs despite playing in a hitter-friendly park. And this was compounded  further by letting runs- scored leader Jose Bautista (93) walk in the offseason.
For years, the Blue Jays, sporting an older slower lineup placed an predominate and increasing emphasis on the home run to produce runs.  This was somewhat exposed last year as the homers dried up and their station-to-station approach, along with the lack of clutch hitting with runners in scoring position, left them struggling to put crooked numbers up on the scoreboard.
It's likely to be better than last year, it can't be worse.  The Jays traded for Randal Grichuk to replace Jose Bautista in right field, and acquired infielders Yangervis Solarte and Aledmys Diaz to replace the light-hitting duo of Ryan Goins and Darwin Barney.  The Jays will also look to a rejuvenated and healthy Devon Travis to be a spark plug at the top of the order and play a greater role in generating offense.
With all that said, the lineup looks to be a shell of its former self, populated with aging veteran players (Troy Tulowitzki, Kendrys Morales, Russell Martin, Curtis Granderson) who all have seen better days and look to be on the decline.  Is it enough going to be enough in the AL East with the stacked Yankees and Red Sox?  Probably not, which will put further pressure on the pitching and defence to keep them in games.
(2) The Starting Arms will have to carry them this year?

After leading the American League with an ERA of 3.78 in 2016, the Jays pitching staff slipped to seventh last season as their collective ERA ballooned to 4.42.  Much of the fall stemmed from the starters, who were dogged by injuries for much of the year (the Jays had to use a club-record 14 starters), and a bullpen that ended up throwing a team-record 596.2 innings, the most in the major leagues.
With his on and off again finger woes, Aaron Sanchez was shut down for good with a meagre season total of 36 innings pitched. J.A. Happ missed more than a month with elbow problems and was limited to 145 innings, and Marco Estrada wasn't himself for much of the dog days of summer.
The good news is that the rotation appears to be much healthier this spring.  The only issue was Marcus Stroman who was temporarily eased into spring training because of shoulder inflammation, but who is slated to begin the season with the ballclub.  For additional insurance, the Jays also added former Yankee Jaime Garcia late in the spring to be their fifth starter.
"I don't think it's a stretch at all," said GM Ross Atkins when asked if the rotation can lead his team back to respectability. "If you have the Aaron Sanchez of 2016 and the Marcus Stroman of 2017 it could be even better. That would be an incredible outcome and something that I could see happening."Â  Much though will rely on the precarious hand of Aaron Sanchez.
(3) How will Aaron Sanchez's finger hold up?

The 2017 season was supposed to be the year that Aaron Sanchez was finally unleashed from any restrictions on innings or pitch counts and become the ace of the staff. Instead a combination of blister, fingernail, and eventually tendon issues held him to just 36 innings pitched en route to the most frustrating season of his career. He hit the disabled list on four separate occasions and couldn't get past the issues he had with his pitching hand.  Sanchez ended the year 1-3 with a 4.25 ERA, a far cry from a breakout 2016 campaign that saw him lead the AL in ERA (3.00) and win percentage (.882).
Based on everything that the Blue Jays have said, Aaron Sanchez has thrown with none of the blister-related issues this spring.  His fastball has been sharp and he's talked of adjusting his grip in order to avoid blister issues. "The good thing is, I didn't forget how to throw," the 25-year-old California native said with a shrug and a grin. Yet until Sanchez pitches in a regular season game the Blue Jays won't know for sure how his finger responds to high-stress environments. Until he strings together a few starts they won't know whether repetitive strain creates complications.
"If Sanchez stays healthy, he's a key, key part of this team," Jays manager John Gibbons said. "We need him out there. Basically it was a lost season last year and that's never easy at this stage of his career but it also means he has a fresher arm, too."Â   His talent is undeniable, and if he can perform anywhere near the way he did in 2016 then the Blue Jays are very well set up in the rotation, both in 2018 and going forward.
(4) How will the Blue Jays fill out their bullpen?

As mentioned, injuries to the Blue Jay starters left the bullpen taxed through much of last season throwing a team-record 596.2 innings, the most in the big leagues.  This translated into 26 blown saves (including a league leading 10 from Roberto Osuna) that were tied for last in the AL, with an ERA that was eighth in the league.
The Blue Jays almost seemed to be hiding Roberto Osuna last spring in what turned into a year of personal turmoil, becoming a new father and dealing with anxiety issues. "I didn't feel good at all coming into last season," Osuna said. "I did something I probably shouldn't have done in my training. I learned a lot with all the ups and downs, but I think the biggest thing is I learned about my body and how I need to keep it strong."
To that end, the Jays brought in a trio of former late-inning specialists to bolster the pen: Canadian John Axford, South Korean Seung-hwan Oh, and Tyler Clippard. If none of them are needed to take over for Osuna (who looks great this spring), John Gibbons will still have a nice bunch of experienced relievers to mix in wherever needed. The bullpen which continues to evolve as we get closer to opening day could be a strength.
(5) The plight of Josh Donaldson?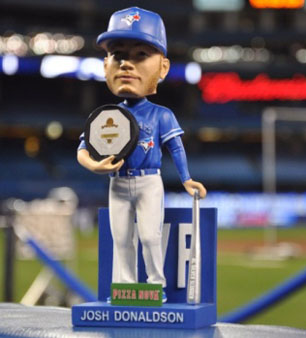 In many ways the plight of Josh Donaldson will be the Blue Jays canary in the coal mine.  In the offseason they signed him to a one-year, $23-million deal for 2018, but did not negotiate a contract beyond this year. Josh Donaldson stated in the spring that the sides do not see "eye to eye" on a long-term deal, and after shutting down contract talks expects to become a free agent next offseason.
Donaldson had made it abundantly clear that he wished to remain a Blue Jay, that he was keen to sign a long-term deal before this season began. "We've already moved past that," he says, and there is resignation in his voice. "We've had conversations about it and I just think that we are not quite there," the former American League MVP said. "Not quite there meaning there's not a deal done and we're just not there. We're not in the same type of area, the same ballpark, to make a discussion to moving forward."
Of all the decisions the Blue Jays make this year, this one might be the biggest. Do they extend their best player, running the risk that they may be buying declining years, or let him walk, knowing that MVP players of this calibre and this skilled are extremely difficult to acquire?
This places a huge emphasis on the early season success.  If the Blue Jays start out poorly once again, he could become the first domino that falls either before or at the summer trade deadline.  And this could signal that the team is changing course and will be primed to unload other veteran players, turning the page in order to rebuild with younger players and the next generation of Blue Jays.
Outlook for 2018

The Blue Jays hope to bounce back in 2018 from their first losing season in four years with a core of the team that returns pretty much intact from a year ago.  Even with dramatically improved depth and health, though, for the Blue Jays to eke one last playoff push out of their current competitive window, they have to get off to a strong start – something they've consistently failed to do in recent years. Over the past five seasons, the Blue Jays have managed a ghastly 52-74 record (.413) in April, and their early-season woes reached a nadir last year when they dropped 11 of their first 13 games and didn't come within 4 1/2 games of first place in the division after April 12.
As mentioned, if they aren't within striking distance at the All-Star break, the Blue Jays will likely look to unload their expiring assets ahead of the non-waiver trade deadline, namely Donaldson, J.A. Happ, and Marco Estrada – each of whom will be free agents next winter – and possibly even players who remain under team control through 2019, such as Kendrys Morales, Justin Smoak and Jaime Garcia.
The main division rivals Yankees and Red Sox are stacked, of course, and the AL East looks like it's back to the "Big Two, Little Three" model we saw back in the early-to-mid 2000s. Yet in the era of two Wild Cards, however, you can finish in third place and still have some October glory. Given their offensive challenges, I think that snagging that second Wild Card may be harder for Toronto than it will be for fellow potential also-rans in Los Angeles, Texas, Seattle or Minnesota. With the starting rotation healthy they have got a puncher's chance at it, but they're gonna need a lot of bats to have renaissance seasons to get back to playing October playoff baseball.
Postscript: All that glitters is not gold down at the place they called the Skydome …

As we get ready for Thursday's sold out home opener, ticket sales for the rest of the series against the New York Yankees are incredibly weak for a divisional rival and games that will see pitching aces Aaron Sanchez (Friday) and Marcus Stroman (Sunday) on the mound, not to mention the next week's series against the Chicago White Sox.
Club president Mark Shapiro is already on record saying that season ticket totals have dropped over 35% from 20,000 to 13,000 for this season and you can bet there will be an indifference among the traditionally strong walkup crowd until it is convinced there is something to buy.  The loyal audience that flocked to the dome during the magical 2015 run, and who have led the league in attendance over the past two years, produced huge revenue for Rogers Communications, much of it based on the good faith that the team would continue to push for playoff contention.
That loyal audience had also put up with an increase in ticket prices for three consecutive seasons and then were asked to pony up yet another for 2018 – as high as 17% in some categories – despite last year's wildly disappointing season. Since the end of last season Shapiro has; raised ticket prices, altered the way in which mini-packages are sold, complained that the stadium isn't financially workable, and said that the Jays can't compete with the Red Sox and Yankees unless there are major renovations done to the Rogers Centre, a building his team happens to own.  Yet as former club president Paul Beeston used to say, "no one really wants to hear about what the Jays can't do".
There will soon be Maple Leafs and Raptors post season runs along with league champion TFC soccer, damaging competition in any market to be sure. But even without hockey, basketball and soccer competing for those sporting dollars, it's a lock that the Jays won't lead the AL in attendance for a third consecutive season.
With the Yankees and Boston Red Sox loading up, and the perception that the Jays brass hasn't done enough to stay with them, don't be surprised if fans sit on their wallets until they see what the Jays have.  In the meantime, a veteran-heavy team that has come to appreciate the big dome crowds of the past few years may be in for a surprise early in the season at the place they once called the Skydome.
Robert Sparrow is a Toronto marketing analyst and noted local authority on the sporting life.