We have still "not yet realized that the Indian and his culture" are fundamental to "Canadian institutions"
Apr 17th, 2016 | By
Counterweights Editors
| Category:
In Brief
According to Susan Delacourt at the Toronto Star, the debate over the "suicide crisis" (aka "mental health crisis") on the Attawapiskat First Nation reserve "sparked a rare outbreak of civility among rival parties this [past] week" in the Canadian House of Commons.
For a while now there has seemed to be a growing consensus among some of the country's various political establishments that the continuing struggles of the aboriginal (aka indigenous) peoples of Canada really do need to be seriously addressed, somehow, at last. (And note that "aboriginal peoples" are the by-far fastest growing demographic group in Canada right now!)
Justin Trudeau's appointment of former BC Regional Chief Jody Wilson-Raybould as Minister of Justice and Attorney General of Canada was one step in this direction. And we share the wider hope Northern Ontario MP Charlie Angus expressed during this past Tuesday night's emergency debate on Attawapiskat : "Tonight might be the beginning of a change in our country."
Strictly as mere voters interested in the future of the country for our grandchildren and so forth, we have just two (vaguely?) related further notes on this 34th anniversary of the Proclamation of the Constitution Act, 1982, by "Queen Elizabeth II and Prime Minister Pierre Elliot Trudeau" on another April 17, a Saturday, in the rain on Parliament Hill in Ottawa :
(1) What we have still not yet realized – When our esteemed colleague Randall White wrote about Jody Wilson-Raybould's appointment last November, he began with :  "According to the legendary Canadian economic historian Harold Innis (born in rural Ontario in 1894, and died in Toronto not long after he was elected first Canadian president of the American Economic Association in 1952) : 'We have not yet realized that the Indian and his culture were fundamental to the growth of Canadian institutions' (The Fur Trade in Canada : An Introduction to Canadian Economic History, 1930)."
We thought again of this crucial historical truth that "we" non-aboriginal Canadians still seem not altogether ready (or prepared) to realize while perusing the "Suicide among Canada's First Nations: Key numbers" posting on the CTV News site earlier this week. For us the short message here is that unusually high First Nations levels of "psychological distress", "lifetime suicide thoughts", "suicide ideation", and "suicide rates" will start to fall, when the rest of us start seriously recognizing that what our Constitution Act, 1982 calls the aboriginal peoples of Canada have in fact been "fundamental to the growth of Canadian institutions" – as "Canada's first and perhaps only genuine intellectual" explained at length, and with much angular charm, 86 years ago.
(Realizing the fundamental importance of "the Indian and his culture" in the story of Canada today is also something that can be done without spending a lot of money. Which, according to CTV's "Question Period" earlier on this April 17, 2016, is more than can be said for what the Supreme Court of Canada has just decided about at least certain definitions of Métis and non-status Indians among the aboriginal peoples of Canada. For another key but difficult ingredient in any sensible and workable ultimate strategy, note this headline from the Aboriginal Peoples Television Network's (APTN) news site : "During suicide debate Justice Minister says it's time for First Nations to shed Indian Act 'shackles'." The Justice Minister, of course, is the same Chief Jody Wilson-Raybould alluded to above. And, as she wisely and bravely urges, getting rid of the current Indian Act, which goes back to 1876, is another challenging point of departure.)
(2) More from Children of the Global Village – All this is also just one of several still current Canadian public policy issues covered in the latest installment of Randall White's work-in-progress, Children of the Global Village – Canada in the 21st Century : Tales about the history that matters.
If you go to our Long Journey to a Canadian Republic page, on the bar above (or just CLICK HERE), you will find a short introduction to the project, along with the "Prologue : too much geography." This is followed by links to the currently completed six chapters in Part I, and the first three chapters in Part II. Covering this section's concluding chapter, on the founding moment of the present Canadian confederation in 1867, you will now find as well a link to Part II, Chapter 4 : "The American Civil War and the British North America Act, 1867."
We finally caught up with Dr. White and his attractive business manager at the Tim Horton's across from Kew Gardens. (Though not the Kew Gardens in London, England, about which Virginia Woolf apparently wrote a story, nor the one in Queens, New York City.)
He reported that he was happy to be at work at last on PART III : Dominion of Canada,1867—1963. And he hopes it will not be too long before he can say the same about  PART IV : The Long Journey to a Canadian Republic, 1963—20??.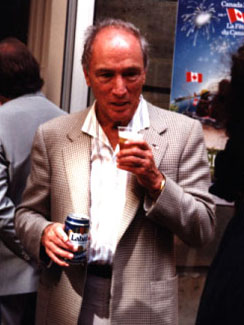 As far as the aboriginal/indigenous peoples of Canada go, Dr. White drew our attention as well to this passage from "The American Civil War and the British North America Act, 1867" : "Section 91, article 24 of what is now the Constitution Act, 1867 does assign 'Indians, and lands reserved for Indians' to the federal government. But there is no further mention of the first Canadians in the old  BNA Act. And on July 1, 1867 it would be more than 60 years before Harold Innis wrote  : 'We have not yet realized that the Indian and his culture were fundamental to the growth of Canadian institutions.' It would be more than 50 years again before Part II of the Constitution Act, 1982 finally addressed the 'Rights of the Aboriginal Peoples of Canada.'"
As he finished his coffee and left with his business manager, Dr. White seemed to make a kind of well-intentioned joke : "I am hoping that, here as elsewhere, Justin Trudeau will finish the work his father began."