Blue Jay Revival 2013 .. the story begins (maybe)??
Apr 2nd, 2013 | By
Rob Sparrow
| Category:
Sporting Life
It all started with a short tweet … Josh Johnson was coming to the Blue Jays … yet something was different … the twitter universe was abuzz with activity … others would be joining him. It's how news gets around these days: 140 characters or less is how the events of the world unfold.  Electronic pulses dispatched in an instant around the globe. Marshall McLuhan would be right at home.  A few minutes later another tweet … Mark Buehrle, Emilio Bonifacio, and John Buck were now Blue Jays … yet still there was another teaser … more to follow. With baited breath Blue Jay fans exhaled in disbelief … the piesta da resistence … all-star shortstop Jose Reyes was also to don the jersey of the Blue & White.
Usually, it is difficult to say with conviction the moment things change, the exact moment that  shapes all moments to come. This though was different. Over dinner time (6-7pm), November 13, 2012, everything changed for the Blue Jays and their faithful. The tweeted evidence was overwhelming. It was the definitive moment of changed tack, shifted sails, parted seas. Blue Jay management had signalled their intention to change the direction of the team.  To set it again on a course of relevance.
As General Manager Alex Anthopoulos stated at the time: "There are two extremes. You're either trying to contend, or you're rebuilding. I don't know that being in the middle is an option." The Blue Jays had indeed been in the middle for far too long, somewhat adrift. Yet in that instant they  firmly stated their intention to contend. When the dust had all settled, they had  pulled off with aplomb a shocking blockbuster with the roster-liquidating Miami Marlins, acquiring a recent batting champ (Jose Reyes), a recent ERA champ (Josh Johnson), one of the game's preeminent workhorses (Mark Buerhle) and a speedy utility man (Emilio Bonifacio), for a package of prospects and underwhelming veterans. Two bona fide top starting pitchers and one of the most dynamic players in baseball for little more than fledgling prospects.
The lesson here is timing, and a willingness to adjust one's course to suit the moment. It's rare when a club like Miami is willing to dump several stars in one wholesale move, while the other participant happens to have a stocked farm system. To that end, Anthopoulos and Blue Jay management had invested heavily in the infrastructure of scouting and developing young talent over the last few years, manoeuvring deftly to add extra draft picks and not being afraid to spend on amateur talent, both domestically and internationally, for exactly this purpose. Sensing the time was right to add established and proven major-league athletes to an existing core of solid players (Jose Bautista, Juan Encarnacion, Brett Lawrie etc) under long-term contractual control – and dramatically increase team payroll when aged perennial favourites Yankee & Red Sox looked vulnerable and were showing weakness – management acted.  And in the process it propped open a window of contention for the next several years to come.
Hence, with one stunning trade, the Blue Jays became what they claimed they could be. The roster had been overhauled and the team was the talk of the town.  Yet there were also additional pieces to be added, and one that would take place a month later in the form of a 38 year old pitcher unlike any other …

Zen and the art of the Knuckleball …

There have been only six or seven in the history of baseball.  They have been referred to as a freak show, a circus act. Knuckleballers run completely antithetical to sports – games dominated by speed, power, and aggression. They are outliers in that respect, requiring as some have observed "the fingertips of a safe cracker and the mind of a Zen Buddhist."
To wit, R.A. Dickey is not your usual athlete; he is a man with a social conscience and no ulnar collateral ligament in his throwing arm. An erudite man who eschews the trappings of professional jockism for Tolstoy, Hemmingway, and Thomas Merton.  A once down and out journeyman who at the bottom of his rope, found himself, and a pitch that changed the course of his life.
For his is the classic hero's journey outlined brilliantly in his revealing memoir Wherever I Wind Up.  The need to be beaten down – to submit. To let it all go and trust the flutterer. For the knuckleball is not a pitch for the piss and vinegar of youth. Nobody grows up wanting to be a knuckleball pitcher; it is done of desperation and necessity. R.A. Dickey has submitted himself on this journey, on a mission to prove the knuckleball's authenticity, and in the process add legitimacy to what otherwise has been seen as a gimmick.
After a  December trade with the New York Mets, Toronto now becomes the next stop in his journey.  And whether or not you believe Dickey can have the best years of his career in his late 30s and into his 40s with Toronto depends on how strongly you believe in his evolution, submission, and continued mastery of his knuckleball.
Dickey originally started throwing the knuckleball with the Texas Rangers in 2005 at the suggestion of then manager Buck Showalter, and pitching coach Orel Hershiser.  At that time he was a conventional pitcher with a mediocre repertoire that was no longer fooling big league hitters. In his early knuckleball career, he threw the pitch less than half the time (49.2%) and the results were less then pretty  (1—3 with an ERA over 7 runs a game). Cast aside into the minor league abyss of small towns and long bus rides, Dickey would not resurface in the big leagues for three years, briefly with Seattle where his developing knuckleball increased in propensity (67%), and then 2009 with Minnesota, where it remained flat at roughly 2/3 of his pitches.
Throughout that time Dickey worked both on himself and the knuckleball, seeking the advice of those who had gone before him. His Jedi council of knuckleballers consisted of former pitchers Charlie Hough, Phil Niekro, and Tim Wakefield.  Refining his mechanics, techniques, and more importantly the mindset that it takes to be successful with the pitch, he began to have a series of breakthroughs. Coincidentally, this seemed also to parallel breakthroughs that he was having in his life off the diamond, confronting his personal demons of a traumatic childhood, marred by sexual abuse. His growing authenticity as a human being was in many ways leading to his transformation as a pitcher.
In 2010, Dickey's first season with the New York Mets, he abandoned the slider and curveball and submitted more completely to throwing his knuckleball –Â  more than 5/6 (85%) of his pitches were of that variety. Subsequently, in his three-year transformation with the Mets (2010—2012) he went 39-28 with a 2.95 ERA, 1.15 WHIP, and 6.8 strikeouts per nine innings. Put another way, Dickey was not a true knuckleballer until he joined the Mets, and his commitment and growing mastery of that pitch made him last year's Cy Young winnerin the National League.
That Dickey relies on the game's second most dominant pitch (according to Fangraphs.com's pitch values only the Dodgers Clayton Kershaw's fastball scored higher), there's no reason to believe that age or a change of scenery will keep his knuckleball from dancing as maddeningly as it did through his transformational years with the Mets. Moreover, in his 10 starts against American League (AL) teams since 2010, Dickey is 7—0, with a 1.77 ERA, and a .173 batting average against. A lack of familiarity with his knuckler has something to do with AL hitters' struggles, but there is little reason to anticipate much trouble for Toronto's new ace.  Knuckleballers love a dome and it's scary to think how good he'll be pitching indoors.
Dickey has been quoted as saying that the knuckleball "takes a day to learn, and a lifetime to master." His transformation as a pitcher and a human being is one of the best stories in the game and embodies an underlying narrative of the "second chance" 2013 Blue Jays – with a cast that includes a recycled ex-manager (John Gibbons), a failed and tarnished batting champion (Milky Cabrera), an injured former shortstop looking to make it back as a closer (Sergio Santos), and cast-offs from previous teams that have been re-energized in Toronto (Jose Bautista, Juan Encarnacion). Each in their own way has been humbled by a game whose inherent nature is failure. Each is now on his own redemptive baseball journey – looking for authenticity, and a championship.
A second Dominican invasion…


Further to second chances, the 2013 Blue Jay season promises to be one of second invasions (and from where ersle than the fabled Dominican Republic. With the Dominicans fresh off being crowned World Baseball Classic (WBC) champions (the first team to go unbeaten (8—0) in the competition), this opening day could see the Blue Jays field the most Dominican team of all time. The current roster consists of Jose Bautista, Emilo Bonifacio, Edwin Encarnacion, Jose Reyes, Melky Cabrera, Esmil Rogers, and Moises Sierra – all harkening back to the early 1980s, and  another generation of Dominican dandies.
The Blue Jays have a rich history when it comes to the Dominican Republic. The Jays were one of the early pioneers in mining the island for talent in the 1970s and 80s, led by GM Pat Gillick and scout Epy Guerrero  That led to the discovery and development of the likes of Alfredo Griffin, Domaso Garcia, Tony Fernandez, and George Bell. And a fledgling expansion team in many ways used this first Dominican invasion in its rise to relevance in the early 1980s.
In the process, the team created an identity as the "Dominican Blue Jays." And this gave rise to Toronto's importance as an outpost … a Kansas … for those ball players in the sugar cane fields who dreamed the better life.  Now more than 20 years after the first wave, the 2013 Blue Jays are trying to build back the credibility and identity that was somewhat lost in the late 1990s and 2000s.
Today, baseball is everywhere in the Dominican Republic. Other sports are played, but baseball is the national pastime and passion. "It's more than a game," Dominican Winter League general manager Winston Llenas has remarked. "It's a national fever. It's almost our way of life." Its influence has  been undeniable on the game since Ozzie Virgil broke in with the then New York Giants in 1956.  In only 57 years, this half-island nation (sharing the former Hispaniola with Haiti, which has yet to send one player to the big leagues) has delivered more players (563) to Major League Baseball (MLB) than any other nation or territory ever has. Venezuela is a distant second, with 286, followed by Canada (239), Puerto Rico (234), Cuba (173), and Mexico (114). Only seven states in the United States can top the Dominican's success.
Moreover, the Dominican influence on baseball extends beyond the quality of its players to an invigorating style of play –  a new infusion of speed, power, grace and joy –  that has changed the face of the game, as well as the way it is played. "Everything is a celebration, from the fans down to the players, remarked US shortstop Jimmy Rollins, who was defeated by the Dominican Republic in the WBC. "That's the way they play ball. If you play winter ball, you understand it."
Yet in this fertile ground that has changed the face of baseball, one position has been more dominant than any other. The Dominican Republic has been called the Bethlehem of shortstops, and new Blue Jay shortstop Jose Reyes could be the best the island has ever produced. Proclaimed by former teammate R.A. Dickey as "the game's greatest energy source,"Â  his exuberance and energy are unmatched. So his ability to win games with his glove, his bat, and his legs. Not since Blue Jay Hall-of-Famer Roberto Alomar has the place formerly (and sometimes still unofficially) known as the Skydome been home to a player this good and dynamic. And coincidentally, it was Alomar's (and Joe Carter's) trade to the Blue Jays in 1990 that set the table for their only World Championships, so far at any rate.
The Dominican dominance in the WBC last month revealed and energized its baseball national pride (think Canada and hockey) and set off wild celebrations and parties throughout the island.  And although the Toronto Blue Jay uniform has a big maple leaf on the front, make no mistake : this is also very much a Dominican team. If there is to be a parade in Toronto late this October, there is sure to be one in the streets of Sano Domingo and San Pedro de Macoris.
Endgame…

The game of chess is divided up into three distinct stages : opening, middle, and endgame. Each stage has its implicit goals and objectives.  In the opening you aim to get rapid development of your primary pieces. In the middle you begin to coordinate your primary pieces and attack your opponent's weak spots. But ultimately, the endgame is where you learn to "play chess," utilizing from all past experience the ability to mobilize your remaining pieces, and put them within striking positions against your opponent – to be able to capitalize when the moment presents itself.
For many years the Blue Jays said they could switch from collecting to contending. We never saw the evidence. We waited for the proof. And in the meantime they muddled in many openings and middles that went nowhere. This season's off-season moves don't necessarily make the Blue Jays the best team in baseball. Yet if there was one team that needed to make moves like this, the Blue Jays were that team. Capitalizing on the weakness of teams around them, a stocked farm system, and the resources afforded by Rogers' corporate coffers, it was time to strike.
They now look like a playoff team – they are deep, talented, professional – and on paper this is the best Blue Jay team since they won it all 20 years ago. But when you make a lot of moves, it sometimes takes time to pull it all together. A good opening will be important to establish early confidence. Management and ownership though have signalled their intentions. They are "all in" for this year and any perceived gap during the season will look to be filled quickly either internally or externally. The middle then should not be of any great concern.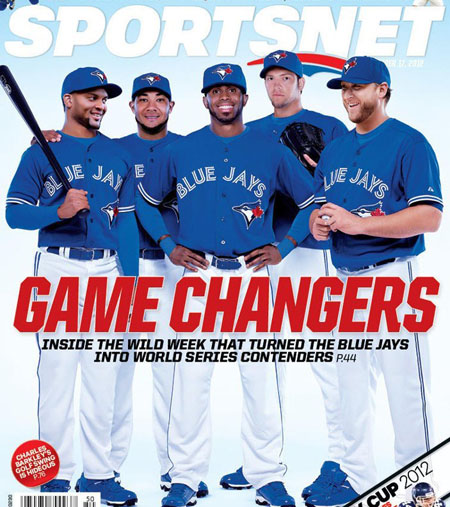 As for the all-important endgame, one note of caution that stands out is the team's overall lack of big game or playoff experience. As a group, they don't have the vast number of contending games under their belt that are often necessary for a team to weather a stressful September, or long playoff run. It's not a hard and fast rule, but being stress-tested and knowing how to close out and win helps.It creates the certainty of a master champion.
That said, hopes are higher than at just about any point since Joe Carter's drive cleared the left-field wall 20 years ago. No matter the outcome, we can be certain the 2013 edition of the Toronto Blue Jays will be intriguing to watch. The pieces are in place. As opening day arrives,  the clock has started on an exciting new era of Blue Jays baseball. Enjoy the journey.
References:

R.A. Dickey (with Wayne Coffey), Wherever I Wind Up: My Quest for Truth, Authenticity and the Perfect Knuckleball. 2012.
"Knuckleball: A Documentary on Baseball's Most Elusive Pitch." Directed by Ricki Stern and Annie Sundberg. 2012.
Mark Kurlansky, The Eastern Star: How Baseball Changed the Dominican Town of San Pedro de Macoris. 2010.
Robert Sparrow is a Toronto marketing analyst and noted local authority on the sporting life.