"The Old Man and the Seat" – Jon Stewart shows Democracy in America is not dead yet ..
Sep 2nd, 2012 | By
Counterweights Editors
| Category:
In Brief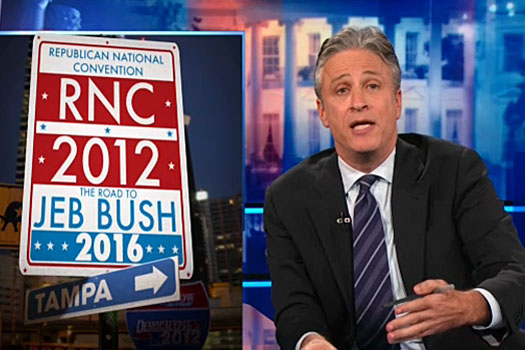 According to Greg Mitchell's Pressing Issues report this past Friday, August 31, 3012 : "Jon Stewart's opening segment on rare Friday night edition of 'The Daily Show' was single best shot at RNC [ie the Republican National Convention] on any cable or network show this week.  Yes, covered Clint – 'The Old Man and the Seat' – but also the convention in general."
We  agree 100% with this assessment, and urge anyone who wants to know what really went on at RNC 2012 to check out Stewarts's deft craft on this occasion. (We also like Mitchell's thumbnail descriptor for his site : "Greg Mitchell on media, politics, film, music, satire, TV. 'Not here, not here the darkness, in this twittering world.' –  T.S. Eliot, 'Four Quartets'." Nice touch to quote the conservative but still brilliant Mr. Eliot.)
Mitchell points to the relevant clip from "The Daily Show" at "Jon Stewart Basks In The Glory Of Clint Eastwood's 'Awesome' Speech While Tearing Apart Romney's." And this actually seems to work for those of us in Canada – which is not always the case for "Daily Show" videos. If you are in Canada, and do have trouble even with this clip, try "Jon Stewart on The Old Man and the Seat … 'There is a President Obama that only Republicans can see.'"
For the actual Clint Eastwood remarks that so entertained and encouraged Mr. Stewart, try "Clint Eastwood Offers Off-Script Moment" or "Clint Eastwood's GOP convention speech: Full transcript." One immediate cool reaction came from Chris Rock: "Clint Eastwood on the phone with Obama now: 'It all went according to plan, sir.' #RNC #GOP2012."
We should note as well that we bumped into almost all these near-dazzling and at least highly informative posts at The Flox … A Social Network for News.
We liked the opening salvo of "The Daily Show"'s RNC coverage this past week too (and thought it was another example of the Stewart team's talents in the great game now upon the USA today, possibly to the great detriment of the rest of the free world) : "A party too patriotic for facts, A candidate too successful for taxes, A city whose name sounds like Tampons … from Tampa, Florida, this is the Republican National Convention, the road to Jeb Bush 2016."
Whatever happens this coming Tuesday, November 6, at least one guy on cable TV has told the truth. Or as Greg Mitchell put it: "Jon really lost it over Romney's claim that he had wished Obama to succeed.  'Bull-fucking-shit!' he shouted."
As we see it up here at any rate, where "Canadians always vote Democratic in American elections," truths like this deserve much wider circulation over the next two months.