Is it true only 7000 have so far signed up to vote in Ontario PC leadership race?
Feb 27th, 2018 | By
Randall White
| Category:
In Brief
TORONTO. 27 FEBRUARY 2018, 5 AM ET. We won't even start to be able to start placing (again ) former Ontario Progressive Conservative leader Patrick Brown in the largely unknown deep political history of Canada's most populous province until we know the actual result of the provincial election, now just three months or so away, on June 7.
Meanwhile, late last night Warren Kinsella wistfully tweeted "Tomorrow: no more Patrick Brown stories, and therefore a melancholy sort of day."
And Andrew Russell has reported : "Internal polling of eligible PC voters obtained by Global News showed Brown ahead of Elliott, with Ford in third place, followed by Mulroney, and Allen in fifth. A poll of the broader electoral college showed Brown and Elliott tied." (The smart money does now seem to be coalescing around Christine Elliott as next Ontario PC leader.)
Russell goes on : "Despite the turmoil inside the PCs, polling has showed the Tories are still very much in the driver's seat when it comes to the upcoming provincial election … The PCs would receive 38 per cent of the vote if an election were held tomorrow, according to an Ipsos poll conducted exclusively for Global News … Voting for the Ontario PC race is scheduled to take place from March 2 to 8, with the results announced on March 10."
The polling that has shown "the Tories are still very much in the driver's seat when it comes to the upcoming provincial election" may or may not have something to do with the resignation of Ontario health minister Eric Hoskins yesterday, to "chair a federal government advisory council with a goal of creating a national pharmacare plan."
Meanwhile, Helena Jaczek is the new Ontario health minister. And "Michael Coteau will be Community and Social Services Minister and Minister of Children and Youth Services and Minister Responsible for Anti-Racism."
Meanwhile again, a recent tweet from Steve Paikin raises fresh questions about many current  Ontario politics assumptions : "only 7,000 out of a potential nearly 200,000" Ontario PC party members (or even just 130,000 say, as Vic Fedeli once suggested?) "have so far registered to vote" from March 2 to 8. At "this rate, real concern within the party that only half the members will vote." And what will that do for party momentum toward June 7?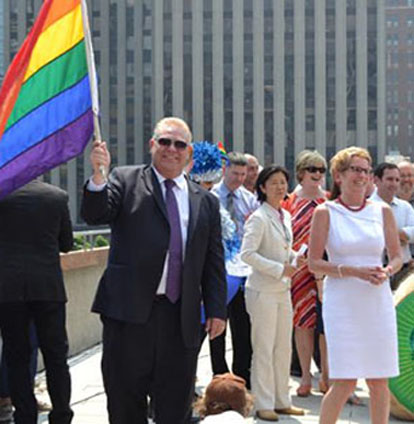 In any case those of us who really are seriously aging enjoyed a few vague memories of days long, long ago when news surfaced that aging local extreme right-wing extremist Paul Fromm "endorses Tanya Granic Allen's Tory leadership campaign."
I think myself that the speculation Patrick Brown's second withdrawal from the current Ontario PC leadership race could finally help Doug Ford the most is at least amusing – even if it does prove quite wrong …
My own final thought for the moment is just : may the best woman win …Â  (Well … and Ontario almost certainly does need a new flag …)