Blue Jays 2016 : Last 87 days last year were magical .. this year will be a long season and glorious (we hope!)
Apr 8th, 2016 | By
Rob Sparrow
| Category:
Sporting Life
There is symmetry in numbers…200 of them to be exact. Â For that was how many days the Blue Jays had in 2015. Â A mercurial season that began in early April and ended on the 200th day in heart breaking fashion, eliminated on a cold and rainy Kauffman Field in Game 6 of the AL Championship Series.
And yet for the first 113 days of the year they were a meddling mediocre club whose performance never matched up to their promise, losing more than winning. Â But oh how those last 87 days were magical…a historic run that ended professional sports' longest playoff drought and in the process revitalized the city.
The magic began on July 28 (with the Jays sporting a record of 50-51) in a slew of trades that that netted the Blue Jays all-stars Troy Tulowitski and David Price along with key contributors Ben Revere, Mark Lowe and LaTroy Hawkins. Â  Just like that, GM Alex Anthopoulos had turned over 20 per cent of the roster and an end to the club's post-season drought dating back to 1993 seemed imminent.
It turned out to be one of the best trade deadline flurries ever, rekindling Canada's passion for both the Blue Jays and baseball by setting into motion a 41-18 sprint to the finish that led to an American League East title, a climatic home run winning Bautista bat flip in the Divisional Playoffs and a near World Series appearance.
From the beginning of August on, electricity and excitement returned to Toronto and the Rogers Centre. Long-time fans came back into the fold, and millions of new fans were created throughout Canada. People who had never watched a baseball game in their lives couldn't turn away.
Merchandise sales exploded. Television ratings hit historic highs. Attendance rose nearly 20 per cent, and the team brought more fans into its stadium than it had since the glory days in the early 1990s. When the Rogers bean counters tallied all the revenues at the end of the season, it was estimated that the clubs mid-season turnaround netted its corporate balance sheet an additional $60 million dollars not originally budgeted for.
Fans of this organization were in bad need of an emotional refresher, and the Blue Jays of 2015 gave it to them daily.
They picked a city up and held it there as long as they could.
Many had forgotten, and many more had never experienced, the joy of watching their team clinch a division title, and the nerve wracking anxiety that comes with every twist and turn of each playoff game.
A season in 200 days …It was awesome.
Roger's Follies Squared…

Then just as quickly, the magic Toronto had coming out of the 2015 season was bled off by corporate shenanigans surrounding its Canadian GM and newly crowned Baseball Executive of the Year Alex Anthopoulos, in what now seems like an annual occurrence down at Rogers Headquarters.
The previous year, team owners Rogers Communications stubbed their toes in a very public way in their mistreatment of original employee and CEO, Welland Ontario native Paul Beeston. Â Their unsavoury corporate machinations took the form of a not so stealth search committee behind Beeston's back in an effort to replace the soon to be retiring CEO. Â This though paled in comparison to the heedless tone-deaf handling of GM Alex Anthopoulos that led to his departure from the team after the most successful season in more than two decades.
Actually, the die had been cast with the mid-season talks and August hiring of Cleveland President Mark Shapiro to become the team's new Blue Jay CEO. Â  Rogers by hiring Shapiro as their primary baseball decision maker were essentially neutering Anthopoulos, the architect of the division winning Blue Jays. Â After realizing that his autonomy to run the baseball operations for the Blue Jays would not be the same under Shapiro, himself a former GM with the Indians, Anthopoulos felt his hand forced to resign in November.
Beeston and Anthopoulos always had two huge advantages within the Blue Jay fanbase — they were one of us.  One never doubted that either man felt a deep connection to this club. Both are Canadians. Both had been weaned by the organization and had the gift of sincerity.   "I understand I won't be in this chair forever, but I will be a fan of this team and I'm going to live in this city," Anthopoulos said when hired. "So I want to see this team do well. If I'm part of it, great, but if I'm not here to see it, that's fine."  He said it five years ago, shortly after he got the job. It rang true at the time and, even when he departed in a November press conference it still rang true.
You can't fake being from here. Beeston and Anthopoulos didn't have to.  To wit, during Shapiro's  introductory press conference, the new president stuck in the tired, foreign line about Toronto as a "dynamic, diverse, growing city." Asked a few minutes later to name a single specific thing he liked about it, he couldn't come up with one. One questions if that was what he came up with a quick Google search, or if it looked "dynamic" as he flew over it.
It's not his fault. He doesn't know the city. It's Rogers's fault. Letting Anthopoulos wander off was dumb enough. Replacing him as team spokesman with a slick, transparently calculating, polar opposite was dumb squared.  The sort of personality most Americans read as "competent and assured," Canadians see as "suspiciously ambitious." Shapiro's slick style would work well in many major league cities. Thus far, it hasn't exactly worked here.
Shapiro upon his hiring dangled long standing Blue Jay assistant GM Tony LaCava and then hired his old Cleveland assistant, Ross Atkins, as the team's new general manager. He then ensured John Gibbons's job, but in turn hired former Indians manager Eric Wedge in some loosey-goosey consulting capacity on the eve of the Super Bowl when interest were elsewhere. Making Wedge somewhat of a security blanket, there to take the manager's job as soon as they can figure out a reason to fire Gibbons.
Yet, for a person who talks of process and risk, Shapiro has not been able to control the message. As on the first day of spring training when upcoming free-agent Jose Bautista unsure of his standing with the "new regime" went public with his contract demands. Club management were curiously silent, thus talk and rancor shifted to the very real possibility it would be both Jose Bautista and Edwin Encarnacion's last year with the team, prompting one irate Blue Jay fan to threaten to toss Ted Rogers statue into Toronto harbor.
That unlikely combo, two Canadians running Canada's baseball team, was always going to be a tough act to follow. So far the transition has not been the smoothest. Â But games are played on the baseball diamond. Â It's good that for at least the next year the Blue Jay team those two Canadians assembled over the past few years will be the one that takes the field in 2016.
The five pillars of a solid team in 2016…

The Blue Jays foundation for 2016 is constructed upon five strong building blocks that in combination form the basis of a contending team:
1) Offence
The Blue Jays fell two games shy of winning the AL pennant last season and are returning this year with 2015's most prolific offense not only intact but also arguably improved. Full seasons from trade deadline addition Troy Tulowitzki and injured left fielder Michael Saunders, who combined to start just 49 regular-season games for Toronto last year, should strengthen the lineup.
The Blue Jays scored a major league-leading 891 runs last year, the most by a team since the 2009 and 127 runs ahead of the second-place Yankees (764). Â  According to Elias Sports Bureau research, just four other teams since 1900 outscored the runner-ups by a margin that humongous. Those teams include the three storied Yankees teams (1927, 1931 and 1936), with the other being the 1953 "Boys of Summer" Brooklyn Dodgers powerhouse that won 105 games.
The Blue Jays also led the league in home runs, extra-base hits, walks, on-base percentage, slugging and OPS. Â The Jays' run differential last year was a plus-221. Nobody else was even close. Â "Their offense is so good, it's ridiculous," said an executive of one contender. "There are certain pitchers that can get them out. But most pitchers can't. And you can't throw any left-handed pitcher against them, because they just kill any lefty. I don't care how good you are. They're the last team you want to play in a postseason series."
And for 2016 both Baseball Prospectus and FanGraphs project the Jays will lead the major leagues in runs scored once again. Â Meaning there will very likely be more bat flips at the place we used to call the Skydome.
2) Defence
The Blue Jays start five guys who could star in a How to Win a Gold Glove instructional video – catcher (Russell Martin), third baseman (Josh Donaldson), shortstop (Troy Tulowitzki), second baseman (Ryan Goins) and center fielder (Web Gem machine Kevin Pillar). Â They ranked No. 1 in the entire sport last season in defensive efficiency, a metric that tracks the percentage of balls in play that were converted into outs.
Toronto also led the American League in "Good Fielding Plays" and finished second to Kansas City in the American League in total defensive runs saved.  "Because we're making so much noise with the bats, everything else was kind of in the shadow of that," said catcher Russell Martin. "But our defense was just supreme. I can't think of another team that's better than us. Kansas City was definitely up there. But I think we're right up there with them."
"Strength up the middle," said Martin. "You don't get more sure handed than Tulo and Go-Go (Ryan Goins). And it helps when you have Superman (Kevin Pillar) in centre field.  That strength up the middle includes Martin behind the plate, who is a master game-caller, pitch framer and has great numbers throwing runners out at second base.
Defense is an aspect of the game people don't talk a lot about. It doesn't get headlines. Maybe it gets overshadowed by the big hitters on the Jays.  Yet for winning teams the maxim is "it's not what you get, it's what you give up".  Having a great defense in 2016 will definitely be a boon for the pitching staff.
3) Starters
As mentioned, the Blue Jays offence is almost a given. The Blue Jays pitching, that's where there are questions since ace David Price left for Boston, just not necessarily from the man behind the plate who thinks this staff is significantly deeper than it was a year ago. "We didn't have Marcus Stroman for most of the season," said Martin. Stroman made four late-season starts for Toronto in 2015 after a remarkable recovery after tearing the ACL in his left knee, posting a 4-0 mark and 1.98 ERA.
According to Martin, "Stroman reminds me of Pedro Martinez. A small guy with an electric arm. And with that competitive nature and tremendous confidence. We get him and Aaron Sanchez from the start, and Sanchez is a different pitcher than he was a year ago".  Aaron Sanchez would have given the Blue Jays one of the strongest bullpens in baseball, but he also has the potential to become a coveted front-line starter. In a lot of ways, he is the key to what Toronto needs to accomplish this year, and there's a chance he could become the difference maker and breakout player every championship team needs to find.
Rounding out the staff, R.A. Dickey was one of the best pitchers in the second half of 2015. In fact, he was better after the All-Star break (8-1 with a 2.80 ERA), than he was in his Cy Young season of 2012. He is a consistent innings-eater who relies on the precarious Zen of the knuckleball. J.A. Happ and Marco Estrada have the potential to be the same guy, just throwing from different sides of the mound. Both pitchers seemed to figure something out last year. They had both battled inconsistency in the past but a light bulb went on in 2015 and the results showed. They just need to be predictably consistently good (not great), which should be a reasonable expectation for them.
As the Kansas City Royals taught us last October, it isn't mandatory to have a dominating rotation to win the World Series. Not if your team can cover that "fault" in other ways. And that's exactly how these Blue Jays are built.
4) Relievers
The back end of the Blue Jays' bullpen deepened in the off-season when Drew Storen was acquired from the Washington Nationals on Jan. 8. The former Washington closer joined Roberto Osuna and Brett Cecil to give manager John Gibbons the luxury of three solid relievers for the final three innings. The Blue Jays were 15-28 in one-run games last year, which suggests that if upgrades to the bullpen work out, it could be enough to make everything click for a repeat as division champions.
Mexican youngster Roberto Osuna will resume closer duties to start the season, a role he took over early last season as a 20-year-old rookie, while the aforementioned Drew Storen will serve as a setup man. Â Last season, Osuna converted 20 of 23 save chances with a 2.58 earned-run average, walking only 16 and striking out 75 over 69 2/3 innings. Drew Storen had 29 saves and a miniscule 1.79 ERA as closer for the Nationals, but struggled as a setup man late in the year, finishing the season with a 3.44 ERA.
Rounding out the bullpen, Toronto has started the season with one familiar face and five new arms. Veteran Brett Cecil joins newly acquired lefty Franklin Morales from the Royals, Joe Biagini, a Rule 5 draft pick from the San Francisco Giants, and fellow right-handers Arnold Leon, Jesse Chavez and long man Gavin Floyd.
The Blue Jays will have to be better in one-run games in 2016, especially on the road (which was their downfall last year and in the early days this season), and it is up to this group for deep success late in October.
5) Experience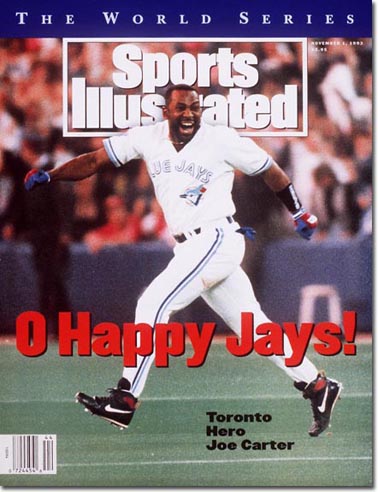 Last year the Blue Jays started the season with six true rookies, this year they bring back a roster filled with veterans that was two games away from the World Series. Â Winning is a learned behaviour and last year's run will be invaluable in the ups and downs that are a major league season.
They got a taste of what it was to win. Haven't forgotten what it felt like, what it looked like, what it sounded like in their electrified city last October, in the Blue Jays' first trip to the postseason since Joe Carter's home run landed in 1993. Haven't forgotten the pain of losing a classic six-game American League Championship Series to a Royals team that went on to win it all.
It's that experience for a club populated largely by players who were never supposed to have the careers they've carved out for themselves, those memories are just stoking an engine that was already revving. "The term, 'swag,' has probably been overused, but this team has a lot of that," Josh Donaldson said. "We have a lot of guys who believe in themselves and a lot of guys who have something to prove. And we have a lot to prove as a team. We truly believe that last year was just the beginning."
There is an internal excitement about this Blue Jays team that hasn't been around the clubhouse in a while. There is a belief, a feeling, a trust even, that last year was just a starting point for the Blue Jays, and in 2016 the team is ready to win it all.
It's Winning Time…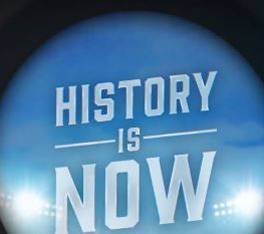 The posters in bus shelters across Toronto trumpet "History Is Now", an enticement to Blue Jays fans about what the 2016 season could hold. Â And indeed 2016 carries much more weight with the impending free agency of Jose Bautista, Edwin Encarnacion and R.A. Dickey. Â A window of opportunity seems to be closing. Â "Everybody's conscious that there's a handful of guys who could be gone next year," manager John Gibbons said. "It's a business, and these guys gotta run a business. We've got to maximize what we have while they're here, because we know they're here this year."
Toronto comes into this season with swagger that is known around the league and has given them a bull's-eye on their back. Â "We believe we have a special team, and we have unfinished business," Josh Donaldson said, "to go out there and hopefully finish where we came up short last year. "We have a good team right now. But at the end of the year, we want to be known as a great team."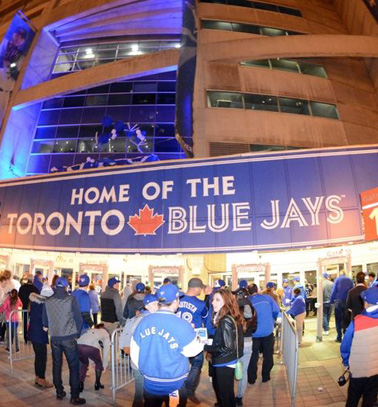 "We're extremely motivated, a hungry group," said the hot-wired Marcus Stroman, Toronto's home opening day starter. "And I can tell you that the mentality of this group, it's different from most teams".  Over all, this is an outfit that is bursting with confidence; a tight-knit group of players who believe they can.
The Blue Jays are Vegas favourites to make the playoffs again, but they've been that before and disappointed. The difference this time is that they no longer hope to win. They expect to. Â After learning how to win again, the Jays and their fans have been freed to from expecting things to go wrong, to the belief that this is our year, our time.
So get ready Toronto sports fans..forget all past disappointments…because it's Winning Time.
It's gonna be a long season…maybe a few days more than 200…and it's going to be glorious.
Robert Sparrow is a Toronto marketing analyst and noted local authority on the sporting life.