Some early hasty notes on the Liberal Party of Canada leadership race
Jul 8th, 2012 | By
Randall White
| Category:
In Brief
[UPDATED JULY 10]. One progressive view of the Liberal Party of Canada leadership contest — which will have its final moment of truth sometime in April next year (or at least "in the first half of 2013") —  is that it no longer matters.
Consider, eg, these recent numbers: "Back on June 18 … we heard that 'New Democrats Edge Slumping Conservatives … Across Canada, 35 per cent of decided voters and leaners … would support the NDP in the next federal election, while 34 per cent … would cast a ballot for the Tories … The Liberal Party is third with 19 per cent …'  Then on June 30 it was reported that: 'A weighted average of recent polls, on www.threehundredeight.com, puts the NDP ahead of the Conservatives 34.9 percent to 32.7 percent, with the Liberals well back at 20.9 percent.'"
Yet the appearance of a gladhanding Justin Trudeau at the Calgary Stampede this weekend, en famille (including the remarkable Sophie Gregoire), has raised questions about this scenario. For one thing it is almost certainly more than three years before the next Canadian federal election. And if a week is a long time in politics, who knows what could happen in three years?
Personally, I still believe it will take some kind of co-operation between M. Mulcair's New Democrats and the Liberals to replace the Harper Conservatives with a more progressive  government in Ottawa — more in tune with the real feelings of the majority of Canadians. I was attracted to Nathan Cullen's campaign in the recent federal New Democrat contest.  (See, eg: "More cheers for Nathan Cullen's NDP leadership bid .. the new republic in Canada may be closer than we think?"  and "Is Nathan Cullen the conscience of New Democrat race in Canada?") And I continue to think he was and is onto something — towards which the former Quebec Liberal Thomas Mulcair is not altogether averse!
So … Justin Trudeau at the Calgary Stampede has finally pushed me into getting my necessarily very early and hasty thoughts about the federal Liberal race into some kind of preliminary and of course very tentative order. To start with, under the guidance of two major sources (Susan Delacourt at the Toronto Star and the anonymous authors of the current Wikipedia site on "Liberal Party of Canada leadership election, 2013"), I have put together a list of 30 prospective candidates. I have then reduced this list to a personal Top 10 — and finally further reduced the Top 10 to what at least seems to me at the moment my personal Big Four.
You could of course say that any political party for which journalists and other pundits are talking about as many as 30 prospective leadership candidates is far from dead in the water yet. (Or, if you were especially perverse or partisan, you could of course say the opposite : too many cooks etc.) In any case, if you want to see the entire list of 30 you should click on "Read the rest of this page" and/or scroll down. In this more privileged space I will just quickly list the Top 10, and then more quickly (and a bit more below briefly comment on) the subsequent Big Four.
The Top 10, in alphabetical order (and certainly just as far as I am concerned, which may or may not be a plausible barometer of something larger at this stage) are: Mark Carney, Deborah Coyne, Marc Garneau, Ralph Goodale, Mark Holland, Gerard Kennedy, Dominic LeBlanc, Elizabeth May, Joyce Murray, and Justin Trudeau.
My Big Four on this list, for the moment at least (and again in alphabetical order) are: Mark Carney, Elizabeth May, Joyce Murray, and Justin Trudeau. [CLICK ON "Read the rest of this page" and/or scroll down for JULY 10 UPDATE on David Merner and Justin Trudeau.]
* * * *
I certainly agree that there is absolutely nothing to suggest current Bank of Canada Governor Mark Carney is at all interested in the leadership of the Liberal Party of Canada. He does, however, say rather classically Canadian liberal things from time to time.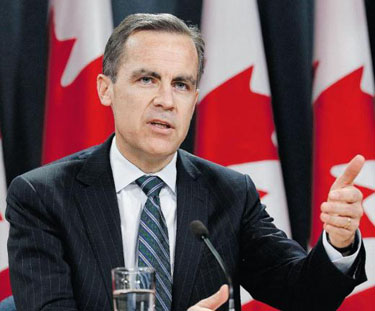 Mr. Carney's origins in both Western and Northern Canada — along with the plain fact that he was appointed to his present position by Mr. Harper — also make him, in my own jaded opinion, the ideal candidate for Liberal leader at this point in the history of the true north strong and free. (Even if not at all enough Canadian people — most of whom do not regularly follow the goings-on at the Bank of Canada — know enough about him yet to give him strong polling numbers!)
Elizabeth May, of course, is at the moment the Green Party leader. Yet, as one of her prominent environmentalist supporters has recently pointed out: "She will put people and progress before partisan politics, and we need more of that."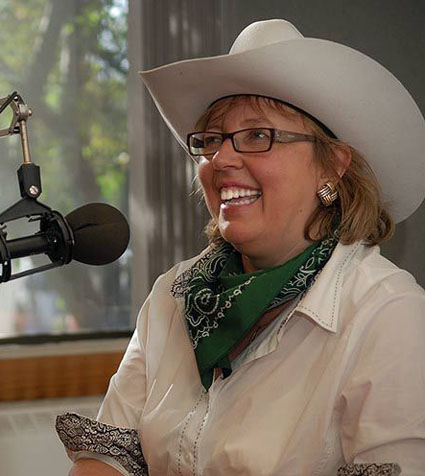 It helps as well that Ms. May currently represents a BC riding in the federal Parliament. As is often but probably not often enough noted, far too many current Liberal leadership prospects come from Ontario and Quebec — or points still further East — at a time when the Canadian West is rising. Similar considerations lie behind my nod to Joyce Murray — MP for Vancouver Quadra and a former BC provincial cabinet minister. (Oh and btw,  I want to have equal numbers of women and men in my Big Four list, if only to keep the women in my own life onside.)
Finally, Justin Trudeau, MP for the Papineau riding in Montreal, in many ways breaks the rule about getting away from Ontario and Quebec. At the same time, it is often said that he is first and foremost the son of his mother from BC, and he has developed his own intimate connections with Canada's Pacific coast. (Among other things, eg, he has a Bachelor of Education degree from the University of British Columbia, and worked for a time as a social studies and French teacher at Sir Winston Churchill Secondary School in Vancouver.)
Say whatever else you like, Justin Trudeau does have very strong polling numbers at the moment — among Canadian Liberals and (more importantly) among the Canadian electorate at large. He will apparently not be telling us whether he will actually run for the Liberal leadership until late this summer or even early this fall. But assuming Mark Carney does remain just a pointless pipe dream of people like me, if Justin Trudeau (and his remarkable wife) do decide to reach for the top, I would agree he will be the front runner. All things considered, he could be just what the ancient doctors of Canadian Liberalism ordered for the fateful year of 2013 as well — and even more for the next federal election in 2015. I am myself more enthusiastic than I thought I might be at one point about Thomas Mulcair's new New Democrats. But I also don't think the Liberal Party of Canada has reached the end of its historic manifest destiny yet.
* * * *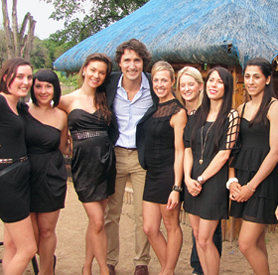 For those who are really interested in the subject already, even in the summer heat that has engulfed so much of our magnificent Canadian northern geography — from Bona Vista to Vancouver Island — here is my original list of 30 prospective candidates.  As already noted, it draws on two major sources : Susan Delacourt at the Toronto Star and the anonymous authors of the current Wikipedia site on "Liberal Party of Canada leadership election, 2013."
I should preface the list itself with a few extra details. First, Martha Hall-Findlay appears on both the Delacourt and Wikipedia lists, but I have left her off my list because she still has not paid off her debts from the 2006 Liberal leadership campaign — which suggests she just won't be able to raise the money for 2012-2013. Second, Marc Garneau currently does rather well in some opinion polls, but he has not made my ultimate Big Four list because I think his current strong polling just flows from his name recognition as a former astronaut — which I do not believe will last myself. (Of course I could be quite wrong!) Finally, among the 30 prospective candidates listed below only three have actually declared their candidacy as of today, July 8, 2012 — Deborah Coyne, Shane Geschiere, and Jonathan Mousley. So, all this having now been said, here is the list, again strictly in alphabetical order:
David Bertschi
Scott Brison
Mark Carney
Martin Cauchon
Jean Chrétien
Denis Coderre
Deborah Coyne
Marc Garneau
Shane Geschiere
Ralph Goodale
Jean-Marc Fournier
Mark Holland
Gerard Kennedy
Dominic LeBlanc
John Manley
Paul Martin
Elizabeth May
David McGuinty
Frank McKenna
David Merner
Jonathan Mousley
Joyce Murray
Naheed Nenshi
Taleeb Noormohamed
Geoff Regan
Belinda Stronach
George Takach
Brian Tobin
Justin Trudeau
Borys Wrzesnewskyj
UPDATE JULY 10: Along with the interesting comments on the Clarity Act from Harry Perlman below, two further pieces of intelligence since I rushed this hasty report together this past weekend have prompted me to rush together a hasty update:
(1) DAVID MERNER ON LIBERAL-NDP CO-OPERATION : In yesterday's Globe and Mail Gloria Galloway reported: "The possibility of co-operation — and perhaps even a merger — with the New Democrats as a means to defeat Conservatives in the next federal election is promising to become a key battle line in the looming Liberal leadership race, whether the Liberals like it or not … At least one potential contender is already saying he would campaign for co-operation. David Merner, a Liberal for more than 30 years who recently quit as president of the British Columbia wing of the party to test the leadership waters, says the issue would be at the heart of his campaign … Mr. Merner, an admitted dark-horse candidate, said he supports the ideas floated by New Democrat MP Nathan Cullen during the NDP leadership race that federalist parties on the centre and left should nominate candidates jointly at the riding level. 'We are no longer the governing party,' Mr. Merner said. 'And we've got to look at how we co-operate.'"
As noted above, "I was attracted to Nathan Cullen's campaign in the recent federal New Democrat contest." And (not that anyone important really cares, of course) this fresh intelligence about David Merner in the Liberal campaign just might make me change my Big Four list above to a Favourite Five list :  Mark Carney, Elizabeth May, David Merner, Joyce Murray, and Justin Trudeau.  I note as well that Calgary Grit has reported David Merner "does meet three of the requirements on the official 'Liberal leadership BINGO card' — he was born in Alberta, used to play hockey, and is fluently bilingual." Finally, there is some additional data on Merner in another recent (July 5) list of prospective federal Liberal leadership candidates from Sonya Bell, Colin Horgan and Jessie Willms at iPolitics.
(2) A CAKEWALK FOR JUSTIN TRUDEAU ALREADY? In yesterday's Toronto Star the always interesting Chantal Hébert meditated on the already near front runner status enjoyed by Pierre Trudeau's eldest son: "Even without a decision, Justin Trudeau emerging as Liberal leadership frontrunner … Notwithstanding their elected status, Trudeau's fellow MPs cannot hope to contend against him on anything approaching a level playing field … At almost 140,000 subscribers, Trudeau's Twitter following alone is larger than the post-leadership membership of the federal NDP … Not all of them are fans, of course, but Trudeau's base remains many times larger than that of any other prospective contender. That translates into a formidable fundraising edge; one that is reinforced by favourable polling data … It is not necessary to subscribe to the narrative of a near-miraculous Liberal recovery under Trudeau to find that none of the other would-be candidates generates a fraction of the popular interest that he attracts … For many attention-deprived Liberals, he offers an irresistible combination of leadership assets."
The only qualification to this I can think of at the moment myself is that it is still a long while between now and next spring. And it will even be a while yet before Justin Trudeau tells us whether he is actually going to run or not. At the same time again, I can also remember the counterweights editors' meditation from early this past March : "The quiet evolution of 'La femme de Justin Trudeau' carries on .. almost as if it knows what it's doing?" I also wonder myself just how much influence Ms. Gregoire-Trudeau will be having on the final decision. I of course don't know anything at all about her, but just from her media profile she sometimes seems more ambitious than her husband — and very much ready to play a strong role in his political career. But perhaps that is quite wrong?