More cheers for Nathan Cullen's NDP leadership bid .. the new republic in Canada may be closer than we think?
Dec 1st, 2011 | By
Randall White
| Category:
In Brief
No one expects Nathan Cullen to win.  As a recent Barbara Yaffe column in the Vancouver Sun notes, he has been labelled "a long shot and an underdog in the [federal] NDP leadership race."Â  And: "With nine candidates – nearly 10 per cent of the caucus" – vying "to replace Jack Layton, the Skeena-Bulkley Valley MP [from northern BC] has his work cut out for him."
The counterweights editors have nonetheless already offered "Two cheers for Nathan Cullen's 'plan to unite the left that just might work'" on this website. And I would now like to add an additional cheer myself, in the wake of this week's news that: "In his democratic-reform plan, Mr. Cullen is advocating a plebiscite to look at the future of the monarchy. This would come into play when –  or if – he becomes prime minister … He told The Globe Wednesday that 'Canadians have never been asked' about the issue except through the odd poll of 1,000 or so respondents … 'and I think Canadians have a right to be asked,' he said."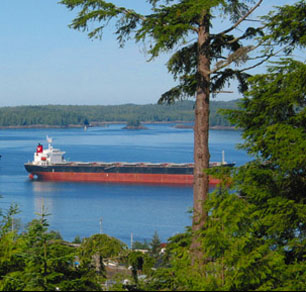 On the excellent BC website The Tyee yesterday Andrew MacLeod noted that Mr. Cullen had first broached this subject in a November 29 post on his own website. Mr. McLeod noted as well that: "Interestingly, the topic of the monarchy came up in a Nov. 18 interview with The Tyee, details of which are soon to be published. Cullen mentioned the monarchy as an antiquated institution and said it 'irks me as a democrat' … However, he dismissed acting on it. 'It's not a top priority for me,' he said. 'It becomes very distracting. An emotional and distracting debate when you're trying to work on poverty and social equity.'"
I would add another cheer for whatever happened to prompt Nathan Cullen to change his mind about the "distracting" nature of the fate-of-the-British-monarchy-in-Canada over the 11 days between November 18 and 29. I don't myself think this issue is at all distracting "when you're trying to work on poverty and social equity." The 19th century relic of the British monarchy in Canada in fact continues to serve as a prop for anti-democratic elitist elements in our political culture today, that only distract us from struggles against all forms of inequality.
I am pleased as well to align my cheers for Mr. Cullen's monarchy plebiscite with my cheers last month for the Young Liberals of Canada's "Resolution 114 at the upcoming Liberal Biennial Convention, to be held in Ottawa, January 13—15, 2012." As some may recall, this proposes "that the Liberal Party of Canada, urge the Parliament of Canada to form an all party committee to study the implementation of instituting a Canadian head of state popularly elected and sever formal ties with the British Crown."
Of course, it may well be that Resolution 114 has no more serious chance of being accepted at the January 2012 Liberal Convention than Nathan Cullen has of becoming the next leader of the New Democratic Party of Canada / Nouveau Parti démocratique du Canada. But the hard political fact remains that at least some factions in both of Canada's traditional progressive political parties have now crawled out of the woodwork on the big symbolic democratic reform issue of the future of the British monarchy in Canada.
And I am pleased as well that at least some of the scepticism I expressed this past summer about the extent to which "neither the federal New Democrats nor the federal Liberals in Canada have themselves quite grown up" has already proved at least a little too extreme?
Who knows? The "ultimately winning free and democratic cause of the independent Canadian republic" that will once again bring "the Conservative party in Canada to its knees (a place it has so often occupied, after all, ever since the death of John A. Macdonald in 1891)" may actually be at least a little closer than even its most ardent advocates of the present day have hoped?