Let's Go Blue Jays Let's Go 2012 : From the winter that never was .. to the most exciting season in years!
Apr 9th, 2012 | By
Rob Sparrow
| Category:
Sporting Life
Up in the not-so great white north, on the heels of a winter that never was, it is once again time for baseball.  And in a city that is craving something to cheer about, the Blue Jays have given all the reason for optimism, with a record-setting spring going 24-7, and inspired play in Cleveland to begin the year.
Yet prior to the games getting under way this unseasonably warm spring, the Blue Jay faithful were reflecting on a somewhat unsatiating off-season.  Unfulfilled more in a way of expectations not met, as many had proclaimed the Blue Jays to be the "it" team of the 2011-12 off-season.  Much like the snow that never came — that never materialized.  What happened?
After all, team president Paul Beeston hinted at the end of last season that it might not be long before the franchise's player payroll doubled. And team owner Rogers Communications, as we shall see, was indeed flush with cash.  The buzz around baseball was the Jays would be active, and GM Alex Anthopoulos had set them up just right with his clever maneuvering.  Marquee players such as Albert Pujols, Prince Fielder, Yu Darvish and Jose Reyes were on the market, and for the first time in a long time, Jay rivals New York Yankees and Boston Red Sox weren't going to be active. Yet the winters dealing came and went and the Blue Jays were left without a chair.
This past off-season was a tough lesson in the whole area of perception versus reality. The Blue Jays' hierarchy seemed caught off guard by a suddenly energized — and angst-filled — fan base, and Anthopoulos found himself as the point man, trying to explain how the Blue Jays had handled the Japanese pitcher Yu Darvish posting sweepstakes, and why they weren't players in the Prince Fielder auction.  Then in an interview he made an apparently offhand remark about operating within "payroll parameters," suggesting that bigger spending would only follow bigger attendance at the Rogers Centre.
This presented somewhat of a "chicken and egg" conundrum, that in order to splurge for top players he needs fans' commitment in coming to the park, and as Toronto's history shows, fans will come to the park when there is a better team presented to them on the field.  Either way, the ominous spectre of "payroll parameters," subsequently amended to "payroll boundaries," whatever that actually means, translates in the people's ear to, "We don't have a whole lot of money to spend."   And in these tough economic times, when it comes to fans' sports teams, they want to be fed big dollar figures, not lectured on austerity.
Fairly or not, the emotional bungee jump of the failed Yu Darvish posting whittled away some of the supply of blind faith that Jay fans had on offer. And from a communications standpoint, it was a disaster. If the club had any doubts about winning the bid for the Japanese pitcher, they shouldn't have allowed the opposite storyline to dominate in the days beforehand.  Yet in a much larger sense the storyline had changed — indeed shifted — and on a cold December day, machinations that would change the landscape of Toronto sport were taking place down the street, in the house with the retractable roof that the Blue Jays call their home…
Rogers & MLSE – The Changing of the Guard down at the ACC…and the Rogers Centre
The tectonic shift occurred on December 9th, when quite unexpectedly the Ontario Teachers' Pension Plan Board sold its lucrative majority stake in Maple Leaf Sports and Entertainment (MLSE) to a Rogers and Bell partnership for $1.32-billion. The deal included ownership of the Toronto Maple Leafs, Toronto Raptors, Toronto FC and Toronto Marlies teams, not to mention the Air Canada Centre (ACC), the Maple Leaf Square condo development and three specialty sports channels.  The Teachers were out of the sport business.  Sold to a pair of rivals that compete daily for your wallet & mind share via their network of satellite, wireless, talk, news, and entertainment empires.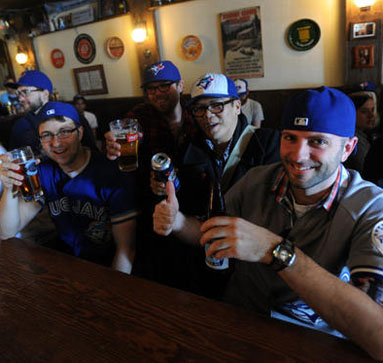 The analysts and media critics quickly offered an easy and unsubtle answer. The consensus for why these two shelled out so much for the Teachers' stake of approximately 80% of MLSE could have been summed up in a headline, with three words written in all-caps and large-point type: "CONTENT! CONTENT! CONTENT!"
And indeed this has been one the mantra in 21st century business speak, where we see daily both the leveraging and blurring of the 3C's (Computing, Communication, & Content).  These two major media communication behemoths know that content is key, yes, but you don't pay that kind of money and get into bed with a hated nemesis for just any content. What merits this kind of truce is live content with a best-before date, stuff like hockey games, basketball games, and soccer matches that fans can't wait to see. And sports have become the king of live content, not only for TV, but web, mobile and any other computer device that has yet to be dreamed of as well.
That then was the driving force behind the MLSE deal, and it's part of a larger trend in broadcasting and media that has seen the price of sports broadcasting rights and advertising revenues around the globe skyrocket. In a time where Neil Postman quite prophetically stated we "amuse ourselves to death", Prime Time TV has gone the way of Tivo and Bittorrenting, where people choose when and where they watch, usually without commercials.  And as audiences for top comedies and drama continue to fragment, sports has become one of the last, and most valuable, vestiges of appointment viewing.
"It's long been the case that advertisers paid up to two to three times more for a top-rated sports event compared to a top-rated drama or sitcom, and sports value as real-time programming and its finite availability have only caused its status to grow", says Michael Neale, a managing partner for Mediacom, a global media agency that co-ordinates and purchases advertising space on behalf of marketers. "For advertisers, sports are a place you can go in this wildly fragmenting world where you can find a good-quality audience," he says.  It's content is gold.
Meanwhile, back in Major League Baseball, its demand for content (162 games – almost twice as much as any other sport) is so high that major regional broadcast deals are having an unprecedented impact on the sport. Case in point, the perennially underachieving Texas Rangers went from declaring bankruptcy last May to signing a 20-year, US$1.6-billion contract with Fox Sports Southwest in September, the largest deal ever made by a Major League Baseball club with an independent regional sports network. The US$80 million the club will now rake in every year as a result instantly put it on equal ground with deep-pocketed powerhouses like the Boston Red Sox and New York Yankees, both of which own their own sports networks (Yankee Entertainment & Sport (YES) and New Englans Sports Network (NESN)).  That deal, driven by content, is the main reason that Japanese pitcher Yu Darvish will be sporting a Texas Ranger jersey and not one of the Blue Jays.
Moreover, broadcast deals are allowing clubs like the Anaheim Angels to spend over $250 million on superstar Albert Pujios.  They recently signed a $2.5-billion deal with Fox Sport for broadcast rights for the next 17 years.  Then just last week, Anaheim's regional rival, the Los Angeles Dodgers, set a North American record for a franchise fee when they were sold to a group of owners (that included basketball legend Magic Johnson) for $2.15-billion.  When announced, it shook the sports world, as it was more than double the previous record for a baseball team ($845M for Chicago Cubs).  The impetus, you guessed it, CONTENT.  The Dodgers existing cable deal ends next year and future television rights for the club have been estimated to be worth as much as $3 billion, and are considered above the team, players, and stadium as the team's most valuable asset.  Television craves reality shows and there is no better reality show than live sports.
Yes indeed, the landscape has changed in ever connected world, but what does this mean for the Toronto/Rogers Blue Jays?  At present, owning their own broadcast carrier (Sportsnet) has prevented them from capitalizing on these exorbitant rents they could in turn charge a 3rd party carrier to broadcast their games.  And although broadcast and advertising rates have greatly increased, these monies have been seamlessly transferred internal, fallen to the bottom line of an accounting ledger of a multi-layered public corporation.
And here-in lies the paradox, one could hypothesize that as a communications company, the richest owner in terms of capitalization in the sport, that they are primed for this new frontier and the synergies of content with communications.  The prospect of creating a Blue Jays baseball network, much like the Yankees with YES (valued at $3-billion – more in fact than the actual baseball team that was recently valued by Forbes at $1.8-billion) could provide them with a huge stream of dollars to fund the ball clubs aspirations.  Yet as a publicly traded company, with strict operating parameters, and whose accountability is to their shareholder, they may more prudently choose to operate the Blue Jays and its broadcasting arm as a "cash cow" that supports its other lines of business – used to promote its wireless and cable operations and prop up other media properties.
It is then a question of accountability. Teams such as the Yankees with their YES network, or Mets with its Sports New York (SNY) network are private entities that operate solely to fund the club and its operations.  Both have well known owners within the community that act as figureheads directly accountable to teams fans for results on the field.  And as such, are incented to act like other private owners such as Detroit Tigers' Mike Illich, a billionaire in this 80s who is in search of a championship (while he is still alive to enjoy it) and has spent over $200M for Prince Fielder.  A public traded company, on the other hand, with its multiple layers of management and no definitive figurehead that is held directly accountable to the fans, will as its mandate show much more restraint when major cash outlays have other ramifications for shareholders, employees, and other lines of business.
And to that end, the history of publicly traded media companies operating sports franchises has been poor in terms of results and championships.  One can point to CBS owning the Yankees in the early 70s or Fox owning the Dodgers in the 2000s.  They were never able to find synergies or monetize one of their most valuable assets.  The model hasn't worked.  The accountability was always skewed.  Yes, the terrain has shifted — CONTENT!, CONTENT!, CONTENT! was the mantra that December day last year.  Noticeably absent though was the talk of winning.  Time will tell if P/L (Profits & Losses) is more a defining driver than W & Ls (Wins & Losses).  Convergence is great when you can watch the Rogers Blue Jays (content), on your Rogers SmartPhone (computing), over the Rogers network (communications), it just may not equate to a 4th C — CHAMPIONSHIPS!
Blue Jays Making Noise in the Baseball World
Back to the world between the foul lines, the recent impressive spring has many a US sports scribe proclaiming that the Blue Jays are one of the up and coming teams to watch over the next couple of years. In a way this is a well-kept secret.  The Blue Jays have averaged 83 wins over the last six years, finishing above .500 in five of them.  Doesn't sound like much, except remember they have amassed those totals playing 18 games annually against each of the powerful Yankees, Red Sox and Rays. That is one-third of an entire schedule.  Further, over the last five years, they've won more games than recent world champions San Francisco Giants and St. Louis Cardinals.   And If you go all the way back to 1998, they're one of 16 teams with a winning record.  Yet, the difference between the Blue Jays and those other 15 teams is that each have played at least one postseason game since 1998. The Jays have played zero.
Yet methodically, the Blue Jays have assembled a talent base at both the major and minor league levels that has them poised to change all that and compete in the toughest division in sport.  Publications such as Baseball America and ESPN have raved about the talent that has been amassed. Toronto is viewed as having a top-three farm system with one scout calling the Jays' 2011 Double-A team the best he had ever seen.
To that end, when Alex Anthopoulos became GM in October 2009, his mandate was to pursue upper-echelon talent, "because in the AL East you either shoot for the moon or it is a waste of time." So he hired more scouts than any team, accumulated high draft picks and top prospects (please see last years post for a breakdown on the top 10 prospects), and was willing to take chances on skilled players with reputation problems elsewhere such as Yunel Escobar, Brett Lawrie and Colby Rasmus.  And, yes, he benefited from the ascension of Jose Bautista from utility man to superstar and leader of the ball club.
While the "volatility" of youth is the caution flag to predicting future success, Anthopoulos states, "we have decided to go with war with talent, and this is the best I have ever felt about our talent."  Veteran Kelly Johnson, who is still a relative newcomer to the Jays, can't help but notice the almost brazen approach of the team's younger players, their utter lack of fear. "They knew how good the Yankees and Red Sox are, but it's also a time and age where 22-year-olds and 23-year-olds, they don't really care how good the Yankees and Red Sox are or were".
It is this brazenness of youth that is captured in one particular Blue Jay player that is on the verge of becoming a superstar.
Budding Superstar (Brett Lawrie)
My electronic pocket dictionary says: "Phenom: a person of phenomenal ability or promise; extraordinary; remarkable." Brett Lawrie was everything and that, in his much awaited call up last season to the Blue Jays. Speed, power, attitude, fire, exuberance, hustle — he's got every intangible you could want in a player (including Canadian heritage), and that could soon make him the face of the franchise.  He not only crashed on to the scene with his infectious energy and enthusiasm, but his performance in his abbreviated season was one for the ages.
Since 1900, only a dozen other players have had an .953 OPS (On-base Percentage + Slugging Percentage) that high at age 21 or younger, in a season in which they amassed as many at-bats as Lawrie had in 2011.  Ten of those players are now in the Hall of Fame. An 11th, Albert Pujois is a lock to join them. The 12th was Hal Trosky, whose spectacular career path was cut short by migraines. There is only other name on the list: Brett Lawrie.
HIGHEST OPS AT AGE 21 OR YOUNGER
(PLAYER, YEAR,  OPS,  AGE,  AB)
1.  Jimmie Foxx, 1929, 1.088, 21, 517
2.  Willie McCovey,  1959, 1.085, 21, 192
3.  Mel Ott, 1929, 1.084, 20, 545
4.  Joe Jackson, 1911, 1.058, 21, 571
5.  Ted Williams, 1939, 1.045, 20, 565
6.  Alex Rodriguez, 1996, 1.045, 20, 601
7.  Mel Ott, 1930, 1.036, 21, 521
8.  Ted Williams, 1940, 1.036, 21, 561
9.  Eddie Mathews, 1953, 1.033,  21, 579
10.  Albert Pujols, 2001, 1.013,  21,  590
11.   Hal Trosky, 1934,  .987,  21,  625
12.  Al Kaline, 1955,  .967, 20, 588
13.  Jimmie Foxx, 1928,  .964, 20,  400
14.  Brett Lawrie, 2011,  .953,  21,  150
Source: Lee Sinins' Complete Baseball Encyclopedia
When you talk about Brett Lawrie with veteran Blue Jays broadcaster Buck Martinez, his first words are about another Brett, Hall of Famer George Brett.  "He's got more ability than George Brett, and I was George's roommate in Kansas City," Martinez has said. "Now obviously, he doesn't have 3,000 hits or the batting titles or an MVP award, so he's got a long ways to go. But he runs and he plays with the same kind of intensity as George did. And that's as high a compliment as I could pay any player."
When Brett Lawrie was asked if he'd ever wondered whether he could do what he did at the Major League level, Lawrie responded, rather matter-of-factly: "No. I've always known that I could play up there. It was just about me getting the opportunity to. I've never questioned myself about playing at the big league level because all I've ever wanted to do my whole life is play against the best. And when I get put up against the best, I turn on my jets."
Now it's a common thread in most great players that they never doubt how good they are. So there's nothing all that unusual, and nothing all that wrong, with running across a guy whose confidence oozes out of every move he makes and every word he speaks.  And it didn't hurt that the 22-year old tore up spring training this year, hitting a blistering .524 with 22 hits in 42 at-bats.
When asked about Lawrie this spring, manager John Farrell described him as "part of the heartbeat of this team." When further asked about his effect on the other players he replied: "Leadership, to me, doesn't have an age."  Brett Lawrie is the de facto ringleader in a youthful core of players that refuse to set limits and bow to none of the "established" teams.  In time, as long as health is on his side, he's soon going to put himself in position for everyone in the baseball world to take notice of who Brett Lawrie is.  Perhaps the best all round player this country has ever developed, and a Blue Jay that fans can get excited about and rally around for many years to come.
2012 – Exciting Summer…and Fall ahead
As for 2012, the American League East division continues to provide all the reality the Jays need, day after day, year after year.  It boasts three of the top teams in baseball that have in the past relegated the Blue Jays to second-tier status.  Yet it got a little easier for this year when Major League Baseball expanded its playoffs to include an additional wild card team.  There will now be two wild card teams from non-division winners in each league.  Meaning that the Blue Jays, forever parked behind the Yankees, Red Sox, and Rays will now be able to make the playoffs with just a third-place finish. And that, along with the youthful direction of the team, is fueling an optimism of post-season baseball in October.
"Our mindset here," says manager John Farrell, "is, whether they added a wild card or not, we feel we're ready to make that next step. We've turned over our roster almost 50 percent since last Opening Day, and it was with a core group of young players who have got the ability to do a lot of different things within the game. They can run the bases. We've become more athletic. And talent, athleticism and youth are a pretty good combination."
The Blue Jays have a solid starting three pitchers;  Ricky Romero, Brandon Morrow, and home opening day starter Henderson Alvarez, and have made a massive upgrade to their bullpen, stealing underrated closer Sergio Santos in a trade with the White Sox, signing Francisco Cordero and Darren Oliver to set up for him and reacquiring their longtime bullpen anchor Jason Frasor.  Their bats are led by Jose Bautista's mid-career makeover, the heretofore mentioned budding superstar Brett Lawrie, and the rebirth of Yunel Escobar. And with the pop of Adam Lind, J.P. Arencibia and Edwin Encarnacion the offense will be exciting and be able to score with the best.
So if you were one of the people who belted out a big "what the HECK" when team's president and CEO, Paul Beeston, told a group of season-ticket holders that he expects the Jays to make the playoffs "two to three times" in the next five years, well, guess what? That pronouncement isn't as off the wall as you think.
"It's certainly realistic," says Bautista, a guy who has evolved, in just a couple of years, from baseball nomad to two-time major league home run champ to unquestioned leader of this talented team on the rise. "Now it's on our shoulders to go out there and perform … The excitement here is not because of what we're building," says Bautista. "The excitement is because this is a good team. And that's the plain truth. If things come together for us, it's scary what this team might be able to do."
It says here that the Blue Jays will bring an exciting brand of ball up north, and will play the first meaningful games in almost 20 years down at the place they used to call the Skydome.  Look for them to continue to build, and to be one of the participants in the new one game Wild Card play-in this October — making this the most exciting season in years.
Excitement and optimism is in the air, and if Rogers steps up and commits some of their cable and cell phone dollars, adding a few talented pieces to the already promising core, this could be the beginning of renaissance that returns the club back to the glory days of 1985-93.  Days when the Blue Jays were the model franchise in baseball.
Robert Sparrow is a Toronto marketing analyst and noted local authority on the sporting life. (And, we are told,  the sources for this exciting 2012 Blue Jays outlook, enthusiastically posted on the day of the season's home opener, all lie in his awesome baseball brain!)