Our quick and dirty report on the Ontario Liberal leadership convention, Saturday, March 7, 2020 ..
Mar 9th, 2020 | By
Counterweights Editors
| Category:
In Brief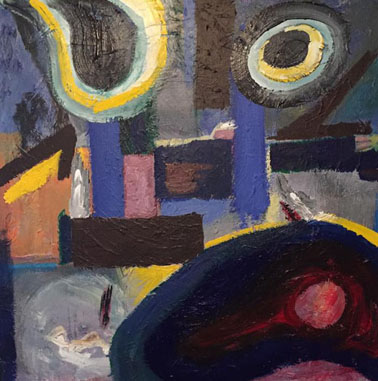 We watched the Ontario Liberal Party's Saturday, March 7, 2020 leadership vote – in the International Centre in Mississauga – at our more easterly Ganatsekwyagon headquarters, some 150 yards from Lake Ontario's soothing waters on a sunny day.
In the main 2nd-floor boardroom we had the excellent cp24 coverage on the big-screen TV. In the nearby chief editor's back office, looking out the window at still leafless trees, we had Steve Paikin's excellent video coverage from the TV Ontario site.
The long and short was explained by CBC News : "About 3,000 people attended the two-day leadership contest, co-chaired by federal Liberal MP Chrystia Freeland and interim provincial leader John Fraser."
The event started Friday night with a tribute to former provincial Liberal leader and Ontario Premier Kathleen Wynne. Speeches from the six leadership candidates and then the final vote took place on Saturday.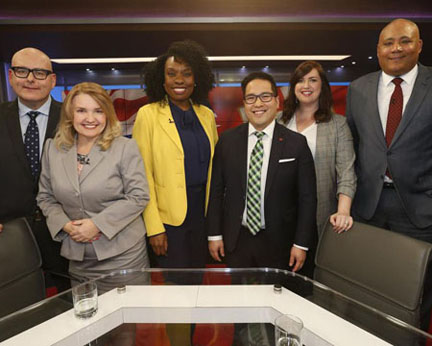 In the end, as widely predicted, former Wynne cabinet minister Steven Del Duca "won in a first ballot landslide with 58.5 per cent of the vote at a delegated convention … Current Liberal MPP Michael Coteau was Del Duca's closest rival, taking 17 per cent of the 2,140 votes cast."
Whatever else, our widely agreed-on counterweights impression from both cp24 and TV Ontario was that this is certainly not a political party about to subside into the dust of Ontario political history. At one point Steve Paikin himself alluded to the "spirit in the room."
As far as the speeches from the half dozen candidates go, many on both cp24 and TV Ontario were impressed by the self-confessed "small-town girl from southwestern Ontario" Kate Graham. She gave an unusual speech which (Mr. Paikin underlined) included the word "bullshit" and ended with a song. In conversation with Mr. Paikin, both Deb Matthews and Kathleen Wynne had good things to say about Ms. Graham's future in the Liberal party.
Our own counterweights editors group at our more easterly Ganatsekwyagon headquarters was somewhat more impressed by Michael Coteau's speech, with its recurrent allusions to Ontario political history, going back 200 years. With us as well Mitzie Hunter's enthusiastic panegyric on the Ontario Liberal future came in a very strong second (or in one or two cases first).
Ultimately we also think Kathleen Wynne was right, as well as suitably diplomatic, when she told Steve Paikin that all six candidates had made strong speeches, including Ottawa lawyer Brenda Hollingsworth and even the much predicted winner Steven Del Duca.
Mr. Del Duca won in the end because he managed to recruit by far the largest number of voting delegates to the convention. He proved himself "a good organizer." And that may do the Ontario Liberals as much good as anything else between now and the 2022 provincial election.
At the same time, as many have noted Steven Del Duca does lack "charisma." In some ways the six leadership candidates together were more impressive than any single individual. And as the world looks right now, the prospects of the Ontario Liberals under Mr. Del Duca's leadership depend a lot on the current "vulnerability" of the Ford Conservatives, and the current somewhat listless state of Andrea Horwath's New Democrats.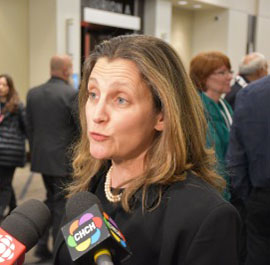 Meanwhile, federal Liberal MP Judy Sgro's daughter told Steve Paikin that the Ontario Liberals' big mistake in 2018 was not "listening" hard enough. Convention delegate Don Matheson, a Del Duca supporter, told cp24 that the"Liberal Party wasn't listening to what the needs of the people of Ontario were" in 2018.
Whatever else, the March 6—7, 2020 Ontario Liberal leadership convention finally looked better than almost anything else about the race. (And the co-chairing by federal deputy prime minister Chrystia Freeland added to this look.) Meanwhile again, our guess is that Steven Del Duca does have to prove himself over the next two years. His organizing talents may finally compensate for his charismatic deficit … or not!
Meanwhile yet again, an EKOS poll published January 23, 2020 showed Libs 36%, Cons 31%, NDP 21%, Greens 9%. But a Campaign Research poll that appeared February 11 reported Cons 30%, Libs 30%, NDP 26%, Greens 11%.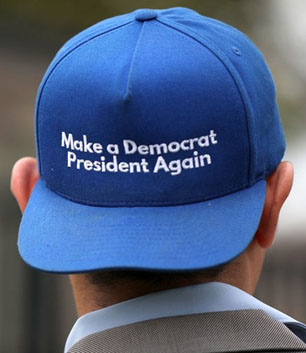 Green Party leader (and sole MPP) Mike Schreiner may be onto something when he says about Mr. Del Duca : "I am not sure that someone associated with the old guard of [the] Liberal establishment and embroiled in past controversies can deliver the leadership that Ontario needs." (It is also a problem of sorts that the new Liberal leader does not have a seat in the legislature at the moment.)
This kind of thought was echoed by Conservative and NDP partisans as well. At the same time again, as we saw the universe electronically in our office board room, there was something about March 6—7, 2020 in Mississauga that suggested it would be a serious mistake to write the Liberals off for 2022 – despite their historically worst-ever performance in 2018. And as CBC poll tracker Eric Grenier noted just before the March 7 vote, as matters stand right now the legendary Ford Nation Conservatives are vulnerable indeed.