"If you want to know what a panic looks like this is it" (while Biden "has won in states where he barely made an effort"??)
Mar 12th, 2020 | By
Randall White
| Category:
In Brief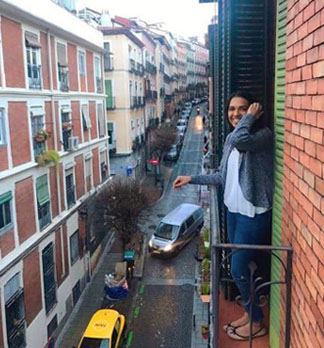 [UPDATED MARCH 13, 17]. 3/12/2020. TORONTO, ONTARIO, CANADA [all Indigenous North American words]. I awoke this northern morning to the wisdom of Kriti Gupta from New York on our local Bloomberg Business News, explaining the latest stock market meltdown in the wake of the coronavirus, low oil prices, and on and on.
(Ms Gupta succinctly advised : "If you want to know what a panic looks like this is it.")
Meanwhile, back at Democracy in America, for the second Tuesday in a row Joe Biden ("the moderate progressive") has almost decisively moved ahead of his one remaining opponent Bernie Sanders ("the revolutionary progressive") in the 2020 Democratic primary season.
It is no surprise that Bernie will soldier on somewhat longer. There is a debate ahead (Sunday, March 15, in Phoenix, Arizona, "without an audience," in deference to the "coronavirus pandemic sweeping across the nation.") Bernie might well look better than Joe in this contest between two almost dead white males.
And then there are Democratic primaries on Tuesday, March 17 in Arizona, Florida, Illinois, and Ohio. Current polls show Biden leading in all four cases. But from the standpoint of almost all the smart money less than a month ago, it is a miracle that Joe Biden is where he is now! [UPDATE : As of early in the morning, March 17, Ohio seems to have backed out of its primaries. See "Ohio governor announces polls will be closed Tuesday over coronavirus ."]
So Bernie is bound to hang on until at least March 17, hoping for another miracle in his direction this time. And exit polls from the last two contests apparently do suggest that Biden is finally winning as older Democrats make up their minds. But Bernie still commands the young and does well among the middle-aged.
The problem remains (in a stronger than usual case of a broader trend?) that more older voters are showing up to vote. The weight of the smart money at this exact moment says Biden is, after all, going to be the Democratic man who will face the Republican Wizard of the White House on November 3 this year.
According to Frank Bruni in yesterday's New York Times, already "it's not too soon to imagine what Biden's general-election campaign would ideally look like."
The part of Mr. Bruni's early imaginings that lingers clearest in my mind is : "Americans aren't looking for a superhero, and Biden's success in the Democratic primary has shown that campaign events and retail politics aren't the be-all and end-all. He has won in states where he barely made an effort, and that's because his brand transcended traditional campaign mechanics."
It may just be me. But I think this sounds a little like the political methodology of Donald Trump. Traditional experts are even more often wrong in politics than in other walks of life. And the experts who specialize in traditional campaign mechanics are no exception.
You could say of Trump as well that his brand transcends traditional campaign mechanics. (I am old enough myself to find this use of the adman word "brand" not very helpful in talk about politics, but I of course concede I'm in a minority here in 2020.)
In any case does this mean that after much wandering in the wilderness lately the US Democrats finally have come up with the best candidate to face Donald Trump on November 3 — even if he is someone who much smart money was rejecting less than a month ago?
Or is this just more wishful thinking? In the spirit of : If Joe Biden is now almost certainly going to be the Democratic candidate for the November election, all of us in the good guys' camp (even in Canada, where we don't actually vote in American elections) might as well believe he is the Democrat best able to beat Donald Trump like a drum?
In any case again, Donald Trump is not really a serious political philosopher like Bernie Sanders at all. But there do seem a few senses in which Trump and Biden have almost too much in common in their populist appeal. (While the good thing about Biden is that it seems easy to believe he will nonetheless hire and listen to staff who have the devil that lies in the details covered — and/or phone Barack Obama when truly in doubt about the very deep weeds.)
Whatever, right now we live at a time when Canadian PM Justin Trudeau is "self-isolating as wife Sophie awaits result of COVID-19 test." [UPDATE : As of early morning March 13 Sophie Gregoire Trudeau has in fact tested positive for COVID-19. PM has not yet been tested because he is still not showing symptoms.]
And "Florida Sen. Rick Scott in Self-Quarantine After Potential Contact With Brazilian Official … who tested positive for the new coronavirus, also posted photo with President Trump."
With recent decisions by major sports organizations in mind, you may even be wondering if the November 3, 2020 US presidential election will somehow finally be called off too (well …).
Just when the Democrats have finally landed on the guy who really can beat the current Republican Wizard of the White House like a drum!
(And of course all this is quite crazy … but we increasingly do seem to be passing through a glut of even crazier times than what we have already been living with for longer than is no doubt healthy … and at the moment no one really seems to know just how much longer they will last!)