Citizen X on COVID-19 update north of the lakes – "How Deep is the Ocean?" .. "Don't Get Around Much Anymore"
Mar 24th, 2020 | By
Citizen X
| Category:
Canadian Provinces
GANATSEKWYAGON, ON. MARCH 24, 2020. I want to stress that I like the Prime Minister Justin Trudeau who comes on TV somewhat before lunch these days, from the porch just outside his current democratically ordinary-looking residence in "Rideau Cottage," to tell us where our Canada-wide fight against the COVID-19 pandemic stands.
I'm not averse either to the latest gunslinger version of a PM Trudeau broadly hinted at yesterday (and alluded to again today). As CBC News reported : "Go home and stay home, Trudeau tells Canadians as government warns of COVID-19 enforcement measures … Random inspections, hotlines could be on the way to enforce rules to limit spread of virus."
CTV News was slightly more restrained (surprisingly?) : "'Enough is enough': PM says people must follow COVID-19 health measures, commits funds for vaccine." The CTV report also underlined an especially provocative remark by the 2020 edition of Prime Minister Trudeau : "Listening is your duty and staying home is your way to serve."
All this can remind we aging Canadians of an earlier Prime Minister Trudeau's steely 1970 response to an earlier human (if rather more political) disaster, when "Troops, tanks roam Quebec streets during the October Crisis." Pierre Trudeau had his critics on his tough October Crisis action, among elites in both official languages. But we in the great masses admired his backbone.
Yet, having said all this, like many ordinary citizens, taxpayers, and voters I also find myself wondering about many things these days, as I stay home and ponder the historic trials and tribulations of humanity in our time.
This morning, no doubt in response to all the unsettled thoughts that sleep had not dispelled, I woke up with two classics from the Great American Songbook (1920s to 1950s) stuck in my mind : "How Deep Is the Ocean" and "Don't Get Around Much Anymore."
"How Deep Is the Ocean" was invented in 1932 by Irving Berlin – born in Russia, moved to New York City with his family when he was 5 years old in 1893, and died at 101 in 1989 at 17 Beekman Place in Manhattan. As Wikipedia explains : "The song was written at a low point in Berlin's professional and personal life." It was a huge hit in 1932, "and brought Berlin back to the top again." Like so much he wrote its melody and lyrics are simple but beguiling and powerful: "How much do I love you? / I'll tell you no lie / How deep is the ocean? / How High is the Sky?"
If the year 1932 proved good for Irving Berlin, others were not so lucky. It marked the depths of the US Great Depression, with a December unemployment rate of 23.6%. It was also the year that Democrat Franklin Delano Roosevelt defeated Republican President Herbert Hoover in a landslide, and began the New Deal that would do so much for the modern US welfare state, such as it is. (Democrats won control of both the House and Senate in 1932 as well.)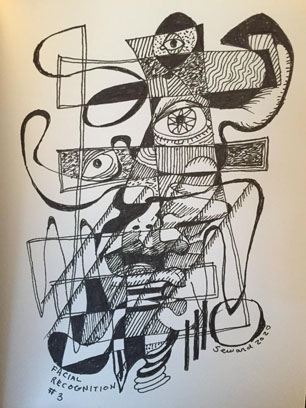 Two original 1932 recordings of "How Deep Is the Ocean?" can be sampled on YouTube today. One is by the Paul Whiteman Orchestra with vocal by Jack Fulton. The other is by "Rudy Vallee and His Connecticut Yankees," with vocal and C melody saxophone solo by Mr Vallee himself.
Some 14 years later, in 1946, in the wake of the Second World War ("the deadliest military conflict in history" in which an "estimated total of 70—85 million people perished"), a somewhat more hip version of "How Deep Is the Ocean" was recorded by a 30-year-old Frank Sinatra "with Axel Stordahl arranging and conducting." It "was released as a 78 RPM single by Columbia Records." Sinatra recorded the tune some 14 years later again in 1960, in his mid 40s and "with Nelson Riddle during his Capitol period."
Wikipedia lists 16 other recordings. My personal favourite is the very hip instrumental from the alto saxophone jazz giant Charlie Parker, late in 1947 (not long after the first Sinatra vocal). The power of the melody comes through in Parker's playing, just decorated by his astonishing pyrotechnics. Two takes from the 1947 session can be sampled on YouTube today. Both include a trombone solo by J.J. Johnson, and a concluding chorus by a youthful Miles Davis on trumpet, playing in his lyrical later style and not trying in vain to match Parker's phenomenal technique. As an added wrinkle 1947 was also the year Irving Berlin and his family moved into the five-story house on Beekman Place, where he would finally pass away at 101 in 1989.
Finally, to me at least the relevance of the question "How Deep Is the Ocean" in the 2020 COVID-19 pandemic ought to be obvious. What everyone would like to know but no one clearly does is just how deep the pandemic will be. When will those of us following the official advice to "Go home and stay home" be able to go back to work, theatres, sports events, restaurants, bars, and on and on and on? (And when, many already exhausted parents are no doubt wondering, will the children be going back to school?)
Meanwhile, Duke Ellington's 1943 classic "Don't Get Around Much Anymore" is also bound to mean something to all of us who are, again, following the official advice to "Go home and stay home." Ellington was born in Washington, DC in 1899 and passed away in New York City in 1974, at the age of 75. He wrote remarkably urbane and sophisticated American popular music. As Wikpedia explains : "A master at writing miniatures for the three-minute 78 rpm recording format, Ellington wrote more than one thousand compositions … the largest recorded personal jazz legacy … many of his pieces" have "become standards."
"Don't Get Around Much Anymore" was "originally entitled 'Never No Lament' and … first recorded by Duke Ellington and his orchestra" in 1940. It became a hit as "Don't Get Around Much Anymore" after "Bob Russell wrote its lyrics in 1942." Two different recordings, "one by The Ink Spots and the other by Ellington's own band, reached No. 1 on the R&B chart in the US in 1943" (a year or so after Franklin Roosevelt's New-Deal USA finally joined the Second World War). The Ink Spots version can be sampled on YouTube today. It includes Bob Russell's verse, as well as the better-known chorus : "When I'm not playing solitaire / I take a book down from the shelf / And what with programs on the air / I keep pretty much to myself."
This tune from the Second World War in the first half of the 1940s can also mean something to some of us in the COVID-19 pandemic of 2020, as we go home and stay home, following the advice of various governments (federal, provincial, and local in Canada, and no doubt similar locations in other democratic federal systems around the global village).
Meanwhile yet again, back in the real world of early spring 2020, I have been struck and even somewhat surprised by one of yesterday's headlines : "More than a million Canadian citizens and permanent residents returned home last week … Repatriation flights headed to Peru, Morocco, Spain, Honduras, Ecuador, El Salvador and Guatemala." (The editors have also asked me to mention that this site will be trying to keep pace with this very fast-moving story over the next several weeks, at least more often than over the past few weeks. We do suddenly seem in a strange new era that begs for further thought, while at least many of us remain obediently at home, with time on our hands!)