Randall White : A very short note on the Ontario cabinet shuffle, June 20, 2019
Jun 20th, 2019 | By
Randall White
| Category:
Canadian Provinces
[UPDATED JUNE 22]. The obvious first reaction to Premier Doug Ford's big cabinet shuffle at the end of his first year in office is that it wasn't his cabinet who was so visibly booed at the Toronto Raptors NBA championship celebration this past Monday.
The point was not lost on CBC TV's "This Hour Has 22 Minutes," which tweeted just past 11 AM this morning : "Several high-profile ministers demoted in major Ontario cabinet shuffle. It doesn't get much worse than Doug Ford saying you're the one doing a bad job."
For details see "Fedeli, MacLeod, Thompson all demoted in major Ontario cabinet shuffle by Ford" ; "High-profile ministers demoted in Ont. Premier Ford's cabinet shuffle" ; and "Fedeli, Thompson, MacLeod and Mulroney moved from embattled posts as Ford shuffles Ontario cabinet."
The new official list, in alphabetical order by surname, appears online at "Meet the Cabinet."
If you are a Twitter addict, you may have arisen this morning to Mike Crawley's 7:29 AM message : "One of my PC sources is calling this a bloodbath, and the most heavy-handed cabinet shuffle ever."
Some two and a half hours later Adam Radwanski observed : "after all the initial hoopla about having a small cabinet, it's now grown significantly."
I have only a few immediate thoughts myself.
To start with, Rod Phillips might make a good Minister of Finance. By some accounts Stephen Lecce could become an effective Minister of Education – from a conservative point of view at any rate.
I am personally somewhat puzzled by the appointments of Monte McNaughton as Minister of Labour, and Todd Smith as Minister of Children, Community and Social Services.
The class act of the official swearing-in was Caroline Mulroney – who first did her oath of office in the kind of French you only learn growing up in Quebec.
Finally, in the end it's at least hard not to wonder whether some of Premier Ford's current problems have more to do with his own office than his cabinet.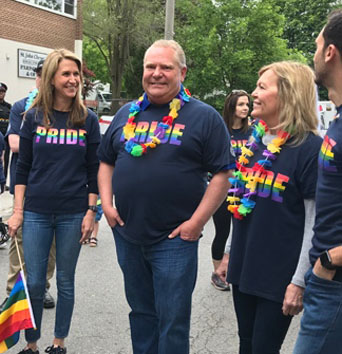 (As a Toronto Life article on "Doug Ford's now-undisputed second-in-command" explained early this year : "He doesn't have a lot of experience in government.")
Meanwhile, the bottom line does very much remain that the Ford Nation Ontario PCs still have three more years to do much better – or, as some critics will no doubt urge, much worse.
If they really are going ahead with major health care system reform (almost bound to cause more initial trouble at best?), my guess at this moment would be that the Premier's ultimate reputation will depend on just how well – or badly – this works out.
Meanwhile again, Ontario PCs now have until late October 2019 to get their big one-year stab at reforming the management team to work, without constant harassment from the opposition in the Legislative Assembly. (Where MPPs in the government majority just act like much-observed trained seals in any case!)
UPDATE JUNE 22 : As of late yesterday – "BREAKING: Premier Doug Ford's embattled chief of staff, Dean French, has resigned." (And note above : "in the end it's at least hard not to wonder whether some of Premier Ford's current problems have more to do with his own office than his cabinet. " It seems the premier finally wondered this himself.)