2019 Canadian election log, V: How about back to the future of Pierre Trudeau's second election in 1972 (again) ??
Oct 16th, 2019 | By
Counterweights Editors
| Category:
In Brief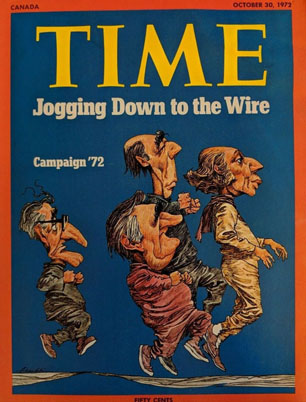 GANATSEKWYAGON, ON. WED, OCT 16, 2019. With the actual Canadian federal election now only four or five days away, it is hard to say anything altogether sensible about the ultimate result. Except that it does seem very close (in various respects) and impossible to predict.
We're finding ourselves thrown back on the amusement of no doubt trivial resemblances between the current 2019 late-campaign polling and certain historical precedents, with special reference to the election of 1972 – also the second election that Justin Trudeau's father faced as Liberal leader and Canadian prime minister.
Today, eg, the latest (October 15) editions of Éric Grenier's CBC Poll Tracker and P.J. Fournier's 338Canada.com are projecting numbers of seats in the Canadian House of Commons that are remarkably similar to each other – and to the results of the election on October 30, 1972 (when two of the current six party leaders were still not yet born, one was only 10 months old, and the eldest was only 18 : see Appendix below).
In both major polling surveys dated October 15, 2019 the Liberal and Conservative popular vote is very close, with the Conservatives slightly ahead. But the Liberals still win slightly more seats, largely as a result of the bunching up of the Conservative vote in Alberta and Saskatchewan. Grenier gives the Liberals 135 and the Conservatives 132 seats. Fournier reports Liberals 134, Conservatives 132.
Compare this – just for fun as it were – with the actual results in Pierre Trudeau's second election as leader in 1972 (and in a 264 as opposed to 338 member House of the day) : Liberals 109 seats, Conservatives 107. (Note too that, as legend has it, the finish in 1972 was so close that it was not clear just who had won the most seats until the morning after.)
So … what did happen after the 1972 federal election in Canada? Note here that the David Lewis New Democrats had won 31 seats on election day. And note too that in the October 15, 2019 polling surveys both Grenier and Fournier give the Jagmeet Singh NDP 34 seats.
In the fall of 1972 Justin Trudeau's father Pierre formed a Liberal minority government that remained in office until the early summer of 1974, with the informal but quite open co-operation and support of the Lewis New Democrats.
Note, however, that in the October 15, 2019 Grenier and Fournier calculations, the support of Mr. Singh's NDP alone would still make a strictly Liberal-NDP co-operative venture one or two seats shy of a bare majority. Such a thing would have to include the four seats both Grenier and Fournier assign to Elizabeth May's Green Party as well.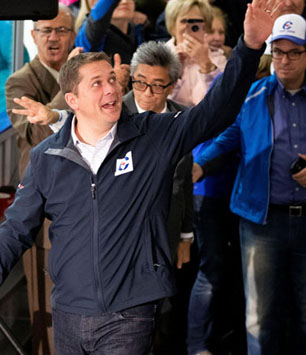 As already alluded to in this log, if something of this sort is what actually happens on October 21 we'll be happy enough in this space.
We agree that New Democrat leader Jagmeet Singh has become the surprise big star of this 2019 federal election campaign. Mr. Singh, it seems, has finally inherited the woke-charisma that Justin Trudeau wielded in 2015. And that is no doubt very good for Canada, in many different ways.
Yet like many others like us (and as also alluded to before in this log), we continue to wonder and worry about the increasingly serious prospects of a Conservative minority government that also continue to linger in the polling evidence.
The 33 (Grenier) or 34 (Fournier) seats for Yves-François Blanchet's Bloc Québécois in the October 15, 2019 surveys may or may not finally help Andrew Scheer. But they wield more weight and heft than the 15 seats won by Réal Caouette's Social Credit party in Quebec in 1972. At first blush at any rate the also surprising late-campaign surge for the BQ in 2019 could very well point instead to Stephen Harper's Conservative minority government of 2006.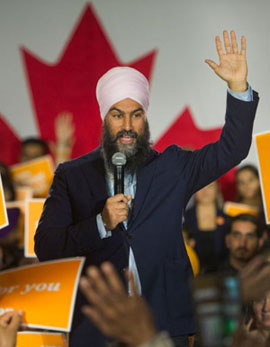 We conclude here with two further possibly compensating thoughts for those who really do not want to see any kind of Conservative Government of Canada on October 22, 2019 – from the two newest individual polls surveyed in the October 15 edition of the CBC Poll Tracker.
From Darrell Bricker at Ipsos, "Down to the Wire: Outcome Remains Uncertain as Campaign Enters Home Stretch," October 15 : "while Liberal popular vote sags, their underlying fundamentals remain relatively stronger, which suggests that some of the NDP or Green vote in particular, both of which shows softness, could come back to the Liberals in the final days of the campaign."
From Marco Vigliotti at Mainstreet, "Liberals, Conservatives leading among early voters," October 15 : "Advance polling was available from Oct. 10-14 … Compared to Mainstreet's national daily tracking poll … early voters were more likely to vote for the Liberals and Conservatives, and were less likely to back the NDP, Bloc or Greens … Breaking down the numbers by region, a plurality of early voters cast a ballot for the Liberals in Ontario (42.4%), Quebec (41), Atlantic Canada (33.5) and British Columbia (31.7). The Conservatives were the most popular choice of early voters in Alberta (74.3%) and the Prairies (49.1)."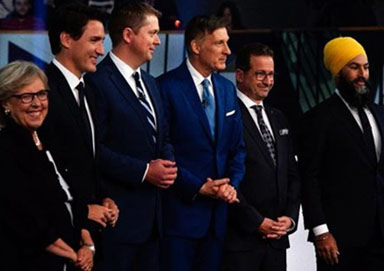 APPENDIX : Birthdays of Six Canadian Federal Party Leaders 2019 :
Andrew Scheer, Conservatives, May 20, 1979, third from l in photo ;
Jagmeet Singh, New Democrats, January 2, 1979, far r in photo ;
Justin Trudeau, Liberals, December 25, 1971, second from l ;
Yves-François Blanchet, Bloc Québécois, April 16, 1965, second from r ;
Maxime Bernier, Peoples' Party of Canada, January 18, 1963, third from r ;
Elizabeth May, Green Party, June 9, 1954, far l in photo of party leaders at English-language debate in Gatineau, Quebec, October 7, 2019!