Canada changed in 2015 and the global village too : Part III .. Hillary, Merkel in Bejing, Xi Jinping, Narendra Modi
Dec 29th, 2015 | By
Counterweights Editors
| Category:
In Brief
Here is the third part of our four-part year-end review. For more general background see "Canada changed in 2015, and Marshall McLuhan's global village did too : Part I .. Paris, Alabama, Baltimore, Havana."
As noted in Part I, we're covering Associated Press top international news images up front on our home page. For the more domestic news from our own articles readers can click on "Read the rest of this page" and/or scroll below.
(Oh and btw the third quarter of 2015 covered by our own articles was also the time when the Toronto Blue Jays suddenly blossomed. We had been warned by Rob Sparrow, back in April, with "Blue Jays 2015 .. long winter into drought that may be ending very soon!" The crucial moment came on July 29, when Troy Tulowitski sparked a never-look-back 8–2 hometown win over the alleged city of brotherly love. The rest was history … not quite all the way to the World Series, but at least an inspiring post season for the first time in more than two decades!)
Again, more generally, all of us here agree that 2015 has been some kind of seminal year. And Part III for McLuhan's global village starts immediately below :
(9) The trials of Hillary Clinton's America get seriously underway … History, the Anglo-American conservative poet T.S. Eliot wrote just after the First World War, "has many cunning passages, contrived corridors / And issues, deceives with whispering ambitions, / Guides us by vanities …"  Today's many cunning passages include the myopic hard right-wing in the USA, doing exactly what is required to achieve exactly what it says it does not want!
Our ninth AP photo (and accompanying caption) for the seminal year 2015 shows how "Democratic US presidential candidate and former Secretary of State Hillary Rodham Clinton testifies on Capitol Hill in Washington, Thursday, October 22, 2015, before the House Select Committee on Benghazi. (AP Photo/Carolyn Kaster)." What will finally happen to Ms Clinton is now one of the most poignant international questions of 2016!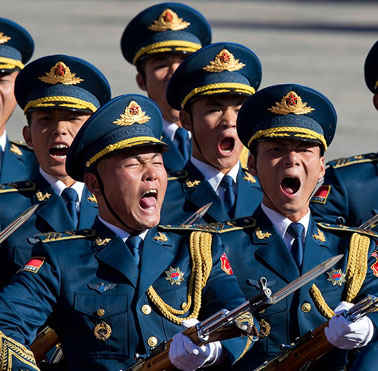 (10) The Chinese honour guard for Angela Merkel's visit to Bejing … Just after the Second World War George Orwell wrote : "It may be that Europe is finished and that in the long run some better form of society will arise in India or China." Almost 70 years later, Europe is far from "finished." (Why do so many people from the Middle East and North Africa want to go there?) But India and China have also become much more important than they used to be.
In some related spirit, our tenth photo and caption shows how "Members of a Chinese honour guard shout as they march past during a welcome ceremony for German Chancellor Angela Merkel held outside the Great Hall of the People in Beijing, China, Thursday, October 29, 2015. (AP Photo/Ng Han Guan)."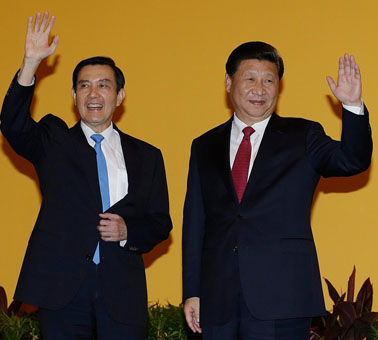 (11) Xi Jinping meets Taiwan president in Singapore …  China may not have the worrisome international military ambitions that some observers of the honour guard for Angela Merkel's  visit to Bejing might imagine. But it does seem, eg, an open question just how much longer Taiwan can remain NOT a part of what is still calling itself the People's Republic of China ????
In some similar spirit again, in our eleventh photo and caption "Taiwanese President Ma Ying-jeou, left, and Chinese President Xi Jinping wave to the media at the Shangri-la Hotel on Saturday, November 7, 2015, in Singapore. The two leaders shook hands at the start of a historic meeting, marking the first top level contact between the formerly bitter Cold War foes since they split amid civil war 66 years ago. (AP Photo/Wong Maye-E)."
(12) Narendra Modi meets David Cameron in London …  In 2014 Nardendra Modi's conservative Bharatiya Janata Party (BJP) won a majority government in India , with almost 52% of the seats in the popularly elected Lok Sabha, gleaned with just over 31% of the all-India popular vote. The novelist Amit Chaudhuri has recently protested that Modi's "BJP has been busily suppressing Hindu pluralism … You could call the BJP's project a kind of Wahhabi Hinduism: it is intent on defining a single power centre, where before there was none, and one interpretation, where before there were many."
Chaudhuri has also commented on Modi's November 2015 state visit to the United Kingdom. ("I was in the UK when Modi arrived on his state visit, to be greeted by euphoric crowds. Here is a man who has different personae for different constituencies. On the UK trip, he was the corporate CEO, managerial, upbeat, holding out the promise of agreements and financial benefits.") In our twelfth photo and caption "Indian PM Narendra Modi poses with British PM David Cameron at 10 Downing Street official residence, London, Thursday, November 12, 2015." (Photo: Crown Copyright ; Credit: Georgina Coupe. India Bulletin).
Finally (and again), for the more domestic news from our own counterweights articles readers can click on "Read the rest of this page" and/or scroll below.
* * * *
Here is Part III of the particular Canadian (+ North American) branch of our year-end review, from the counterweights archives for the third quarter of 2015:
(7) "Defence minister's grandmother leaves PM Harper ironic campaign theme song" …  Jul 19th, 2015 … by Counterweights Editors …
In the depths of July the New Democrats were leading the opinion polls for the October 19 federal election in Canada. It was the surprise victory of Rachel Notley's NDP in the Alberta provincial election on Tuesday, May 5 that had suddenly pushed "Tom" Mulcair's Quebec-based Canadian social democrats to the head of the class across the country. In the end it was just a summer love that couldn't last, but …. at least we'll always have Montreal.
(And btw contemplating the Wikipedia article on "Opinion polling in the Canadian federal election, 2015" for a few hours, while watching TV or other choice of after dinner adult education, remains a very useful first step for any serious thought about what really happened in the finally very interesting Canadian federal election of 2015.)
In any case it was known by the summer that the ruling Harper Conservatives were in some kind of potential trouble (maybe), from whatever source. And we turned for advice to that great (if also of course now quite obscure) Mart Kenney-Norma Locke tune from the Canadian big band era, "When I Get Back to Calgary" —  a creation of the grandparents of one of the Harper government's rare cabinet stars, Jason Kenney.
For reasons accidental and otherwise, our next two selections from the counterweights archives — for the last two months of the third quarter 2015 — focus on the always crucial Canadian relationship with the great republic next door : so wonderfully (and almost accurately) characterized by John Gunther in 1947 as "the greatest, craziest, most dangerous, least stable, most spectacular, least grown-up and most powerful and magnificent nation ever known" :
(8) "What if we really had to live with a President Trump next door .. and grow our own democracy in Canada?" …  Aug 25th, 2015 … by Counterweights Editors …
(9) "Barack Obama's American Ohana .. and the pivot to Asia in the summer of 2015" … Sep 13th, 2015 … by Randall White.
At the end of our late August reflections on the state of Donald Trump (Gladstone Gander pretending he's Donald Duck?), we returned to the Canadian federal election that was obsessing us as so many others in the northern woods (and prairies too, of course) …
We ended with :"You can't quite hear the Canadian people abruptly saying 'You're fired' to PM Harper yet. But … there does seem to be some kind of breeze blowing … Now, will it last past Labour Day seems to be the next question?"
It seems only logical here to conclude Part III of our 2015 year-end review with five further counterweights postings on the big federal election campaign, that document the increasingly crucial last weeks of the third quarter, in the second half of September :
* "Citizen X on Canadian election 2015, III .. Globe and Mail debate — are Liberals really left of NDP now??" …  Sep 18th, 2015 …  by Citizen X.
* "On Stephen Harper and 'old-stock Canadians'" … Sep 19th, 2015 … by Randall White.
* "Citizen X on Canadian election 2015, IV .. new Ipsos poll etc : are the Trudeau II Liberals ahead .. at last (maybe)?" …  Sep 22nd, 2015 … by Citizen X.
* "Citizen X on Canadian election 2015, V .. now new Ekos poll says Conservatives close to 'majority government' ??" …  Sep 24th, 2015 … by Citizen X.
* "Are the Mulcair New Democrats doomed already .. or is no one still close to 'the big dream of winning it all'?? …  Sep 29th, 2015 …  by Counterweights Editors.
Our current schedule calls for the fourth and final installment of this foolishly interminable year-end review to be posted on December 31, 2015, just before the office new year's party starts to kick in big time. Part IV will be much shorter too, apparently, by almost universal demand.