How will Canadian history judge Stephen Harper .. very early night thoughts from Citizen X ??
Oct 30th, 2015 | By
Citizen X
| Category:
In Brief
It seems appropriate – if also impossible in any deadly serious way – to suggest something about Stephen Harper's legacy to Canada (and a small patch of the wider universe?), during his final days as Conservative leader and federal prime minister.
(Justin Trudeau will officially succeed him on Wednesday, November 4. A Â new interim leader of the new Conservative Party of Canada Mr. Harper largely invented will be elected by the party caucus in Ottawa on November 5.)
My own inspirations for such a reckless assignment have been :
(1) the current controversy about renaming the Calgary airport the Stephen J. Harper International Airport (to match the Lester B. Pearson International Airport in Toronto and the Pierre Elliott Trudeau International Airport in Montreal!) ;
(2) a (somewhat surprising) October 9 report on the Canadian election from the London Review of Books in the United Kingdom (that I've noticed only now) ;
(3) Former NDP premier of Manitoba Gary Doer's announcement that he will soon be stepping down as the (Stephen-Harper-appointed) Canadian ambassador to the United States ; and
(4) news that "Stephen Harper to move back to Calgary following election defeat."
1. CALGARY AIRPORT BLUES ?? I think renaming the Calgary airport after Stephen Harper could make some sense myself. In any case it is up to the people of Calgary (or Alberta) – not everyone in Canada..
There are duelling petitions on the net, and the petition to NOT change the airport's name has many more supporters (see YES and NO). Yet a majority in Calgary itself may welcome a new Stephen Harper Airport. (Well … maybe not Mayor Nenshi … "Alberta" could work better ??)
Similarly, the first deep political fact in Mr. Harper's legacy is that the new Conservative Party of Canada he largely invented has not collapsed like a house of cards in the 2015 federal election. It still has 29% of the seats in the Canadian House of Commons (99 of 338), won with 32% of the Canada-wide popular vote.
In Alberta, which had an above-average turnout of 69.11% this past October 19, the Harper Conservatives won 59.5% of the province-wide popular vote. They similarly took 48.5% in Saskatchewan, 37.3% in Manitoba, 35.0% in Ontario, and 30.0% in British Columbia.
They certainly lost the election Canada-wide, and they received less than 20% of the
province-wide popular vote
in Newfoundland (10.3%), Quebec (16.7%), Nova Scotia (17.9%), the Northwest Territories (18.0%), and Prince Edward Island (19.3%). But the Calgary airport is in Alberta, and Albertans (or even just Calgarians?) should decide on its name! The
streets belong to the people
who live in them. Â And we all have our own home ground.
Or as the self-invented Anglo-American conservative and "greatest French poet in the English language" explained long ago : "A man's destination is his own village / His own fire … To sit in front of his door at sunset …" Meanwhile, at the same time, in our global village today : "A man's destination is not his destiny   … Where a man dies bravely / At one with his destiny, that soil is his / Let his village remember." (And in the case of the current MP for Calgary Heritage the new all-red Liberal Toronto is the village that should at least be trying to remember, as PM Harper waves goodbye!)
* * * *
2. OLD IMPERIAL METROPOLIS CALLING ?? A few days after the election I noticed that a "Short Cuts" piece dated October 9, in the October 22 issue of the London Review of Books (from the old imperial metropolis across the seas), was actually a report on the October 19 Canadian election (when it was still 10 days away).
The report was written by Ben Jackson, a former LRB intern who "now lives in Stephen Harper's constituency" (ie Calgary Heritage, formerly Calgary Southwest). Back in October 2014 my aging mentor Randall White was "almost shocked" when another LRB luminary, David Runciman, proclaimed that the "two most successful leaders in contemporary western politics are Angela Merkel and Stephen Harper." Mr. Jackson has at least now modified the position to "Harper, alongside Angela Merkel, is probably the most successful conservative politician in contemporary Western politics."
Moreover, in Stephen Harper's constituency, back on October 9 – (again) 10 days before the actual  election – it still seemed possible to believe that the "Conservative strategy seems to be working." (In its final phases : no niqab, yes Trans Pacific Partnership, no citizenship for people the federal government doesn't think are good for the country, etc.)
We now know that the strategy wasn't working … at all  well enough. But there are still things to learn from Ben Jackson's October 9 meditations, as published in the United Kingdom. For example : "If Harper retains power, he will continue with an agenda that has restored the confidence of Canadian conservatism … he has … reduced the size of the state … Federal revenue as a proportion of GDP is at its lowest level in fifty years. And he has promoted new national symbols –  monarchy, military and ice hockey (a subject about which he has written an entire book) –  that put him in more of a chest-thumping mood than universal healthcare."
To more than a few other Canadian voters it has seemed that Mr. Harper finally wanted to turn the clock back to … say the federal election of 1958, when John Diefenbaker from Saskatchewan led the old Conservative party and the old imperial flag etc to the largest majority government in the history of the 1867 confederation. But Canada under the subsequent Liberal leadership of Lester Pearson and then Pierre Trudeau changed in big ways. Universal health care was born. The old Dominion Bureau of Statistics became Statistics Canada, and on and on and on – all the way to the Canadian Charter of Rights and Freedoms in the "patriated" Constitution Act, 1982.
Especially beyond the wide western prairie of Alberta and Saskatchewan (still nursing grievances against eastern power elites that no longer thrive, also partly thanks to Stephen Harper?), many of us actually like the big changes Lester Pearson and Pierre Trudeau brought to Canada. And we  see them as "Canadian" not "Liberal." (Especially when we vote New Democrat. Tommy Douglas, David Lewis, Ed Broadbent, and Roy Romanow were strategic supporters of the Pearson-Trudeau reform agenda. And note Pierre Trudeau's 1980 offer to Ed Broadbent, "to form a coalition government to allow for greater Western representation in Cabinet and a 'united front' regarding the upcoming Quebec referendum.")
Meanwhile, back here in 2015, there were in many parts of the country signs that all this was finally catching up with the Harper government. To take just one obscure case in point, as early as September 6  no less conservative (and Conservative) a newspaper than the Toronto Sun warned :  "Monarchy will be hard sell after Queen Elizabeth …  For better or worse, today's young people are leading increasingly independent and purpose-driven lives. They don't like answering to anyone … The idea of getting some sort of nationalist sense of self from a monarch, let alone a foreign one, just doesn't make sense in today's culture … It'll be a hard sell to convince Canadians to willingly accept a new monarch once Elizabeth's reign comes to an end."
(And the 43-year-old Justin Trudeau is no doubt speaking to and even in some ways for "today's young people," even if his 2015 Liberal Party of Canada is still officially hedging its bets on the British monarchy, so long as Elizabeth's reign continues – just like the new conservative republican prime minister of Australia, Malcolm Turnbull!)

3. AMBASSADOR GARY DOER AND STEPHEN HARPER'S ONE GREAT SUCCESS (OR ONE AND A HALF?) – THE WEST & QUEBEC CITY! I felt my own eyes were opened by Stephen Harper's appointment of the former Manitoba NDP premier Gary Doer as Canada's Ambassador to the United States, on October 19, 2009 (exactly six years before the October 19, 2015 Canadian federal election that would see the end of PM Harper, 2006—2015).
It wasn't so much that Stephen Harper offered the job of promoting his government's view of Canadian interests in Washington to a former New Democratic provincial premier. That had a precedent in Progressive Conservative Prime Minister Brian Mulroney's appointment of former Ontario NDP leader Stephen Lewis as Canadian ambassador to the United Nations in the later 1980s. And it reflected a shrewd enough Harperian strategy in the new Democratic age of President Barack Obama, that began with the 2008 US elections.
What I wondered about was why Gary Doer accepted Stephen Harper's offer? Judging by what Ontario NDP friends thought of Mr. Harper, it seemed  hard to understand why such a left-wing politician would accept such a policy-sensitive appointment from such a right-wing politician.
Then Gary Doer himself offered some public explanation. I can't put my finger on the exact words right now, but I have a strong memory of what I took from what he said myself. He was from Manitoba, gateway to Western Canada. And in the end he supported the Stephen Harper who was giving the interests and collective personality of "Western Canada" (with all its own internal complexity and contradictions) some long overdue higher profile in the Ottawa corridors of power.
This also points to what I think is one quite undeniable achievement of Stephen Harper's nine-year-and eight-month tenure (I think I've got that right?) as Prime Minister of Canada – a job he clearly enjoyed, and took quite seriously (by his own lights).
He was born and raised in Toronto, but at the age of 19 he went-west-young-man to Alberta, where he made his adult career. In his maturity he was well suited to the historic task of bringing the talents and energies of the booming resource economy in Western Canada more fully and credibly to bear on the Ottawa power play.
The old "western alienation" that had plagued the confederation for many years may not have been altogether killed dead by the Harper government in Ottawa. But it seems fair enough to say that it has been seriously wounded.
There is also another, somewhat parallel achievement. As someone from Western Canada, which has traditionally not warmed to the French Canadian fact as enthusiastically as other parts of the country, Stephen Harper made a point of learning to speak more or less plausible French (in the eyes of those who claim to judge such things, as best as I can make out).
On his watch  even the new Conservative Party of Canada now agrees that anyone who aspires to be a Canadian prime minister must speak both official languages in some serious degree.
PM Harper's most radical legacy in this context (achieved in conjunction with his sometime almost secret ally Gilles Duceppe) is the late November 2006 parliamentary declaration "that the Québécois are a nation within a united Canada."
If this has understandably largely gone nowhere since late November 2006, it may yet prove an important step in some right direction. And it is not exactly an accident that this past October 19 the Harper Conservatives won 12 seats in Quebec – seven more than in 2011. M. Stephen Harper, it sometimes seemed, was just beginning to figure out how to tap into the side of Quebec that loved Maurice Duplessis long ago … maybe, if he'd won a second majority government … ??

4.BACK IN CALGARY (NURSING MEMORIES OF A TORONTO CHILDHOOD) … AND WRITING ANOTHER BOOK ???? All this has gone on far too long already. I'll just quickly note that the extended CBC headline tells the essential story : "Stephen Harper to move back to Calgary following election defeat … Harper and his wife and daughter will move to Calgary, but son will continue his studies at Queen's."
The counterweights editors have told me to note as well that as far back as this past July they were predicting Mr. Harper would finally return to his adult home town. See "Defence minister's grandmother leaves PM Harper ironic campaign theme song." The song in question was "Norma Locke's 'When I Get Back to Calgary' from the big-band swing era of the 1930s, 1940s, and 1950s – as backed up by her husband Mart Kenney and His Western Gentlemen."
(Where Norma Locke and Mart Kenney are the grandmother and grandfather of recurrent PM Harper cabinet minister and jack of all trades, Jason Kenney.)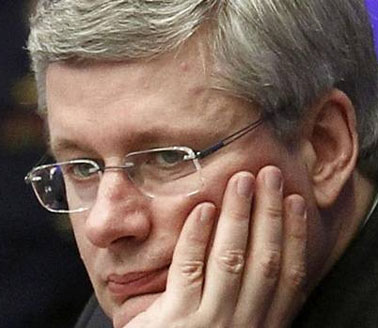 Some additional parting information appeared in the Toronto Star a few days ago : "Equally unclear is whether Stephen Harper, who resigned as party leader following his defeat last week, will show up for the caucus meeting [on November 5, to select a new interim leader of the party] … He is still sitting as MP for the riding of Calgary Heritage, but has told some colleagues he intends to keep a low profile."
Meanwhile, I can also report that I have so far made it to page 63 of my remaindered hardcover copy of A Great Game : The Forgotten Leafs & the Rise of Professional Hockey, by Stephen J. Harper. I doubt that this book won over many new voters. But it is carefully researched and written, and it makes you think Stephen Harper might enjoy writing more books in his retirement. His own view of his biography and what it means for the ongoing Canadian saga would almost certainly win some enthusiastic readers (and I confess I would be among them myself).
I just want to finally underline how I agree as well with almost everything that has been said about Stephen Harper's faults – from his sometimes astounding political tin ear to his contempt for deeper definitions of democracy and everyone who disagrees with him, his lack of judgment and his penchant for dubious appointments and associates, his bullying managerial style, and his hopelessly myopic and still essentially colonial vision of Canada's future. (For Mr. Harper, it often seems, the old global empire will never quite die, except insofar as it is replaced by the new empire due south.) I would have been glad to see almost anyone replace him as Canadian prime minister. (Well, not Donald Trump … or Jason Kenney … but … )
I also have a little more respect for Prime Minister Stephen Harper today, however, than when he first took office in the Canadian cold of early February 2006. It is still far too early for any serious assessment of what he has done in politics. But my guess is that he will be something of an intriguing figure for future historians, good, bad, and ugly …
His most immediate (and surprising) hard political legacies are of course also wonderfully ironic : Rachel Notley's NDP Alberta provincial government in Edmonton, and now Justin Trudeau's new  Liberal majority government in Ottawa. These are reminders that Stephen Harper wanted to accomplish more than he managed. He nonetheless managed more than the majority of us wanted! And it is a kind of tribute to him that we are so happy to see him gone. (Well, almost … just what is he going to be doing as the low-profile MP for Calgary Heritage anyway?)