Ontario election : will MaRS (and/or some kind of "coalition") suddenly derail Kathleen Wynne at last?
May 31st, 2014 | By
L. Frank Bunting
| Category:
In Brief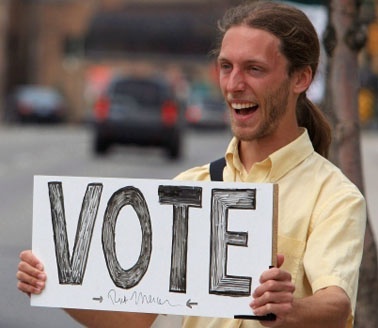 What about the 2014 Ontario election this weekend, you ask ???? Well … the same recent CP24/CTV Ipsos Reid poll of 868 Ontarians, that showed Con 36%, Lib 34%, NDP 23%, also asked its respondents a somewhat different question. And this "found that, regardless of who they would vote for, 52% of those surveyed said the Liberals under Kathleen Wynne will win the election … 35% …  said the PCs under Tim Hudak will form the next government, and 14% …  believe victory will go to Andrea Horwath's NDP."
You might imagine that, other things equal (and when all is said and done), these numbers suggest the Liberals may very well  win at least another minority government on June 12. Perhaps because they fear the same thing, other forces have lately been working to ensure that other things are not equal.
You can see the new not-equal argument, conveniently being raised just before the Tuesday, June 3 TV debate, in such headlines as "Tories warn MaRS bailout could cost more than $1.1-billion gas plant scandal" ; "Hudak accuses Wynne of hiding bailout of Toronto real estate project" ; "You Heard it here. $400,000,000 scandal will destroy @Kathleen_Wynne Biggest wilful rip-off of taxpayers" ; and "MaRS says election debate jeopardizing real-estate deal."
What is this all about? Well, to start with, "MaRS works with an extensive network of partners to help entrepreneurs launch and grow the innovative companies that are building our future." Moreover : "The MaRS Discovery District was launched by the previous provincial Progressive Conservative Party, with private sector investors, to create a space where innovation and research could be encouraged and harnessed to create jobs in the province." (Oh, and btw, what does "Why Ontario's NDP might back a Hudak minority government: Walkom" really mean? That somebody needs a holiday? Or is it just some kind of journo joke?)

1. Does life on MaRS really matter?

The Liberals have inherited the innovative Conservative economic development program known as MaRS, and tried to make it work. And, most recently : "Of all the tenants and 'hot prospects' the MaRS Discovery District has lined up to fill its empty Toronto office tower, only one is a private innovation company that is not already located at the business incubator's main facility, according to a review of a leaked document that helps explain why MaRS turned to the Liberals for a bailout that could cost taxpayers hundreds of millions of dollars."
Yet if you look at the recent newspaper and related articles on all this, it seems much like Ontario government "economic development" activity that has gone on for generations.
(And I say this as a former Ontario civil servant, who worked for a dozen years under the last great Robarts and Davis incarnations of the 42-year Ontario PC Dynasty. If you want to talk about Queen's Park involvement in real estate deals … Well, buy me a drink, and I could go on for hours, about various things at least vaguely related – and some almost dead on!)
The Conservatives (and the New Democrats for that matter) may be able to make some intermittent political hay with this new so-called "MaRS Scandal." But if MaRS was such a dumb idea (and it may be – many other things are, no doubt, in both public and private sectors), why did the Conservatives start it in the first place?  And note that (to take only 16 of still  more potential examples) MaRS today includes such public and private sector partners as the Governments of Canada, Ontario, and Toronto, CIBC, CISCO,  KPMG, MasterCard, Siemens, TMC, RBC Foundation, University of Toronto, York University, Ryerson University, Sunnybrook Health Sciences Centre, Baycrest, and Women's College Hospital.
2. Looking forward to the TV debate on June 3


To me, our political classes, in various parts of both Ontario and Canada, have become methodologically and altogether unhealthily obsessed with alleged scandals over the past decade or so. If the Wynne government's recent involvement in the latest activity to help the Conservative-originated MaRS economic development project is going to be called a scandal, then a great deal of what modern governments at all levels in Canada have been doing for eons  must be similarly distinguished. And I can't think of any good that would do at all.
Similarly, Kathleen Wynne has urged that the current MaRS deal under discussion and negotiation "would be a great benefit to taxpayers by consolidating office space occupied by government employees."
(Ie, in the mid to long run it would save the Government of Ontario money, and this should be factored in to any taxpayer- dollars "bailout"calculations. Moreover, what would Tim Hudak  do with the MaRS project his party started in the first place. Just cancel it? That could wind up costing many more taxpayer dollars. And you'd still have a largely unoccupied office building at University Avenue and College Street in Toronto.)
Meanwhile, we now face the prospect that the Ontario election 2014 TV leaders debate this coming Tuesday, June 3 is going to turn into yet another annoying and deadly boring shouting match about scandals and "corruption," instead of addressing the serious real-world challenges Ontario now faces, in some more or less engaging and public-spirited way. No wonder less than half the eligible voters actually voted last time, in 2011!
My sense is that the sovereign people (or most of them, at any rate) want their politics and their politicians to be more high-minded than our current political culture allows. But it may take a long time to change all that – even if we started working tomorrow.  Too many professional political advisors still think incessant chatter about scandals is a short cut to winning elections in the 21st century. (And to be altogether cynical, no doubt it  SOMETIMES does work.)
Meanwhile again (and finally), one way of predicting that a Hudak-Horwath coalition will in any case never happen is to note that Mr Hudak has already more or less rejected the concept. For dead certainty, however, see "Kathleen Wynne accuses NDP leader of 'unprincipled' stand over possible Tory coalition." I still think anything could happen myself – except (maybe?) a Horwath NDP majority government. But I'd also guess the  52% of those surveyed in the latest Ipsos Reid poll who "said the Liberals under Kathleen Wynne will win the election" just may be pointing to the scenario both the Conservatives and the New Democrats are now starting to seriously worry about. (On the other hand, the great poll aggregator Eric Grenier's latest "Brief Ontario Update" this morning is projecting a Hudak Conservative minority government!) Whatever, I'll certainly be watching the TV debate on the evening of June 3. But will you?  That's the question that really matters in 2014.