Who is Pauline Marois and what does she mean for Canada?
Sep 5th, 2012 | By
Randall White
| Category:
In Brief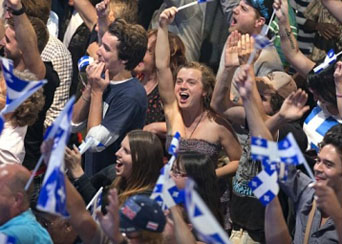 As of 11 PM local time, the September 4, 2012 Quebec election results have been fluctuating in small degrees for some time, and this seems likely to continue for some time yet. But the essential outline is clear enough. (For the current exact numbers see QUÉBEC 2012 – RÉSULTATS.)
Pauline Marois' Parti Quebecois has clearly won the largest number of seats, with just under a third of the province-wide popular vote, but not a majority government – even with the support of the two seats won by the radical left-wing sovereigntist party, Quebec Solidaire.
As Le Devoir has pointed out, technically the second-place Liberals of Jean Charest could combine with  François Legault's Coalition Avenir Quebec to form a majority coalition government of some sort. Yet, as Le Devoir also notes: "Si d'aventure M. Charest n'était pas élu dans son comté de Sherbrooke, cela pourrait toutefois sérieusement compliquer ce scénario." And it is now clear that Mr. Charest has indeed unhappily lost his own seat in Sherbrooke.
The upshot has been summarized with admirable dispatch by Chantal Hebert in the Toronto Star: "For the third time in as many decades, a sovereigntist sword of Damocles is hanging over Canada. But appearances can be deceiving. In this instance, the sword is essentially a prop … Quebec split three ways on Tuesday, grudgingly handing Pauline Marois and the Parti Québécois a ticket back to power after a decade-long spell in opposition … But hers is the most conditional governing mandate ever earned by a PQ premier-elect. She won with only a third of all votes cast and she finished the evening a handful of seats short of a governing majority … And while she can count on the qualified support of two MNAs elected under the banners of Québec Solidaire, that would still leave sovereigntists short of a majority in the National Assembly."
Meanwhile, a lot of people at the office have nonetheless been asking me "Who is Pauline Marois"? And, like a lot of other people in the rest of Canada I have had to confess that I do not really know even the most mundane details. In preparation for what has now happened, however (and it was largely predicted by the local augurial sciences of survey research), I have looked up at least the basic facts on the world wide web.
So … Pauline Marois was born March 29, 1949, the eldest of five children. She "grew up in modest circumstances in Saint-Étienne-de-Lauzon, a village on the south shore of the Saint Lawrence River, opposite Quebec City. Her father was a mechanic in a garage, but all children in the family went on to university, which meant a lot to the parents."
In 1969, at the age of 20, Ms Marois "married Claude Blanchet, with whom she has four children." (M. Blanchet subsequently became head of Quebec's Société générale de financement, He and Pauline Marois are still married today.)
In the midst of her family life, the young Ms Marois graduated in social work from Laval in 1971. She then worked for a time in this field. In 1976 she graduated with an MBA from the University of Montreal. Here she met Jacques Parizeau, who became finance minister in René Lévesque's first Parti Quebecois government of Quebec. Ms Marois then worked as press attachée for finance minister Parizeau. She "also served as chief of staff for Lise Payette, minister responsible for the condition of women."
Pauline Marois herself "was first elected to the National Assembly of Quebec in the 1981 election as the Parti Québécois Member of the National Assembly for La Peltrie. She immediately joined the government of René Lévesque as Minister for the Status of Women. In 1983, she was promoted to Minister of Labour and Income Security and Minister responsible for the Outaouais region." She continued to serve in the cabinets of subsequent PQ governments. Overall, in a"political career spanning some 30 years, she has held a total of 15 ministerial titles."
Pauline Marois ran for the PQ leadership three times – once unsuccessfully in 1985, again unsuccessfully in 2005, and then finally successfully in 2007 (when she ran unopposed, at the nadir of PQ fortunes, which she has since gradually improved). At some point in the near future she will, it now seems virtually certain, become the first woman premier or prime minister of the unique Canadian province of Quebec. (Although as I write, about 12:50 AM, September 5, the PQ have 54 seats to the Liberals 50 and the CAQ's 19 : which is not all that different from the 1985 result in Ontario (PCs 52, Libs 48. NDP 25) – which finally led to the Peterson-Rae Liberal-NDP Accord government in Quebec's historic sister province.)
Just what all this will finally mean for Canada, I confess, still remains quite a mystery to me. I take some encouragement from Chantal Hebert's impressively instant interpretation in the Toronto Star. My own still all too  ill-informed impression of Ms Marois, however, is that she has virtually no interest in the Canadian future at all – certainly less than René Lévesque in the heyday of her party. And I don't feel it is very healthy for the survival of Canada to have a person with what I take to be her views at the commanding heights of the Quebec political system.
As I write as well, Pauline Marois's victory speech in downtown Montreal has been interrupted by gunfire (albeit from "a blank"????). Ms Marois herself – and everyone else apparently – was in no real danger. [UPDATE: These early TV reports have subsequently proved too optimistic. See "Parti Quebcois victory party disrupted by gun shots and fire; one person is dead." And :   "Questions swirl over how close shooter got to Pauline Marois" ; "Suspect in Quebec shooting identified as Mont-Tremblant businessman" ; "Attentat au discours de Marois: le principal suspect est Richard Henry Bain".] Someone whom the Montreal police have now detained in connection with the incident is said to have shouted, in French, "the English are waking up" ("les anglais se reveille"). Ms. Marois did finally finish her victory speech, and watching it did give me a sense of a movement in the midst of its last gasp. The optimistic note on which to leave things, I suppose, is just that Pauline Marois might at least somehow manage to make the last few years of Stephen Harper's Canadian prime ministership at least a bit interesting. And who knows? Maybe my initial rather negative impression of her is quite wrong!