Two cheers for Paulina Gretzky .. who deserves more respect ..
Nov 30th, 2011 | By
Counterweights Editors
| Category:
In Brief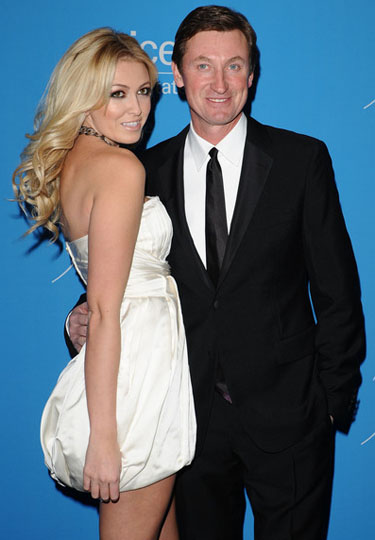 [UPDATED DECEMBER 1]. One of the good things about Canada is that it is more serious and high-minded than other places, right? And a good example of this is the Globe and Mail – whose semi-post-modern headquarters at the edge of the lakeshore rail line into downtown Toronto still proudly proclaims "Canada's National Newspaper"? Right again?
(Well … there are of course more than a few these days, outside and inside Toronto, who will laugh or wince at "Canada's National Newspaper." There may even still be a few in la belle province who will think it is in the wrong language, as well as the wrong city – to say nothing of those who believe it should be both drenched in oil and somewhere else again! But, for the sake of argument, let's just suppose that the first paragraph here is more or less correct.)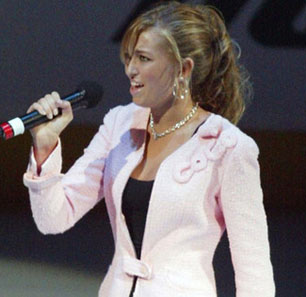 Then, how do you account for the strange but true fact that, at 10 PM ET last night, the most popular article on the Globe and Mail website was headlined "Did Gretzky tell his daughter to close saucy Twitter account?"
It gets even worse, when you ponder "Too sexy for Gretzky?", posted just before midnight on the rival website of the blatantly old-fashioned (Central?) Canadian nationalist Toronto Star: "David Graham's piece in the Star on Tuesday about Paulina Gretzky – 'Gretzky's daughter closes Twitter account, did daddy disapprove?' – was the most-read piece on thestar.com and it triggered stories on various other sites, eager to capitalize on the eyeball-luring combination of Wayne Gretzky and the displeasure he may or may not have expressed toward his daughter … Speculation is that her dad made her do it. Shortly before her account disappeared, Paulina tweeted: 'Having a nice sit down dinner with my dad about social media..haha #SIKEEE.'"
We certainly do not want to be accused of being too "eager to capitalize on the eyeball-luring" attractions of Ms. Gretzky and/or her father's displeasure. But we would just like to say that until yesterday's remarkable revelations none of us here knew anything at all about Paulina Gretzky. Moreover, we have now explored "Paulina Gretzky's Sexiest Pics (Gallery)" on the TotalProSports website. And our very resolute northern North American opinion is that neither father nor daughter have anything at all to feel remotely uncomfortable about. (Certainly, eg, when you think of things on the net regarding the likes of Kim Kardashian and Paris Hilton!)
We do just have one suggestion (or perhaps hope) about any future second edition of Paulina's photographic exercises down the road. We note that item 18 of "Paulina Gretzky's Sexiest Pics (Gallery)" includes a US stars and stripes flag. We note as well that, according to her rather sparse Wikipedia entry, Paulina was born in Los Angeles. But we also note, from the Internet Movie Database, that: "She sang the Canadian National Anthem before the semi-final game between the Czech Republic and Canada during the 2004 World Cup of Hockey in Toronto, Canada in September 2004." Maybe, if the next Paulina Gretzky's Sexiest Pics includes a photo of her with a Canadian maple leaf flag (and maybe even wearing an Edmonton Oilers jersey?), her dad may not be so critical. (If of course again, he actually was the one who prompted her to dismantle her current Twitter account, even though she is "22 and therefore an adult.") [CLICK ON "Read the rest of this page" below and/or scroll down for DECEMBER 1 UPDATE!]
UPDATE, DECEMBER 1, 5:30 PM ET: According to various sources Ms. Gretzky is now back on Twitter, though perhaps in a somewhat different spirit? Not long ago, eg, the Daily Beast tweeted "After a brief departure, Wayne Gretzky's daughter @PaulinaGretzy is back posting racy Twitter photos. By @__ChrisLee thebea.st/uyAmiB."
The article on the Beast's site, by Chris Lee, observed: "One person who seems none too happy about her Twitter output, however, is Paulina's father … Last week, Paulina tweeted: 'Having a nice sit down dinner with my dad about social media..haha #SIKEEE.' After which, on Nov. 26, she promptly closed down her Twitter account. And then, in a Kardashians-worthy twist, Gretzky restored her account on Thursday [ie today, but see below] as if sensing, like the recent Rebecca Black song goes, that this is 'her moment.'"
A report on the Toronto Star site thickens the plot somewhat: "Wayne Gretzky's daughter back on Twitter with more wholesome image."
All we can say ourselves is that our own Twittering skills are limited. When we check in at Ms. Gretzky's Twitter account, the site is there but the last message is still "Taking a break from twitter for bit. Happy Holidays!!! xoxo." It seems that the Star report explains all this: "After a hiatus of just a few days, Paulina Gretzky has resurfaced on Twitter … The Great One's 22-year-old wild child tweeted her followers late Wednesday that she was back to the Twitterverse, but it didn't sound like she wanted Papa Wayne to know … 'Hi everyone I'm back! But shhh don't tell my dad' … But just as quickly as she posted her return, the tweet was erased …
Her account, which had been taken down earlier this week, remains open with the last tweet –  'Taking a break from twitter for bit. Happy Holidays!!! Xoxo' — from Nov. 26, still displayed … And replacing her former glam shot avatar is a wholesome photo of her with mom, Janet Gretzky, and her four brothers and sisters." So … go figure. We have now officially become followers, however, and hope to have something more to report at some point! Whatever else, we certainly know a lot more about Paulina Gretzky than we used to!