Will Jagmeet Singh's New Democrats steal Trudeau Liberals' majority government? (And/or does it really matter?)
Aug 12th, 2021 | By
Counterweights Editors
| Category:
In Brief
COUNTERWEIGHTS EDITORS, EAST TORONTO OFFICE. AUGUST 12, 2021. Today's news that "Canada PM Trudeau planning snap election, seeks approval for COVID response" bears out much of the particular prediction in Abbas Rana's August 1 Hill Times piece : "Others are preparing for the writs to be issued on Aug. 15, with an election to take place on Sept. 13 or 20."
As it happens now, on August 12, an election called this Sunday, August 15, for Monday, September 20 has been widely reported by, eg, CBC News, CTV News, Reuter's, and Canadian Press. As summarized by David Ljunggren at Reuter's : "Canadian Prime Minister Justin Trudeau is planning a snap election for Sept. 20 to seek voter approval for the government's costly plans to combat COVID-19."
One immediate question our small sample of Canadian federal election voters here has about Campaign 2021 is : Will NDP leader Jagmeet Singh ultimately live up to the heights of his current ranking as most popular party leader (not exactly a beauty contest, but …) ?? And — as already predicted in some quarters — will this mean that Prime Minister Justin Trudeau has his majority government dream deferred in 2021 as in 2019? (And see eg Bland Bill Davis in Ontario 1975, 1977, who finally did win another majority in 1981!)
From at least one moderate progressive angle, in our various diverse books worse things could happen. Remember the Lester Pearson Liberal minority governments, dependent on Tommy Douglas's legendary NDP, 1963–1968. They laid foundations for much of the public service democracy in Canada today. And the government of Pierre Trudeau in the early 1980s, in some kind of collaboration with NDP leader Ed Broadbent and his party's seats in Western Canada, finally bequeathed the "free and democratic" Constitution Act, 1982, and its Canadian Charter of Rights and Freedoms. (And some questionable amending formulae that are at least modern Canada's own at last … but set that aside … .)
It may of course be that the Justin Trudeau Liberals of the 2020s will win a majority of seats in the Canadian House of Commons, when the election finally does take place on September 20, 2021 (just six days after the suddenly risky recall vote on Gavin Newsome in California).
What certainly seems unlikely at this stage is any kind of Conservative Party of Canada government led by Erin O'toole. The choice (at least right now) seems like (1) Liberal majority or (2) Liberal minority dependent (as now) on the New Democrats. (With some kind of question mark as well about where the BQ might finally go, with a new Governor General who is only learning French?) For certain kinds of progressive voters, who almost certainly do number in some serious millions (?), the choice here (if it really is the choice) almost doesn't matter. Check either box, depending on your exact mood on election day.
Yet as often said, campaigns matter. Prime Minister Trudeau's snap election call in the summer of 2021 could prove to be some astounding political miscalculation. The final vote after some startling campaign errors might finally, eg, give each of the three Canada-wide parties almost equal numbers of seats — and create a political puzzle in Ottawa that would be unlikely to do anyone much good.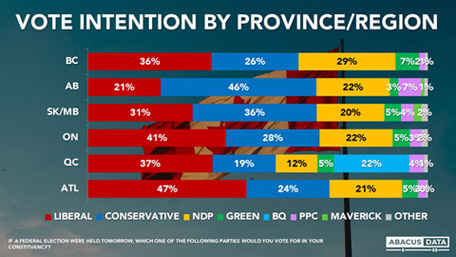 At the start of it all this does seem unlikely. One thing that jumps out from the "Vote Intention By Province/Region" chart in Abacus Data's latest polling in its "national survey of 3,000 Canadian adults (August 6 to 11, 2021)" is the comparative weakness of the Conservatives in the Prairie provinces. Liberals have 21% support in Alberta and 31% in Saskatchewan/Manitoba. The Canada-wide numbers here are far from terrible for the Trudeau government as well with Liberals 37%, Conservatives 28%, and New Democrats 20%.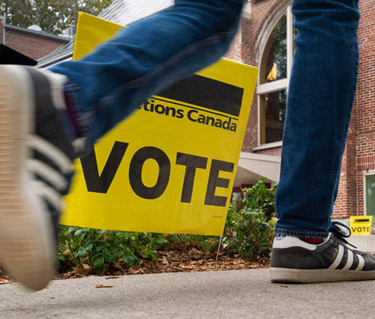 Another intriguing wrinkle is nicely explained by Catharine Tunney at CBC News : "The country's chief electoral officer, Stephane Perrault, said the final outcome of a pandemic election could take a few days to report due to an anticipated increase in mail-in ballots … Elections Canada said it expects as many as five million mail-in votes this time around, compared to fewer than 50,000 in the 2019 election … Perrault said mail-in ballots will not be counted until the day after the election."
So, whatever else, it could be the morning of September 21 (or still later) before the final result of the September 20 election is known. (And as a very last late-at-night August 12 update, Philippe J. Fournier's new 338Canada projection is now giving the Liberals 172 seats — two more than the bare majority of 170! On this variable at least the election could be a nail biter to the end.)