Starting 2019 with jazz at the Bluebird – one of the "top 21 new bars in Toronto"
Jan 4th, 2019 | By
Citizen X
| Category:
Entertainment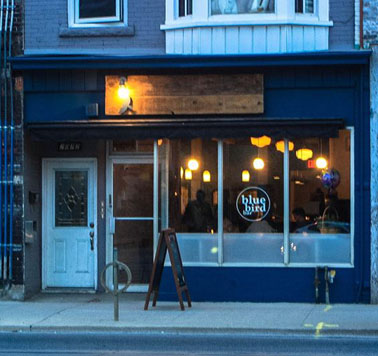 It may well be that 2019 proves a difficult year on any number of fronts. But I was lucky enough to spend its first Thursday evening at one of the "top 21 new bars in Toronto" (blue bird or The Bluebird, 2072 Dundas St W, at Howard Park).
I was listening to an excellent jazz trio called The Three Chris(s)es (Chris Banks, bass ; Chris Gale, tenor sax ; Chris Wallace, drums).
This Thursday, January 3, 2019 at the blue bird was only the third outing for The Three Chris(s)es. (Each is a master of his instrument and has a now long career on Toronto and beyond musical scenes, in many other settings.) But already it seems clear that they work well together.
Chris Banks lays down a solid foundation for the trio's musical adventures, but also has an almost melodic approach to his upright string bass. This fits nicely with Chris Gale's "lyrical sensibility and soulful approach" to his 1940s Selmer tenor sax. And this fits with the work of Chris Wallace, who has been aptly called "a drummer of supreme musicality."
What's missing with just bass, drums, and horn is someone playing the chords, that form the middle of a tune's harmonic structure for which the bass gives the bottom. (On piano or guitar say.) In the Los Angeles of the early 1950s Gerry Mulligan and Chet Baker nonetheless showed that just bass and drums and horns can work – with the right players and arrangements.
Many years later up in We the North, on January 3, 2019 at the Bluebird, The Three Chris(s)es showed something similar, on such Great American Songbook tunes as "Darn That Dream" (Jimmy Van Heusen/Eddie DeLange), and on modern jazz classics like "My Little Suede Shoes" (Charlie Parker) and "Good Bait" (Tadd Dameron/Count Basie).
The American classical composer Virgil Thomson (1896—1989) once called jazz a "persecuted chamber music." This has positive as well as various negative connotations (to my mind at any rate). And something about the small and intimate blue bird bar (and its excellent staff) brought out these positive connotations for me.
The jazz played by The Three Chris(s)es is very hip "chamber music." But if you really like to listen to the music you hear it brings similar high-minded rewards.
At a time when so many low-minded impulses are competing for our attention, listening to  Chris Banks, Chris Gale, and Chris Wallace contemplate some of the good things America has given to the wider world was at least a great beginning to 2019.
Who really knows what will follow over the next 12 months in the same wider world? But if you do find the year is starting to get you down, remember that one of the "top 21 new bars in Toronto" – the blue bird, 2072 Dundas St W, at Howard Park (not far from the Dundas West subway stop) – has first-class live music every Thursday night, from 8 to 11 PM.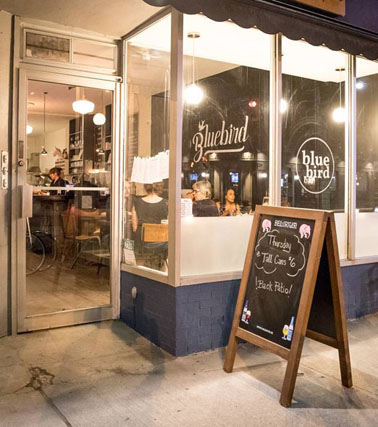 From my own point of view, eg, the tenor sax of Chris Gale will be returning January 17, 2019 (this time with Brendan Davis on bass and Ted Quinlan on guitar). And on January 31 Irene Harrett on bass and Chris Platt on guitar will accompany the tenor sax of Ms Chelsea McBride, who "performs everything from straight ahead jazz classics to original compositions influenced equally by jazz and pop music."
So … if my own sanity seems threatened by any of the current White House occupants, the Alberta provincial and Canadian federal elections, or god knows what else in many different parts of the world (the Australian federal election eg, or Chinese detention of Canadian visitors and vice-versa), I now know of one place I can go to seek relief. And I can recommend the brand to others. As was wisely said long ago, by various learned and other authorities : "Jazz is the music of democracy" (which we need more than ever just now).