Citizen X on Canada and the Great Golden State .. as observed from the north end of Monterey Bay
Mar 30th, 2015 | By
Counterweights Editors
| Category:
USA Today
We are now back in this cold northern country, happy to see that L. Frank Bunting has been keeping the office furniture at least slightly warm.
We tasked the irrepressible Citizen X with preparing this season's report on the seminar series with our Bay Area technical advisors and consultants, with special reference to the more recreational excursion to Santa Cruz.
What he has rather strangely handed in is "A verse of 52 lines in four parts" under the title  "Great Golden State … (As observed from the north end of Monterey Bay)."
This seems a bit too obscure for the front page of even such a reckless political blogazine as counterweights. But those interested can click on "Read the rest of this page" and/or scroll below. (The verse begins with "Watching the lights / In suburban Santa Cruz / At night." Etc!)
Meanwhile, a few less obscure points about California (and Canada) today may be worth some hasty notes up front (oh and btw, our Golden State recreational excursions also included a late morning and afternoon in beautiful downtown Oakland, neglected stepchild of San Francisco) :
* Geographically, California (163,695 sq mi/423,970 sq km) is only the third largest state of the Union. Alaska (663,267 sq mi/1,717,854 sq km) is largest, followed by Texas (268,580 sq mi/695,621 sq km).
* Alaska is larger geographically than any Canadian province. Quebec comes closest (1,542,056 sq km/595,391 sq mi). But the Nunavut Territory in Canada (2,093,190 sq km/808,185 sq mi) is larger than Alaska. And on this field at least Canada can compete even more generally with the friendly giant next door.
* The total geographic area of the United States is 3,794,083 sq mi/9,826,630 sq km. The total geographic area of Canada is 9,984,670 sq km/3,855,103 sq mi. Or, more elementally for a Canadian, Canada has 3.9 million sq mi, while the United States has a mere 3.8 million.
* As very immediate countervailing evidence that, strictly speaking, size really is not everything, in the early 21st century California is the most populous state of the Union by some distance. With a current population of approximately 38.8 million people, it is also larger in this respect than all of Canada at 35.7 million!
* In California today – and as of about just this time last year –  what the US Census Bureau calls Latinos now account for 39% of the state's population, compared with "38.8% white non-Hispanic, 13% Asian American or Pacific Islander, 5.8% black non-Hispanic, and less than 1% Native American." This makes California  "only the second state, behind New Mexico, where whites are not the majority and Latinos are the plurality."
* There are various forms of bad economic news in various parts of California  in the early spring of 2015. But there is very good news in other parts. According to a recently released Gallup poll : "The San Jose-Sunnyvale-Santa Clara and the San Francisco-Oakland-Hayward metropolitan areas in California posted some of the highest scores on Gallup's Economic Confidence Index in 2014." Both metro areas – in today's Internet heartland of Silicon Valley –  also rank high in the latest edition of the Gallup Job Creation Index (third for San Francisco, sixth for San Jose).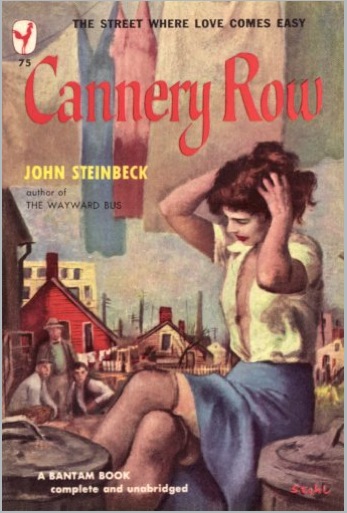 * The big key current issue in California that
Bill Maher
says everyone ought to be talking about is drought. To get suitably worried here see "
California drought: Sierra Nevada snowpack hits historic low
" and "
Snow-Starved Sierra Spell Trouble for Drought-Stricken California
." We were also struck by an almost haunting TV encounter with a weary California Lieutenant Governor Gavin Newsom, on how he recognized all too well that the Golden State's latest drought policy bows (also nicely lampooned by Mr. Maher this past Friday night) are not even remotely enough.
Which all leads quite logically to Citizen X's latest descent into near madness … well, mild hallucination anyway …  with "A verse of 52 lines in four parts" under the title  "Great Golden State … (As observed from the north end of Monterey Bay)"…
It is the south end of the bay that gave birth to Steinbeck's hauntingly anti-glamorous Cannery Row … but there may be something of a similar ethos further north, still today, maybe …  and …  click on "Read the rest of this page" and/or scroll below …  Or not …
Great Golden State
(As observed from the north end of Monterey Bay)
Saturday, March 21, 2015.
Thinking about drought
in a vacation rental on East Cliff Drive,
overlooking the beach
at the south end (well,
maybe it's really east)
of the Santa Cruz metropolis,
close to midnight :
I
Watching the lights
In suburban Santa Cruz
At night.
In this crazy biggest state
In a crazy land.
And reading from New York about
Social security survival.
Ain't it grand?
II
The thing I thought
this morning,
about Orwell on Mark Twain
and how his characters,
in Life on the Mississippi say,
and all that –
in the first rudimentary baseball hats –
show what men (and now women) choose,
when they are not
living in terror of getting the sack.
It gives you the further thought
that there are still characters like this.
In Santa Cruz.
III
On these easy streets drivers and vehicles
cut pedestrians some slack.
And there's a laid-back feeling
In the public places
and other living spaces.
And yet all this, on the coast  in the redwood forest,
Is still America too,
And there are so many people
Everywhere, and everyone
Is so very friendly
(or at least a great many are)
And remark to you
That they like your T-shirt
With primeval man
Evolving into a saxophone player …
and "what wonderful grandchildren you have."
IV
And yet, at Alice's outdoor breakfast restaurant,
Beside a gentle graffiti wall,
When my walking grandson plays with
A very cute little Mexican girl,
Her father and I still seem so shy,
Hello, and then almost furtively as we leave, goodbye,
though I think
We both have the best
of good intentions.
And I look again
At the lights tonight,
And consider fate,
As the shoreline curves around toward the north,
And I wonder what world history will bring forth next
In the land of the Golden State Warriors.