"The year everything crazy happened" – some random samples ..
Dec 4th, 2013 | By
Dominic Berry
| Category:
In Brief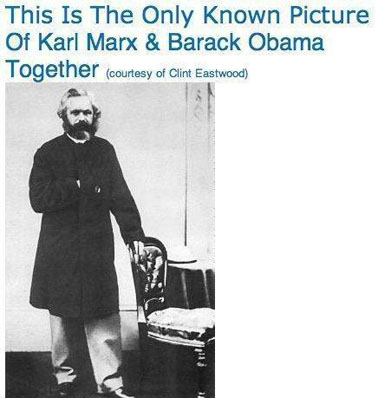 If it is true, as Citizen X will apparently be vaguely alluding to in these pages soon, that 1963 was "The Year Everything Happened," then it may also be true that 2013 – an even half century later – has been The Year Everything Crazy Happened. Assuming this is at least half-true, I herewith hastily submit some random samples:
* Starting, up here in the northern North American woods, with the unparalleled Dionysian wildness among the Yankees to the south of us, yesterday Our Man in Los Angeles, Andrew Malcolm, tweeted "An entertaining evergreen: The only known photo of Karl Marx and Barack Obama … courtesy of Clint Eastwood." See accompanying photo etc. And yes you have to remember the 2012 Republican Convention to get the joke at all. And it isn't THAT funny. Even so … here is, at last, some solid evidence that President Obama actually is a Marxist etc!
* Generally, when it comes to Canada's armed forces and the men (and women) who serve in them, I count myself a big supporter of General Roméo Dallaire. And his criticism of the Harper government for failing to support returning Afghanistan veterans, in the midst of many forms of stress and strain, seems to me well taken. I take the following headline, on the other hand, as evidence that in 2013 even sensible people have had notable crazy moments : "Roméo Dallaire crashes car; says military suicides left him unable to sleep."
* As evidence that most local powers that be have concluded the Mayor of Toronto no longer deserves the inordinate attention so many people have been giving him lately, see "Wynne sidesteps Rob Ford, meets with Deputy Mayor Kelly … 'It's important I meet with people in decision-making roles,' says Ontario premier."Â  The craziest thing here is that Rob Ford's big brother Doug got way too much air time on cp24 yesterday complaining about how neither Premier Wynne nor  Deputy Mayor Kelly was "elected." Which just shows yet again that Doug Ford does not understand either what the word "elected" means, or the actual system of municipal government that has prevailed in Ontario since the middle of the 19th century.
* Finally, Mayor Rob Ford, even stripped of many of his powers by the elected Toronto City Council which gave these powers to him (as mayor) in the first place, continues to do things that get attention – even if the local powers that be do not believe he deserves it. See "Mayor Rob Ford says he didn't know he was taking photo with Hell's Angels … Picture of mayor with Hells Angels sideswipes toy drive press conference." And, for greater certainty (and amusement) try : "Hells Angels statement on Rob Ford picture."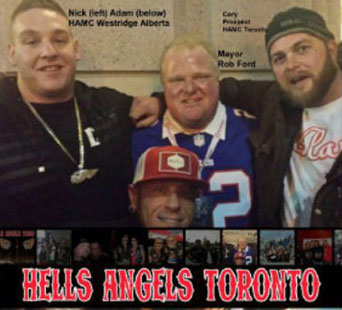 This exhausts my own short list of crazy things that continue to happen in 2013 for the moment. But if you just keep your ears and eyes open, I have no doubt that you will soon uncover further random samples of your own. In Canada, or the United States, and probably every other country of the world today. Adherents of both the Tea Party (a crazy name in its own right?) and Ford Nation (etc, etc) – along with all of both the Left and the Right – may or may not be pleased to know that the spirits of all of Karl and Chico, Groucho, Gummo, Harpo, and Zeppo Marx are thriving on the current incarnation of Planet Earth, E Pluribus, Pluribus, Pluribus. Senatus Populusque Romanorum (?) Amen. Peace Be Upon You. Ohmmmm. Etc.