Budget passes .. "the people of Ontario have never been spoiled by too much perfection in government"
Jun 11th, 2013 | By
Counterweights Editors
| Category:
In Brief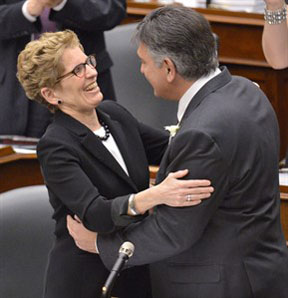 QUEEN'S PARK, TORONTO. TUESDAY, JUNE 11, 2013. 4:45 PM. [UPDATED JUNE 12]. So (as Premier Wynne might say) the 2013 Ontario Budget bill has now passed third reading, 64–36.
This may have surprised you, if you were paying serious attention to such Toronto Sun headlines as : "PCs call for former Liberal staffers to turn over USB sticks containing e-mails" ; "Shame on Andrea Horwath for propping up the Liberals" ; "Liberals as bad as Rob Ford" ; and "Gas plant scandal puts Dalton McGuinty back in the hot seat."
The best antidote for the misleading impressions conveyed by such alleged political journalism (to say nothing of the latest round of rancourous over-the-top rhetoric from the Ontario Progressive Conservatives, off which it feeds) is the June 11, 2013 edition of the ontarionewswatch Insiders (Howard Hampton, Jeff Bangs, and Hershell Ezrin, presided over by the lovely Susanna Kelley).
As the relevant caption explains : "While the OPP investigates deleted emails from top McGuinty aides in the gas plant scandal, the Insiders step back to assess each leader's performance this sitting." And from Conservative Jeff Bangs to New Democrat Howard Hampton (to say nothing of Liberal Hershell Ezrin), all three ONW Insiders gave Kathleen Wynne's transitional performance as Ontario Liberal minority government leader pretty high marks (granting that only Mr. Ezrin felt able to be altogether unrestrained in his evaluation).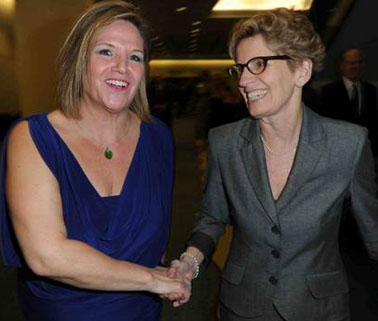 Robert Benzie had already reported in the Toronto Star yesterday that "Liberals' budget is set to pass Tuesday despite Progressive Conservative attempts to shame the New Democrats into defeating it over the gas-plant email controversy."  And Mr. Benzie's account of NDP leader Andrea Horwath's explanation  —  "'the Tories are only looking after their own interests,' while the New Democrats are concerned about the greater good" — almost had the ring of the plain truth to us (well almost : this is politics and not a Sunday school picnic after all, etc, etc).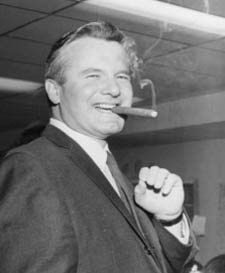 Of course, the front page of the Toronto Star print edition this morning — with "Head of eHealth Greg Reed leaving post early with $406,250" in big bold print — was a reminder of the undeniable flaws in the Liberal stewardship of Canada's most populous province over the past decade. Yet even with the latest searing revelations about deleted emails, the OPP, Information and Privacy Commissioner Ann Cavoukian, and possible "law-breaking" under the Archives and Recordkeeping Act (mmmmm …), brought in by the McGuinty Liberals in 2006, to us the so-called gas plant scandal still seems something considerably less than Sodom and Gomorrah. The old McGuinty Liberals' ultimate best defence may even be PC Dynasty Premier William Grenville Davis's memorable (and o-so-apt) regional aphorism of long ago: "The people of Ontario have never been spoiled by too much perfection in government."
UPDATE JUNE 12, 2013: McGUINTY RESIGNATION : Click on "Read the rest of this page" and/or scroll below.
History will be kinder to Dalton McGuinty than his June 2013 critics

With Premier Kathleen Wynne's first budget now safely through the legislature — in some perhaps new age of Liberal-New Democrat co-operation in Canada's most populous province (however long it may or may not last) — her predecessor has now resigned from the Ontario Legislative Assembly, somewhat earlier than he originally intended.
Is anyone surprised that Christina Blizzard at the Toronto Sun greeted this news with : "Dalton McGuinty has broken his last political promise …  The former premier is stepping down as MPP for Ottawa South after saying he'd stay on until the next election" ?? (But surely others, and even Ms Blizzard herself, would say, "was that a threat or a promise?".)
Similarly : "New Democrat MPP Peter Tabuns said he respects McGuinty's many years of public service and applauded the move to full-day kindergarten despite implementation problems …But he added the timing of the former premier's exit is intriguing given last week's scathing report from Information and Privacy Commissioner Ann Cavoukian into the deleted emails and the subsequent OPP investigation …  'Look at what's happened. The last time things got really hot on the gas plant file, he prorogued parliament and he said he was not going to sit any longer as premier,' Tabuns told reporters …  'The events of the last few days have ratcheted that up substantially. He takes the next step, he resigns as MPP. I think you can draw your own conclusions.'"
And then Adam Radwanski at the Globe and Mail has opined : "For all his success, McGuinty has made one of the ugliest political exits Ontario has ever seen …  a politician who at his better moments seemed capable of piercing the cynicism that contributes to public disengagement will instead have contributed to it … That, in itself, seems reason enough not to be too generous toward him about now."
The mood at our editorial board meeting this morning was rather different. Why is the old Premier Dad leaving even the legislature now, against his original intentions? One of our most cynical editors suggested "He must just be fed up with it all." And a consensus of sorts formed around that thought. It may be distressing that some Liberal political staffers deleted emails, and destroyed some public policy documentation. Yet those among us who are former Ontario public servants will remember that (at least before the current new legislation of 2006) the tradition on such matters within the bureaucratic behemoth surrounding Queen's Park has been far from exacting. The mindless rancorous toxicity of the official (and sometimes unofficial) opposition has been distressing as well. And it remains not at all clear just how interested the people of Ontario really are in the increasingly expensive and distracting efforts to elucidate some unfathomable mystery at the bottom of the so-called gas plant scandal — or how much any of this is actually contributing to any serious conception of the regional public interest? (Even with such recent reports as "Power plant cancellation documents secured from Dalton McGuinty's office, top civil servant testifies" and "How Ontario civil servants put a stop to practice of deleting e-mails" lingering on the late spring air.)
So … we have been glad to see such countervailing headlines as "Dalton McGuinty resigns as MPP, praised by Kathleen Wynne … Premier Kathleen Wynne has come to praise her predecessor not to bury him."  From the start of his career as Ontario premier — when the gas-station restroom scuttlebutt was saying he looked like Norman Bates from the Hitchcock movie Psycho, etc, etc, —  McGuinty (or just Dalton, as many who had never met the man came to call him) was the subject of too many bad jokes. He has never been vastly popular, with anyone. Yet in the midst of his various undeniable troubles, he has stood up for what is best in Ontario (past, present, and future) more often than most of his peers and rivals. He has moved the ball ahead, on a number of fronts. We have no doubt that history will treat him more kindly than most interested parties are treating him now. His resignation to make way for Kathleen Wynne still looks like a potentially skilful and benign and even generous climax to a career that, on balance, deserves pretty high marks. And we wish him all the best in the rest of his interesting life.