Dalton McGuinty's big surprise .. will he finally be founder of new "relentless progressive" dynasty in Ontario?
Oct 15th, 2012 | By
Randall White
| Category:
In Brief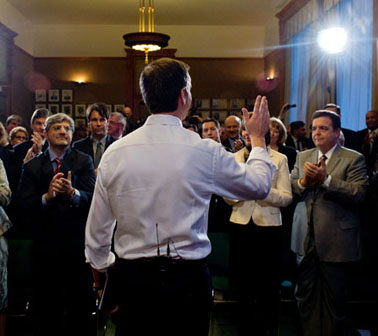 TORONTO. OCTOBER 15, 2012. 11:00 PM ET. Like everyone else (except Toronto Mayor Rob Ford, apparently), I was altogether surprised by Ontario Premier Dalton McGuinty's announcement early this evening ("just before 6:30 pm ET"), that he was proroguing  the Legislative Assembly at Queens's Park, and stepping down as leader of the provincial Liberal Party.
As best as I can make out, the crucial part of the prepared text of his remarks is as follows: "The opposition's political games are holding Ontario back … They've told us they oppose our plan for a two-year pay freeze for government workers … That means we can't make it law … So, we need to go back to the drawing board … We're going to make a sincere and determined effort to negotiate a wage freeze agreement with our labour partners … Like the agreements already reached with 80,000 public sector workers.
"We're also going to consult with the opposition about what they would support to freeze wages … To this end, I've asked the Lieutenant Governor to prorogue the legislature to allow those discussions with our labour partners and the opposition to occur in an atmosphere that is free of the heightened rancour of politics in the legislature … And when the legislature returns, we will either have negotiated agreements in hand or a firm sense of what the opposition will support.
"As the party and government of relentless progress, we're always looking for new ideas and ways to renew ourselves … And I've concluded that this is the right time for Ontario's next Liberal Premier and our next set of ideas to guide our province forward … Earlier today, I asked Yasir Naqvi, our party president, to convene a leadership convention at the earliest possible time … I will remain as Premier until that leadership convention … And it will be my honour to continue to serve as the MPP for Ottawa South until the next general election."
I have watched the immediate reactions of PC leader Tim Hudak and NDP leader Andrea Horwath on TV, the subsequent TV re-appearance of Premier McGuinty himself around 8:30 PM, and various reports on CBC TV and cp24 in Toronto. Like many others, I feel I am still digesting the surprising news. But I do have three initial impressions which may or may not prove interesting down the road:
* As Ms. Horwath has stressed, Premier Dad will still be with us for a while yet. And already there are those who say his prorogation of the legislature at this point will prove a black mark on his record. Maybe, maybe not. But whatever else, he has come up with what strikes me right now as a pretty clever (and even at least half-noble) approach to both his own political career, and the increasingly widely recognized impasse or gridlock in Ontario politics in the fall of 2012.
* Dalton McGuinty has always had at least half an eye on the historical record in what his statement earlier this evening concludes by calling "Ontario, the greatest province in the best country in the world." What he almost seems to be trying to establish now is some kind of 21st century Ontario Liberal political dynasty, modelled on the Ontario Progressive Conservative dynasty that lasted from 1943 all the way to 1985 – buoyed up to no small extent by an internal dynamic of leadership renewal, that avoided any too serious need for a change at election time. (Can this  actually work for the Liberals, 2003—2045, eg, or even 2003—2037, to match the founding Ontario Liberal "Great Reform" dynasty of 1871—1905, is of course an altogether different question?)
* The answer to what has recently seemed to be the growing key current question in Ontario politics – will there be yet another provincial election this spring (or thereabouts)? – would now almost certainly seem to be YES! (And there will no doubt be much more to come on this and related subjects, over the days, weeks, and months ahead, in what is still Canada's by far most populous province – no matter how many grains of oil sand there are in Alberta.)
Randall White is a former Ontario public servant, and the author of Ontario 1610—1985 : A Political and Economic History, and Ontario Since 1985.