Watching the NDP/NPD leadership vote .. a "new political dynamic" in Canada just may be Blowin' in the Wind
Mar 24th, 2012 | By
Randall White
| Category:
In Brief
TORONTO. SATURDAY, MARCH 24, 2012. One thing I've remembered this weekend is watching the convention that founded today's New Democratic Party on TV, as A Teenager in North Toronto, so to speak (humourously, ironically, sarcastically, satirically, or whatever), in the middle of the summer of 1961.
Inevitably, I am not as enthused and hopeful as I was then, more than half a century ago. But it must mean something that my aging mind has for some reason been reminded of the "leadership vote in which Saskatchewan Premier Tommy Douglas was elected over national CCF leader Hazen Argue," by some 2000 delegates at a five-day convention in the Ottawa Coliseum. Who knows? Something may be Blowin' in the Wind again.
3:00 PM ET / 12 NOON PT : The second ballot result showed Thomas Mulcair with 38.25% of the 62,494 votes cast (down from 65,108 votes on the first ballot — and out of a total 131,000 votes possible, in round numbers). Brian Topp had 25.00%, and Nathan Cullen 19.92%. Peggy Nash, who finished fourth and last this time (with 16.83%), is "Not proceeding to next ballot." A third ballot is now in progress, and expected to last another hour and a half.
All this has been enough to convince the hard-working John Ibbitson that: "Barring something truly bizarre, Thomas Mulcair will be the next leader of the New Democratic Party … After a rocky first-round start, the Montreal MP consolidated his lead at Saturday's leadership convention on the second ballot, taking many of the second-choice votes of Nova Scotia candidate Martin Singh and Manitoba MP Niki Ashton, who dropped off after the first round … There may have to be a fourth ballot but Mr. Mulcair seems destined to win."
According to Peter Mansbridge on the CBC News Network, there will "almost certainly" have to be a fourth ballot. And I am myself still allowing some room for "something truly bizarre" from the "wild card" Nathan Cullen — now the proven dark horse of this race, who has done much better than anyone thought he would at the start. But this is largely just to keep things interesting for myself and the other counterweights editors, who have dropped into the office today to watch the proceedings on the big-screen TV in the conference room.
If I had to bet money right now, I would put it on Mulcair as well. And happily enough. Just this past Tuesday Lawrence Martin wrote: "At stake this weekend is an altering of the country's political dynamic. It's about the old versus the new. Brian Topp, Peggy Nash and Paul Dewar represent the forces of tradition …  A victory for the other side, for forces as represented by Mr. Mulcair, by Martin Singh, and by wild card Nathan Cullen, who could provide the big surprise of the weekend, offer the likelihood of a departure from that paradigm." So …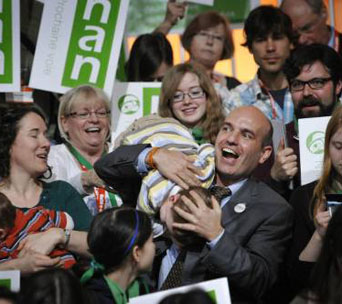 As Mr. Ibbitson has similarly pronounced much more recently: "The NDP is about to head in a new direction, led by a Quebec native who was a former Liberal. It will be an exciting – and risky – departure for a party that previously had been comfortable representing the one in five or six voters who cast ballots for the party of labour and of certain university political science departments."
Who knows? Maybe it finally will be something like going back to 1961 all over again. Except that this time, the "New Party" will actually do something new — and start to take our home and native land out of the cul de sac into which it has most recently been led … etc, etc, etc … (WITH MORE TO COME … SOMETIME  AFTER THE THIRD BALLOT …)
7:45 PM ET / 4:45 PM PT : On the third ballot Mulcair took 43.8% of the vote, Topp 31.6%, and Cullen 24.6%. As required by the rules of the game, Cullen is dropping out. The results of the fourth ballot that, as Mr. Mansbridge predicted, has proved necessary, are supposed to be available within half an hour. And I'll have some kind of very last word after that. Meanwhile, I am returning to the counterweights party now underway in front of the big-screen TV in the conference room.
10:15 PM ET /7:15 PM PT : So the final result, on the fourth ballot was Thomas Mulcair 57.2%, Brian Topp 42.8%. And I have just three final quick thoughts, before returning to a very good office party that shows signs of going on for some time yet.
(1) There was great agreement among we party goers here on this kind of argument: It seems to be often said that Mulcair is a bit of a mean bastard, or, as they put it on CBC TV, a grizzly bear. What the members of the New Democratic Party of Canada / Nouveau Parti démocratique du Canada have finally decided, in their collective wisdom, is that it is going to take a mean bastard to stand up to and finally conquer the mean bastard that is Stephen Harper. Or something like that, etc, etc, etc.
(2) I agree — and so does everyone else here — that Mr. Mulcair's victory speech to the convention has been rather flat and perfunctory at best : a "barn without the burner" as someone nicely tweeted. And that may have been a bit unsettling, except that …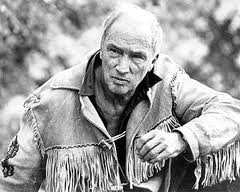 (3) After his speech, and to conclude the English language TV evening Mr. Mulcair sat down, mano a mano, with Peter Mansbridge. He was impressive in this venue (and again  everyone else here agrees with this assessment as well). And I for one, as someone who still believes in co-operation among all the progressive parties as the most likely path to the holy grail in 2015, am not concerned that the new leader of the NDP/NPD talked quite a different line, in rersponse to Mansbridge's questioning on this front. He is only saying what he has to say as the new leader of his party right now. I think the lovely Rosemary Barton was hinting at some still deeper truth, when she noted that we now have an NDP/NPD led by a former Liberal, and a Liberal Party led by a former member of the NDP/NPD. And in any event, good night to all, and to all a good night. It does now seem to me that there is at least some serious chance some kind of new Canadian political dynamic has at least begun to blow in the wind!