An introduction to M.I.A. and her Super Bowl middle finger for dumb seniors
Feb 6th, 2012 | By
Citizen X
| Category:
In Brief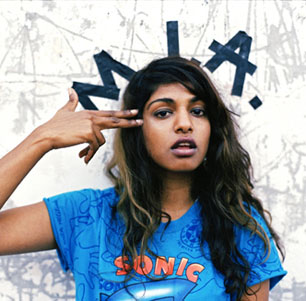 [UPDATED FEBRUARY 8, 11, 2012]. If M.I.A. (aka Mathangi "Maya" Arulpragasam) gave TV viewers of the 2012 Super Bowl half-time show "that already famous middle finger" in order to spread her name and fame to a much wider audience that includes vaguely out-of-it anglophone white males over 65 years old, I am pleased to report that it has worked in my case.
In fact I did not see M.I.A.'s middle finger myself. I did see part of Madonna's half-time show, and I noticed the two performers who flanked her at one point – one of whom I later discovered was M.I.A.  But I also went to the kitchen for a bit. I must have missed the middle finger then. And what I did earlier or later see of M.I.A. "having sold out in agreeing to be Madonna's celebrity cheerleader?" (to cite a Chris Willman at Yahoo! OMG) did not especially grab me either.
It wasn't until the next morning (this morning), on TV and/or from friends who had watched TV, that I heard about all of M.I.A., her middle finger, and the controversy it may or may not have spawned – perhaps even because "Madonna encourage[d] this insurrection from her guest rapper, so that she'd have some provocation in her otherwise family-friendly set without having to take the rap herself."Â  And I started learning all I could in a few hours about M.I.A. (aka Mathangi "Maya" Arulpragasam) on the miracle of the world wide web.
So … what can I report in a few hundred words?  Mathangi "Maya" Arulpragasam was born on July 18, 1975 in London, England to  parents of  Hindu and Sri Lankan Tamil descent. When she was six months old, her family moved to Jaffna in northern Sri Lanka, where her father became involved in the Tamil rebellion. The ensuing Sri Lankan civil war prompted the family to move to the state of Tamil Nadu in India for a time. Then in 1986 Maya's mother moved her children back to London, while the father remained in Sri Lanka, as "an independent peace mediator between the two sides of the civil war."
* * * *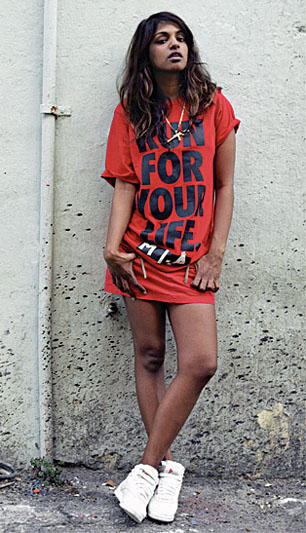 Maya subsequently grew up in the Phipps Bridge Estate in southwest London. Her mother, a practicing Christian, has worked as a commissioned seamstress for the British Royal Family. Maya received a degree in fine art, film and video in June 2001 from London's Central Saint Martins College of Art and Design.
As her career as a "rapper, singer, songwriter, record producer, painter and director" got underway, she lived for a time in Los Angeles and New York. In New York she "met her fiance, Benjamin Zachary Bronfman," a "scion of the Bronfman dynasty." Nowadays "M.I.A. owns a home in Brentwood, Los Angeles in the US and splits her time between there and her mother's home in London. She gave birth to her son Ikhyd Edgar Arular Bronfman in February 2009."
Maya apparently adopted the stage name M.I.A. as early as 2001. After "rising to prominence in early 2004 for her singles 'Sunshowers' and 'Galang', she "made her North American debut in February 2005 at the Drake Hotel in Toronto where concertgoers already knew many of her songs. In March 2005, M.I.A.'s debut album Arular was released worldwide to critical acclaim."
Further albums followed. In 2008 "M.I.A. contributed songs for A. R. Rahman's score of the film Slumdog Millionaire," and she received both Academy Award and Grammy Award nominations for this work in 2009. She has said she is unclear about her status as a musician, and has also worked on careers as a painter and movie director. And whatever she does she invests with a strong political point of view.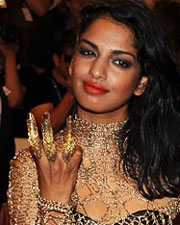 Just why M.I.A. "sold out in agreeing to be Madonna's celebrity cheerleader" at yesterday's Super Bowl half-time show (to cite  Chris Willman again) I of course have no idea. Personally I think Mr. Willman is closer to the truth when he asks "was M.I.A. using Madonna and the Super Bowl to get attention for her own new video and forthcoming album?" I would guess that the answer to this is yes – and that this helps explain the middle finger too.
From what little more I have more or less instantly learned about M.I.A. from the world wide web today, I'd guess that her Super Bowl middle finger has something to do as well with her strong political point of view, which clearly has something to do with her father's Tamil activism in Sri Lanka. In any case, she does strike me as a quite interesting lady – and more so than Madonna, who I have never quite liked myself.
What I don't like most about Madonna, I think, turns around her acute but overused talents as an accomplished power monger. You can see this in the "M" that hung in front of M.I.A.'s crotch in her prescribed Super Bowl half-time show costume. On a very slight acquaintance at this juncture, what I seem to like about M.I.A. is that she is trying to do something like what Madonna does without being a power monger. (She may not entirely succeed at this, of course, but she is at least trying.)
She could be more of a real democrat even? Or even a kind of left-wing libertarian, somewhat like some sides of Ron Paul? And who knows? That may help explain her controversial middle finger yesterday too! She has said that she doesn't think anything of great political interest like the French Revolution is possible, anywhere in the global village today. And that seems to disappoint her – a sentiment which I more or less share. (I agree too with the interview comment writer who said "I love how interesting and intelligent her points are, and … 'MIA IS SO FUCKING HOT'" – in the colloquial English she likes to use herself, where she knows she can get away with it, on CBC TV.)
* * * *
For the main sources of my quick and dirty research here – and more about the career of M.I.A., see:
M.I.A.'s Raised Middle Finger Raises Question: Why The Provocation?
M.I.A. (artist) … From Wikipedia, the free encyclopedia
M.I.A. on George Stroumboulopoulos show The Hour, January 15th 2011
M.I.A. on Q TV (viewer discretion advised)
M.I.A Tells Tavis Smiley about Sri Lanka Genocide (1 of 2 )
M.I.A Tells Tavis Smiley about Sri Lanka Genocide (2 of 2 )
MIA – Paper Planes ("Slumdog Millionaire" Movie Music Video)
M.I.A.–Â  Born Free (live on Letterman)
UPDATE FEBRUARY 8, 2012: The New York Daily News published an article yesterday which updates some of the information above.  See: "M.I.A. splits with fiance Benjamin Bronfman – and from much of her family scene … The singer who gave Super Bowl's one-finger salute now spends most of her time in London, say insiders …
"One insider tells us that M.I.A., 36, is spending most of her time in her native London, while Bronfman, 29, and their progeny, Ikhyd Edgar Arular Bronfman, who turns 3 on Saturday, are living in New York. The source adds that Ben's mother, philanthropist Sherry Bronfman , is helping to take care of his son …
"Bronfman, an environmentalist and former guitarist for the punk reggae band The Exit, is also the son of Seagram heir Edgar Bronfman Jr … Shortly before Ikhyd was born in 2009, the couple bought a house in the exclusive Brentwood section of Los Angeles …
"Reps for M.I.A. did not respond to requests for comment by deadline. An email to Bronfman's business, Global Thermostat, on the upper West Side, also produced no response, but we hear the green entrepreneur already may have moved on …
"Bronfman looked like he was on a date last week when he was spotted at the Schomburg Center for Research in Black Culture in Harlem with a beautiful woman."
I have not yet decided whether any of this changes any of the instant-research-based instant opinions about M.I.A. that I expressed on February 6. Others will no doubt decide for themselves.
UPDATE FEBRUARY 11, 2012: This is a story that keeps on giving. There are two main new developments at the moment:
(1) Madonna herself has finally entered the fray. See: "Madonna: M.I.A. Apologized for Middle Finger Stunt … Madonna says rapper M.I.A. has apologized for sticking up her middle finger during their Super Bowl halftime show … 'I know she feels bad … I accept her apology, but you know, I think she still has her head in the sand right now. I'm not sure,' the 53-year-old entertainer told Carson Daly on AMP 97.1 … Though Madonna previously said she was disappointed about the debacle, she still supports M.I.A. as a fellow artist … 'I like her and, you know, I believe in people having individuality and I like her punk rock attitude,' she added. 'Actually I think she's really cool and that's why I asked her to be in my show and be on my record …  But I didn't think that was the time or the place for it, to tell you the truth.'"Â  And for a slightly different video account, see "Madonna Slams MIA For Middle-Finger Incident."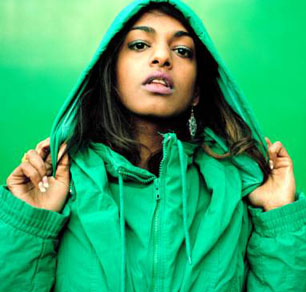 (2) Benjamin Bronfman himself is now challenging the New York Daily News story in the February 8 update, immediately above. See: "M.I.A.'s Boyfriend Fires Back At Critics … 'All this stuff about Maya being a bad mom is completely out of bounds,' Benjamin Bronfman tweets … Days after tabloid reports alleged that M.I.A. was no longer dating her longtime beau and father of their child, Benjamin Bronfman … took to Twitter to lash out at the allegations that the singer/rapper has been an absentee mother … Bronfman … threw cold water on those allegations. 'All this stuff about Maya being a bad mom is completely out of bounds … She's a really great mom … To consistently tear down a working mother is just beyond me' … Bronfman then took a minute to praise M.I.A.'s new song and video for the tune Bad Girls and to give her props for what he deemed a great performance at the Super Bowl."
So … I suppose I'm glad to hear all this myself  – from Benjamin Bronfman, if not exactly from Madonna. It makes me think that the instant-research-based instant opinions about M.I.A. that I expressed on February 6 probably do make some kind of sense!