Ontario auto sector is in big trouble .. and that's one deeper truth about moving "closer to EU-style crisis"
Nov 25th, 2011 | By
Randall White
| Category:
Canadian Provinces
There's a lot of talk about the troubled Ontario regional economy lately, that tries to paint government "big spenders" as the crucial problem.  (See, eg, Terence Corcoran's somewhat alarmist National Post article on "Ontario gets closer to EU-style crisis.")
A few recent reports in the Globe and Mail, however, point to some crucial trends in the Central Canadian private sector, that lie at the bottom of the increasingly serious new problems public economic policy is facing. Greg Keenan's "Chrysler CEO sounds warning on Canadian labour costs" – first published this past Tuesday, and then updated again yesterday – is a case in point.
A few excerpts from Keenan's piece suggest the key message: With "a new contract between the Canadian Auto Workers union and the Detroit Three car companies" down the road,"Chrysler Group LLC chief executive officer Sergio Marchionne" is worried about the new "higher costs of assembling vehicles at the company's Canadian plants compared with its US operations."
Keenan goes on: "The high value of the Canadian dollar has made Canada one of the most expensive countries in which to assemble vehicles, and long-standing competitive advantages – such as taxpayer-financed health care – were eliminated during the 2008-2009 crisis that drove the old Chrysler and General Motors Corp. into bankruptcy protection."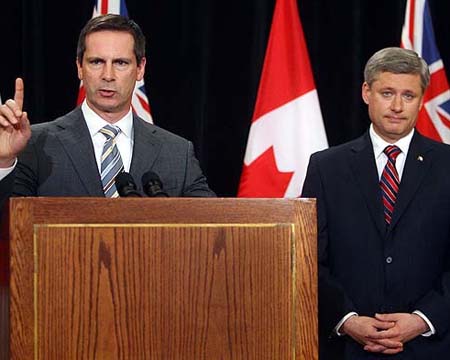 All this is reminiscent of another report from Greg Keenan and Tavia Grant earlier this month, updated this past Tuesday: "Steep decline in manufacturing mars employment outlook." This quotes Avery Shenfeld, chief economist at CIBC World Markets, on how "Canada has been pricing itself out of manufacturing as resource industries' success drives up our currency … the combination of sluggish growth beyond our borders and a still-elevated Canadian dollar doesn't give much promise to manufacturing as a source of employment growth."
One poignant policy implication here is that preventing even more haemorrhaging in the once oh-so-dynamic Ontario auto sector (see, eg: "Canada's Auto Sector … Engine of Economic Growth" and "Canadian Auto Sector 'Uniquely, Consistently Profitable,' CAW Report Shows") could depend on still more government handouts to the industry. And another Globe and Mail report this month, from Greg Keenan and Steven Chase ("Ottawa to test viability of auto sector"), suggests that the federal government already has its doubts about just how much sense this might make.
* * * *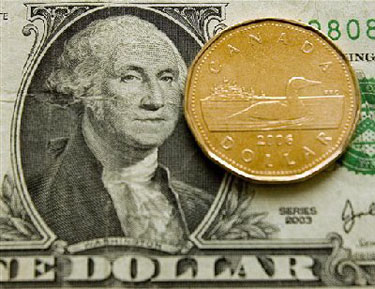 Of course none of this is news to provincial government policy makers. As in the adjacent US Northeast and Midwest, long-term decline in Ontario manufacturing has been in motion for more than a generation. But a steep overall fall in the value of the Canadian relative to the US dollar, from the late 1970s to the early 21st century, helped keep the costs of assembling automobiles in Canada below US costs.
This put off the day of reckoning that has seemed much closer at hand, ever since the Canadian dollar closed above the US dollar for the first time in 30 years, on September 28, 2007 – thanks in no small part to the growing buoyancy of Western Canadian resource industries, especially in Alberta and Saskatchewan (and especially oil and gas).
The very slightly good current news for Ontario residents is that at least the new McGuinty Liberal major minority government does understand the long-term trends, and has been trying to develop policies to cope with them. Whatever else you might think about it, eg, Premier McGuinty's interest in new forms of green economic development is an attempt to compensate for the province's declining old industrial manufacturing base.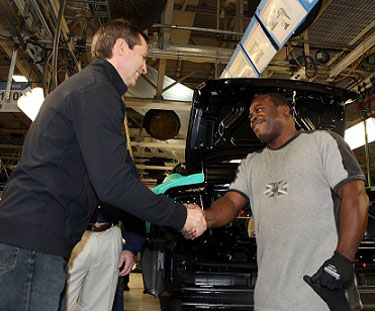 Conservative opposition leader Tim Hudak's recent ideologically overcharged reaction to the news that "Saskatchewan passes Ontario in wages," on the other hand, helps explain why even the Globe and Mail did not finally endorse his party in the recent Ontario election.
"You need to focus on private-sector job creation," Mr. Hudak drones on. But what the private sector in the Ontario auto industry wants right now is not the kind of neanderthal economic development policies Mr. Hudak is still mindlessly promoting.
It is more government subsidies, to compensate for the new higher costs of assembling automobiles in Canada rather than the United States, flowing in large part from the higher value of the Canadian dollar, driven by the current success of the resource sectors in such other Canadian places as Alberta and Saskatchewan.
Nothing Mr. Hudak has been saying about provincial economic development policy really addresses the big trouble in which the Ontario auto sector is increasingly finding itself at the moment. (And Ms. Horwath of the Ontario New Democrats still hasn't really engaged with this issue.) But if the latest mild declines in the value of the Canadian relative to the US dollar are signalling at least some new mid-term trend, that actually might help a little. (And the news that "Euro crisis deepens: 'There is good reason to be scared'" might actually be good for Ontario too : euro weakness means US dollar strength, or so it seems right now!)
Oh, and btw Mr. Hudak, even Chrysler Group LLC chief executive officer Sergio Marchionne has told the Canadian Institute of Chartered Accountants that "he understands why executive compensation is a key issue" for the Occupy Wall Street movement: "It's very, very difficult to have discussions with organized labour about pay packages when you've got fundamental inequalities in the system." As Greg Keenan has explained Mr.  Marchionne "has seen 'an incredible amount of corporate greed' while sitting on various boards of directors," and even he believes that, one way or another, the current "root causes of economic and social inequality need to be addressed."