Look who's supporting Senate reform in Canada now!
Jul 14th, 2009 | By
Randall White
| Category:
In Brief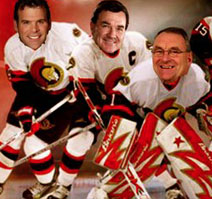 Those who still think nothing serious in Canada is ever going to change should take a second look at the editorial on Senate reform in the July 13, 2009 edition of the Toronto Globe and Mail.
Hardly anyone reads editorials. (Or anything having anything to do with Senate reform in Canada.) But it still says something when a Globe editorial begins with: "Before Parliament's summer recess, the Conservative government reintroduced legislation that would limit the term of senators to eight years. This, alone, is too modest a reform of the Senate … Prime Minister Stephen Harper should fulfill his commitment to create a process to elect senators."
The piece  goes on to propose a few wrinkles that don't make a lot of sense to me. (For an altogether progressive Ontario approach to an elected Senate, e.g., see a mere article, as opposed to editorial, that first appeared in the Globe and Mail several years ago: "Bribe Prince Edward Islanders to reform the Senate, not kill it.")
Yet it is refreshing to read an official pronouncement in Canada's self-proclaimed national newspaper which at last boldly declares: "It is a disgrace that regional aspirations are not adequately reflected in the one political institution in Canada designed for that function, when other federal countries like the United States, Australia and Germany have all managed it." It is indeed. And here's hoping that someone with courage and vision in Ottawa will finally do something about it. Before we all vanish beneath the waves of some melting Arctic ice cap.