The courage of Canada's new federal government may or may not be tested – and who knows if it matters anyway?
Dec 1st, 2015 | By
Counterweights Editors
| Category:
In Brief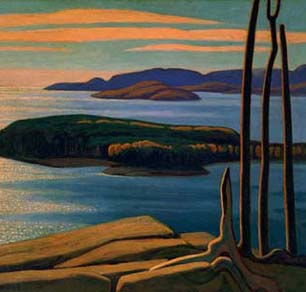 GANATSEKWYAGON, ON. The sky over the lake at sunset last night was almost like a Lawren Harris painting. It had something to do with the lighting and the clouds.
As if the sky had heard that since Steve Martin these northern paintings were making a lot of money … (Well … Martin Short no doubt helped too.)
Then not much past 7 PM ET it was clear that, as predicted, Dwight Ball's Liberals really would sweep the provincial election on the Rock. See "Liberals win landslide victory in Newfoundland and Labrador election … 'We'll take this in stride,' says premier-designate Dwight Ball."
Meanwhile, new Liberal Prime Minister Justin Trudeau has been at the Paris climate change talks. And here's hoping that will finally do some good.
(You think about the importance of the natural world when the pink sunset  over the west end of the lake is as beautiful as it was last night.)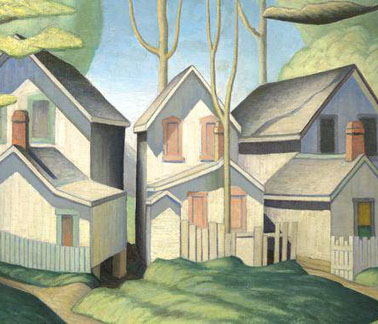 The new Liberal federal government's first weeks in office have been almost frantic. Almost as soon as the prime minister returns from Paris, the Canadian House of Commons returns to Ottawa on Thursday, December 3, 2015. And then there will be a Speech from the Throne on December 4.
Meanwhile again, see "Trudeau era to start with sweeping parliamentary reforms, empowerment of MPs …  PM hoping to bring his 'sunny ways' to Parliament, an institution known more for its toxic hyper-partisanship" by Joan Bryden at the Canadian Press …
Ms Bryden reports : "The House of Commons will sit for a week before taking an extended Christmas break, just long enough to pass a motion putting into effect two of the central platform planks: a tax cut for middle-income earners and tax hike for the wealthiest one per cent …
She goes on : "The sweeping democratic reforms promised by Trudeau will take longer to implement but government House leader Dominic LeBlanc intends to set the wheels in motion immediately so that changes can go into effect soon after the Commons returns in late January."
And finally, as if to show that various further challenges still loom on the horizon, at the start of the week in which the Canadian House of Commons will get back to work, if only for a week before the year-end holiday season sets in definitively, we have : "Dror Bar-Natan Renounces Oath To Queen After Becoming Canadian Citizen."
This reminds us (or at least those of us with stronger than usual memories) that somewhat more than a year ago now our colleague Randall White posted a piece on this site called "Canadianizing the Canadian citizenship oath – a still dangling rite of passage in the home and native land ."
And then a very quick, informal City News poll online, yesterday and today, suggests more than 53% of Canadians believe that Canada should "cut its ties with the monarchy" after the unhappy death of the present Queen Elizabeth II.
And this makes us think that the proposal advanced in various places last year, to just give new Canadian citizens the option of including the present references to "bear true allegiance to Her Majesty Queen Elizabeth the Second …  Her Heirs and Successors" in their citizenship oaths or not, still makes a lot of sense!
Whether the new Liberal government has the intestinal fortitude and sheer political courage to seriously look into such matters (while still retaining its already clear commitment to supporting the Queen until the end of her reign, of course) remains one of various intriguing questions about what really lies ahead for the theory and practice of the Government of Canada.
It will be hard to follow it all over the holiday season, no doubt, with so many worthy rivals for our serious and immediate attention. But the best advice is still stay tuned.