Canada changed in 2015 and the global village too : Part IV .. Modi & Queen, Paris again, climate change, J Trudeau
Dec 31st, 2015 | By
Counterweights Editors
| Category:
In Brief
Here are the last four Associated Press top international news images in our year-end review :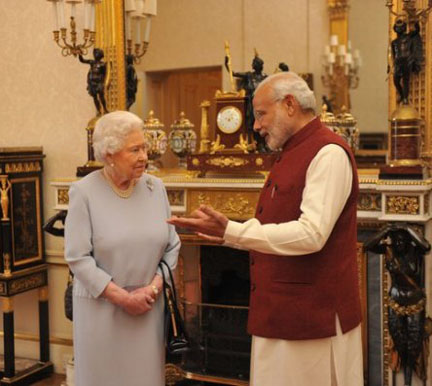 (13) Narendra Modi meets former Empress of India … Technically, it is not correct to call Queen Elizabeth II even a former Empress of India. That title, invented by UK Prime Minister Benjamin Disraeli for Queen Victoria in 1876, at the very least vanished when India became the first Commonwealth republic in 1950.
Yet there are various related ironies and cunning historical passages in Indian Prime Minister Narendra Modi's recent meeting with the Queen who still serves as Head of the Commonwealth, of which India currently has about half the population and has more or less become the natural 21st century leader! And so in our thirteenth AP photo (and accompanying caption) for the seminal year that ends today  "Narendra Modi meets Her Majesty The Queen at Buckingham Palace, London, Thursday, November 12, 2015." (Photo: India Bulletin).
(14) Jihadi nihilism returns to Paris … The year 2015 began with the Charlie Hebdo Massacre in Paris on Tuesday, January 7. It lurched toward a conclusion with "a series of coordinated terrorist attacks … in Paris and its northern suburb, Saint-Denis" on the evening of Friday, November 13.
A Wikipedia article summarizes this appalling unnatural disaster : "The attackers killed 130 people, including 89 at the Bataclan theatre, where they took hostages before engaging in a stand-off with police. There were 368 people who were wounded, 80–99 seriously so. Seven of the attackers also died, while authorities continued to search for accomplices. The attacks were the deadliest [in] France since World War II and the deadliest in the European Union since the Madrid train bombings in 2004. France had been on high alert since the January 2015 attacks in Paris that killed 17 people, including civilians and police officers."
In our fourteenth photo and caption : "People react in front of the restaurant Le Carillon Monday, November 16, 2015, one of the establishments targeted in the November 13 terrorist attacks in Paris. (AP Photo/Kamil Zihnioglu)."
(15) Paris climate change conference shows hope for global village … As noted in Part I of our year-end review : "There were some hopeful signs of change in progressive new directions this year too."
The 2015 United Nations Climate Change Conference, held in (or near) Paris from November 30 to December 12, was a case in point. It is easy to remain skeptical when you read such recent headlines as "Republican presidential candidates go their own way on climate change despite Paris agreement." But some hope returns with "Obama to seek 'every opportunity' to push climate plans in 2016, experts say … On the heels of the Paris climate deal, the president is likely to focus on the environment in his final year in office — and Congress can do little to stop him."
In our fifteenth photo and caption : "From the left, Prime Minister Justin Trudeau, Microsoft CEO Bill Gates, US President Barack Obama, French President Francois Hollande and Indian Prime Minister Narendra Modi wave at the United Nations Climate Change Conference, near Paris, Monday, November 30, 2015. (Ian Langsdon/Associated Press)."
(16) Canada briefly makes some international news with new rock star politician Justin Trudeau … On a Canadian website we are entitled to end the global village part of our year-end review with a modest reference to how, in the later days of 2015 : "A rare phenomenon is transpiring" in at least a few places beyond our borders : "People are curious about Canada's next prime minister."
Or as the US liberal economist Paul Krugman explained on October 23 in the New York Times : "Canada has surprisingly often been the place where the future happens first … And it's happening again … Canadian voters swept the ruling Conservatives out of power, delivering a stunning victory to the center-left Liberals. And while there are many interesting things about the Liberal platform, what strikes me most is its clear rejection of the deficit-obsessed austerity orthodoxy that has dominated political discourse across the Western world … " (Well … this is all a little hyperbolic, but … we'll take it anyway.)
And so for the final global village photo and caption in our year-end review photo we've chosen an image of Justin Trudeau and his equally intriguing wife that illustrated a Monday, December 14 column by Naomi Lakritz in the Calgary Herald, nicely captioned at source with "Sophie Gregoire-Trudeau should be free to call herself whatever she wants. PAUL CHIASSON / THE CANADIAN PRESS." (Oh and btw, a very HAPPY NEW YEAR 2016 … and to all a good night! And, one last time, for the more domestic news from our own counterweights articles readers can click on "Read the rest of this page" and/or scroll below.)
* * * *
Here is Part IV of the particular Canadian (+ North American) branch of our year-end review, from the counterweights archives for the fourth and final quarter of 2015:
(10) "Various natives get restless as 2015 Canadian election day draws near .. but is a Liberal majority possible ??" … Oct 13th, 2015 … by Randall White.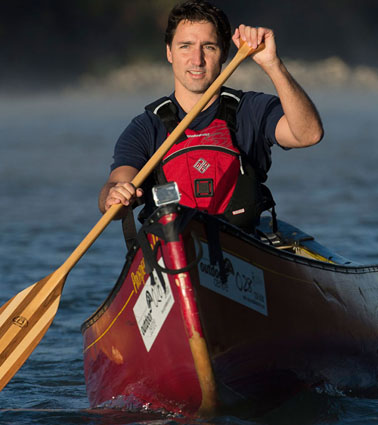 Six days before the election on October 19, Randall White was still skeptical about Eric Grenier's speculation that "if we apply the 2011 shift in the polls in the final week to the party with the momentum in this campaign, the Liberals might be heading toward a majority government."
And the two major forecasts on the Toronto Star and CBC News sites were still calling for a Liberal minority government, dependent on the NDP to pass legislation. (Which is quite apparently what Dr. White wanted to happen in any case!)
In the end, however, the Justin Trudeau Liberals did win a decisive majority of seats in the Canadian House of Commons (54% + and again, as in 2011 with Stephen Harper's majority-government Conservatives, with less than 40% of the cross-Canada popular vote).  See "Back to the real Canadian future with Justin Trudeau .. maybe?" …  Oct 20th, 2015 … by Counterweights Editors.
(11) "On the new era in Canada .. Alexandre Trudeau, Mélanie Joly, Harjit Sajjan, and Chief Jody Wilson-Raybould" …  Nov 7th, 2015 … By Randall White.
This has been our most popular posting since the October 19 election. Who knows just why? But it does have similarities with another popular posting this year — a survivor from all the way back to January 5, 2007 by the often amazing Dominic Berry called "Where is Canada going .. does Pierre Trudeau's new grandson have anything to do with it?".
The pretext way back then, in an era of primitive small illustrations, was  "the birth of Pierre-Emmanuel Trudeau, 'two weeks ago in a Montreal hospital' …  the son of Alexandre Trudeau and Zoe Bedos" who "celebrated his first Christmas 'at the Pine Avenue Art Deco mansion of his famous grandfather.'"
Pierre Trudeau's first grandson, that is to say, came via Justin's younger brother, Alexandre (aka Sacha), not the future prime minister himself. And Alexandre Trudeau is the one thing shared by both the November 7, 2015 and January 5, 2007 currently popular items on this site (as such things go, of course, in this very modest and notoriously unprofitable as well as non-profitable branch of the wider global business, whatever that may be).
Mr. Berry tells us that he does not think he was being prescient when he wrote, almost nine years ago now : "Even the hard-nosed players who disparaged Justin Trudeau's dilettante dabbling at the recent leadership convention in Montreal can see that the birth of Pierre Elliott Trudeau's first grandson has some at least longer-term advantages for the Liberal Party of Canada … Let all the critics laugh and make bad jokes. Say what you like, etc. This is a kind of fun that none of the old natural governing party's rivals can match. It will probably not help the Liberals win the next election. But —  as foolish as it certainly all is — it does somehow suggest that they really do know how to plan ahead."
And we think Mr. Berry is correct in his assessment.
(12) "Laughing to keep from crying in the Commonwealth realms : Justin Trudeau meets the Queen" … Nov 25th, 2015 … by Randall White.
This ends the year by dabbling yet again in this site's ultimate Canadian republican objectives — still not a popular subject anywhere in Ottawa, including the new Liberal Party of Canada government (for the time being at least).
This leaves us without any posting from the last month of the fourth quarter in 2015. But the ailment can be treated by pointing to the supplementary piece "The courage of Canada's new federal government may or may not be tested — and who knows if it matters anyway?" — first posted on Dec 1st, 2015 by the Counterweights Editors.
"The courage of Canada's new federal government may or may not be tested" notes how "a very quick, informal City News poll online, yesterday and today, suggests more than 53% of Canadians believe that Canada should 'cut its ties with the monarchy' after the unhappy death of the present Queen Elizabeth II …"
The article continued : "And this makes us think that the proposal advanced in various places last year, to just give new Canadian citizens the option of including the present references to 'bear true allegiance to Her Majesty Queen Elizabeth the Second …  Her Heirs and Successors' in their citizenship oaths or not, still makes a lot of sense! … Whether the new Liberal government has the intestinal fortitude and sheer political courage to seriously look into such matters (while still retaining its already clear commitment to supporting the Queen until the end of her reign, of course) remains one of various intriguing questions about what really lies ahead for the theory and practice of the Government of Canada."
Almost finally, 2016 will see one practical test of the Commonwealth republican waters in the neighbouring Caribbean. As explained by the Independent in the UK on December 14, 2015 : "Barbados wants to ditch the Queen on the 50th anniversary of its independence" this coming November 30, 2016.
The Independent went on : "If all goes to the government's plan, the former British" colony "will become a republic … five decades after it became a sovereign state."
At the same time, Freundel Stuart's current government of Barbados "requires a two-thirds majority in Parliament to get the plan through —  meaning it is not certain that Elizabeth will have been relieved of her duties as Queen of Barbados by independence day next year."
We'll keep watching here — another thing to look for in what will be our final year of publication, otherwise dominated by an increasingly fascinating — and worrisome — new presidential race in the neighbouring great republic right next door.
For the moment, the rumblings of our office new year's party here have already begun.
And we are joining them, with a very hearty happy new year 2016 to all the much-valued visitors to our site "launched in the summer of 2004, in response to a dockside debate in the northern woods"!