Will George Clooney go back to Teri Hatcher now?
Jul 11th, 2013 | By
Citizen X
| Category:
Entertainment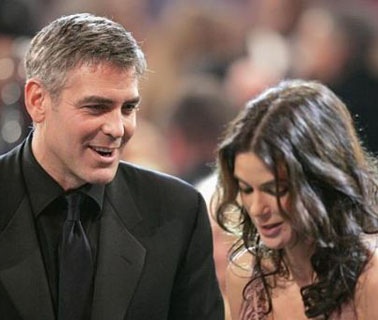 Our Canadian prime minister Stephen Harper is supposed to be making a big cabinet shuffle this week, but I couldn't care less. He is the only important person in his cabinet. And how many times can he shuffle himself?
Anyway, it has been hot and humid in the summer in the city. We've had unexpected torrential rain, and for a while it seemed more bad weather could be coming. As light-hearted relief, the editors suggested I do something on the recent marriage of Toronto Maple Leafs captain Dion Phaneuf and actress Elisha Cuthbert, at St. James Catholic Church in Summerfield, P.E.I.
I looked into this a bit. But I finally just added a few images of the lovely Ms Cuthbert to the 10-second rotation cycle on my computer desktop background. (As a sign of loyalty to the beleaguered Leafs Nation, whose team did at least make the playoffs this year.)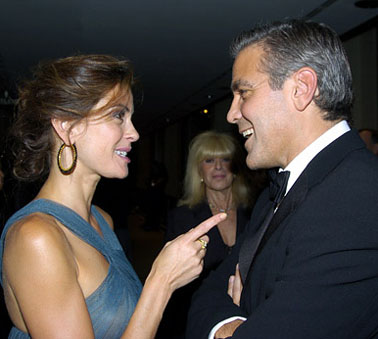 Yet looking into the Phaneuf-Cuthbert wedding does seem to have piqued a deeper interest in the somewhat parallel if clearly different news that "George Clooney and Stacy Keibler 'split after two years …"Â  And here I am mostly interested in such specific reports as "George Clooney's Back on the Market: A Look Back at His Many Ladies," and, especially, "The Women of George Clooney … Teri Hatcher: 2007." (Although, as I have subsequently  discovered, it seems that the date is out by a year, to be quite exact.)

1. My love affair from a distance with Teri Hatcher, 1993—1997 (and her later brief "sleepover" affair with her neighbour George)

I am somewhat interested in George Clooney – in the sense that if I only had certain characteristics I clearly lack, I believe I would be George Clooney. (With a villa on Lake Como in northern Italy, a house in the south of France, another house in Studio City, Los Angeles, and a track record of living for short periods with a growing list of attractive women.)
The person I am most interested in, however, is Teri Hatcher. I fell in love with her (as only we mere mortals can fall in love with women on TV and in the movies, etc) when she appeared as Lois Lane on the ABC TV series, Lois & Clark: The New Adventures of Superman, from  September 12, 1993 to June 14, 1997. I agree that she was the best Lois Lane ever – in the movies or on TV or even in the comic books that people of my generation read in their youth (instead of playing video games, which were not invented then).
I have not paid much attention to Ms Hatcher's more ostensibly successful and celebrated role as Susan Mayer on the ABC "comedy-drama" series Desperate Housewives. This ran from  October 3, 2004 until May 13, 2012. And for her work here Teri Hatcher "won the Golden Globe Award for Best Actress and three Screen Actors Guild Awards, as well as a Primetime Emmy nomination." I have occasionally watched  random episodes of this prime-time soap opera. But it has never grabbed me the way  Lois & Clark: The New Adventures of Superman did.
It was nonetheless during the early years of Desperate Housewives that Teri Hatcher had what must be judged her very brief affair with George Clooney (whose Studio City house in Los Angeles happens to be on the same street as Teri Hatcher's house).
According to a Hollywood gossip publication report in the early spring of 2006 : "Cross another one off his list. George Clooney and Teri Hatcher are kaput. The rumored couple went out of their way to deny their coupledom after being seen dining out together in December. But these two weren't just neighbors as they claimed to be. A source for US Weekly says, 'There were sleepovers' … in the end, Teri proved a bit too clingy for George … But don't lose hope yet, Hatcher. Clooney has a tendency to reignite old flames. "
And, now, seven years later, I am wondering. Is it time to reignite the old flame between George Clooney and Teri Hatcher at last? (And all I know for certain is that if I really were George Clooney, the time would certainly have come!)
2. What happened in Studio City, late 2005 and early 2006?

George Clooney's short unhappy sleepover affair with Teri Hatcher (and/or vice-versa) certainly seems murky. As already alluded to, according to one source they were seen "dining out together in December" 2005.
On the wonderful world wide web I've also discovered that one Dimitrios Kambouris, working for "WireImage for Turner," took a photograph of "Teri Hatcher, George Clooney, and Clifton Collins, Jr." somewhere in Los Angeles on January 29, 2006.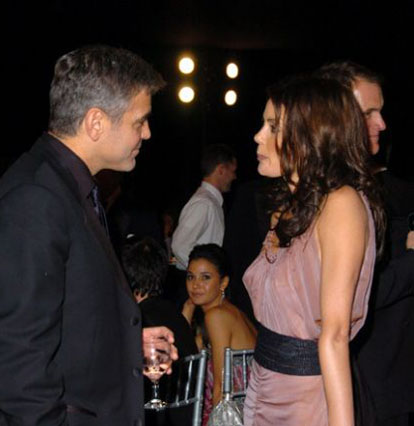 At about the same time a UK gossip-mongering publication reported : "Hatcher & Clooney Refuse To Address Date Rumour … TERI HATCHER and GEORGE CLOONEY are playing coy about their rumoured romance, by refusing to chat about their reported date. DESPERATE HOUSEWIVES star Hatcher is staying quiet about the 'date', while Clooney insists 'it's a good rumour'.The actress says, 'If I went on a date with George Clooney I would not be talking about it.'And gentleman George adds, 'She is my neighbour, though, and she's beautiful.'"
From here we have:
JANUARY 19, 2006 – "Are George Clooney & Teri Hatcher an Item?" (People magazine).
JANUARY 19, 2006 – "Are George Clooney and Teri Hatcher an item?" (NBC News).
JANUARY 22, 2006  – "More on George Clooney and Teri Hatcher." (OH NO THEY DIDN'T! celebrity gossip website).
JANUARY 24, 2006 – "George Clooney et Teri Hatcher affirment n'être que des amis." (LIVENET.fr).
3. The April 2006 Vanity Fair article and its aftermath …

Whatever may or may not have been going on between George Clooney and Teri Hatcher early in 2006 came crashing to the ground by the time an unusually provocative interview with the Desperate Housewives star appeared in the April 2006 issue of Vanity Fair (which apparently hit news stands early in March).
The interview was notable for two poignant confessions from Ms Hatcher. The first told how she was currently hurting big time, from a sudden break-up with a mystery man who had seemed to be promising her the moon, and then just walked away, leaving her with nothing.
The second confession told how Teri Hatcher had been sexually abused by an uncle as a young child. It went on to explain how, after much soul searching, she had finally testified against her abusing uncle much later in life, when other objects of his abuse had taken him to court.
Inevitably, perhaps, assorted gossip mongers and fans with no proper lives of their own assumed that the mystery man in Ms Hatcher's confession was George Clooney – and even, in the worst-case scenario, "that Hatcher confessed her childhood sex abuse in Vanity Fair because she was so bereft over Clooney supposedly dumping her."
Both Teri Hatcher and George Clooney denied these extreme interpretations of her Vanity Fair interview. But, to this day, there are apparently those who believe the interview's confessions  finally convinced Mr. Clooney that his dalliance with Ms Hatcher had reached the end of its natural rope. And, as early as March 9, 2006, one source was reporting : "CLOONEY DUMPS HATCHER AND GETS BACK WITH ALLEN …"
From here the plot just thickened, and thickened, and thickened :
MARCH 9, 2006 – Did George Break Teri's Heart?
MARCH 10, 2006 – Teri Hatcher had no idea Clooney was a womanizer
MARCH 10, 2006 – Gossip Roundup: Clooney Heartbreak Drives Teri Hatcher to Painful Publicity Whoring …
MARCH 13, 2006 – GEORGE CLOONEY PRAISES TERI HATCHER FOR SEX ABUSE CONFESSION
MARCH 13, 2006 – Teri Hatcher denies George Clooney is mystery loser man
MARCH 14, 2006 – George Clooney vs. Teri Hatcher.
4. Teri Hatcher as an admirable (and beautiful) committed single mom

The truth about just what happened to George Clooney and Teri Hatcher in the early days and weeks and perhaps even months of 2006 will probably never be known to anyone but themselves.
Having now pondered at least a few of the extant sources, however, a certain kind of speculation seems to me to make some sense: "in the end, Teri proved a bit too clingy for George … 'She wanted to have family outings with George, but he wanted nothing to do with it,' the source told Us. Teri even reportedly invited George out for a night of bowling with her 8-year-old daughter, Emerson. But Teri should have known better; George is a man's man, not a family man."
Ms Hatcher's daughter Emerson is the apparently much-loved creation of her nine-year marriage to the actor Jon Tenney (1994—2003). And the Vanity Fair interview includes some provocative intelligence on this subject too:
"In her book [called Burnt Toast, for those who may want a closer look], she never does explain why she and her ex-husband didn't have sex on their honeymoon, but that pattern endured throughout their nine-year marriage. 'I know exactly when Emerson was conceived, because we had sex once that year, on Valentine's Day,' Hatcher says. 'From the beginning, our marriage was probably more defined by friendship' … Tenney declines to comment on his sex life with Hatcher, but through a spokesperson he says, 'She's the mother of my daughter, so obviously I wish her the best' … For her part, Hatcher says her days of avoiding intimacy are over. 'Now I want sex: trusting, deep, fabulous, open–did I say trusting?–wild, crazy sex, with the same person, over and over. Without a marriage license!'"
Photographs are one testimony to the importance Teri Hatcher continues to place on her relationship with her daughter Emerson (who still lives with her mother in Studio City rather than her father, it seems, and is now in her mid teens).
But there are other testimonies too. Just a year ago Ms Hatcher was further explaining to Us magazine: "Emerson and I stood outside to watch Barack Obama's motorcade go by after he attended a party at George Clooney's house. How often is that going to happen, right?"
About a year ago as well, just as the Desperate Housewives series was coming to its inevitable end, the high-end gossip monger Perez Hilton was reporting that : "Eva Longoria Dishes On Teri Hatcher Dramz! …  Though there were reports throughout the years of a feud between Eva Longoria and Teri Hatcher, Eva's now saying that was just simply NOT the case! …In a recent interview, Longoria explained: 'You know, Teri was just a loner. Me and Marcia [Cross] and Felicity [Huffman] were a lot closer because we are just girlie girls who like to be in each other's company. Teri didn't. There was no bad blood, I think that was just the way it was.'"
Others may agree with the Hilton/Longoria critique here. But to me Teri Hatcher's lonerism is just another of the qualities that would make me want to get back with her at last, if I really were George Clooney myself.  (Which of course I'm not, but that's just Hollywood anyway, even in 2013, isn't it? And don't guys like me deserve some reward too?).