Abandoning Lindsay Lohan and Paulina Gretzky .. for the Mackenzie-Papineau Battalion in the Spanish Civil War
Nov 10th, 2012 | By
Dominic Berry
| Category:
In Brief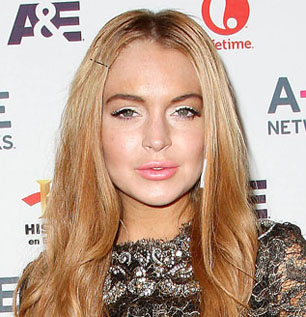 In the past this website has expressed admiration (and even sympathy) for two Southern California belles of some notoriety, Lindsay Lohan and Paulina Gretzky.
See, eg, my colleague L. Frank Bunting on "Why are the puritans still persecuting Lindsay Lohan?" and (only half-repentantly, at best) "Sober second thoughts on the persecution of Lindsay Lohan?"
And then see the counterweights editors on "Two cheers for Paulina Gretzky .. who deserves more respect," and  the irrepressible Citizen X's didactic fantasy "What if Conrad Black divorced Barbara Amiel and married Paulina Gretzky .. where would that leave Canadian citizenship?"
All the individuals involved here may still harbour warm feelings of one sort or another for both Ms. Lohan and Ms. Gretzky. And Bunting's judgment of February 2011 — that "Whatever else Lindsay Lohan may be, she is hardly a serious criminal" — may still be more or less true.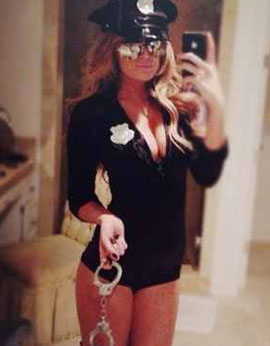 But I am now prepared myself to distance the site from both young ladies. And having consulted privately with all of Bunting, X, and the editors at large, I can happily report they all agree — at least on the particular argument I am making for a particular kind of  "distance." (Even if Bunting is still not prepared to altogether retract his earlier statement that :"I have been in love with Lindsay Lohan [from a distance of course], ever since I read somewhere that she carries a copy of Machiavelli's The Prince in her purse.")
The sin that both young ladies have now most egregiously committed (at least we all agree here) is to have expressed some distressing degree of disagreement with the progressive democratic vision of (the now happily re-elected) US President, Barack Hussein Obama.
* * * *
Ms.Lohan's case is somewhat ambiguous — on perhaps two counts. First, as my favourite counterweights editor put it just this afternoon (with only a few claws showing), "at least she has some talent."
Second, as explained by TheCelebrityCafe.com: "Earlier this month [October 2012], Lindsay Lohan got political when she said on the red carpet at the Mr. Pink Ginseng Drink Launch Party in LA that President Obama had lost her vote …'I think unemployment is very important for now, so as of now I think (my vote) is Mitt Romney,' she said at the time."
It is also true (or so it seems) that later in the month, right after the third debate (about which she was apparently very nervous, for some reason ) Ms. Lohan "despite endorsing Romney recently, … tweeted out a pro-Obama message that read: 'RT if you're #ProudOfObama as our commander in chief,' but later took it down." (I have added the underlining myself, to stress that Ms.Lohan's original sin apparently remains intact, in the very end.)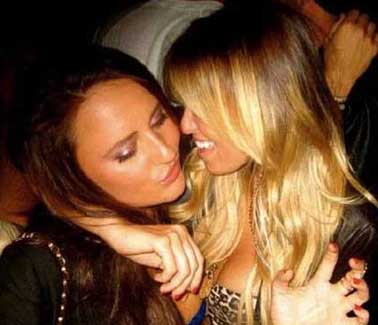 Ms. Gretzky's case is arguably somewhat clearer — although it also has an edge of not quite being able to make up your beautiful body's mind.
I quote in full from the November 7 edition of the Toronto Sun: "Paulina Gretzky expressed herself politically last night following US President Barack Obama's re-election Tuesday … Known for posting risque pictures to her photo blog over the past year, retired hockey great Wayne Gretzky's daughter uploaded an image showing her giving the middle finger to a marionette puppet of Obama, with the caption 'Ya I Went There' … The offending photo has since been deleted from her Instagram profile."
(The Sun item online includes a photo of the offending action. But it is so offensive that we have chosen not to reproduce it here!  And, to be altogether fair: "The offending photo has since been deleted from her Instagram profile.")
* * * *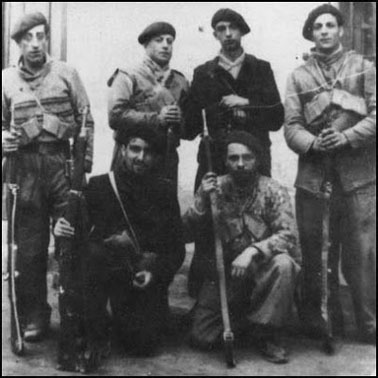 You may have a different opinion yourself. And I agree that in both cases there is still some wiggle room for those who cannot tear themselves away from the raw sexual attraction of these two still quite young (if also quite irresponsible) young ladies.
But in my opnion they have now both stepped over a line that puts them on the wrong side of history. And I feel I have no choice but to rip out their pages in my scrapbook of Hollywood starlets I wish I could spend a day at the beach with (as old and foolish, and terminally delusional, as I no doubt am in harbouring such wishes!).
Meanwhile, this coming Sunday, November 11, 2012 is Remembrance Day — when we are meant to take a moment and give thanks for all those who have given their lives, so that we might live comfortably enough in what our Canadian Constitution Act 1982 alludes to as our "free and democratic society" today.  (And of course other countries, like our friendly giant neighbour the USA today, or the UK or France or Australia, have at least vaguely similar days of remembrance on November 11 too.)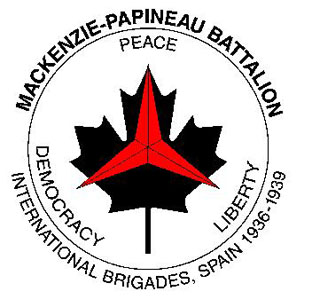 A column in the November 9 Toronto Star by the excellent Joe Fiorito very nicely points to what strikes me as an appropriate particular remembrance theme for the year 2012 in the true north strong and free. (See "Fiorito: The Mac-Paps: Lest we forget.")
I just cite the first few paragraphs of Fiorito's column, and warmly recommend the rest: "Many years ago, at the end of a long and boozy evening, my father told me that he'd tried to enlist in the Mackenzie-Papineau Battalion. He was in his teens then; he wanted to fight in the Spanish Civil War … When I asked why, he told me he was bored, there was no work at home and — he was dark, my old man — he said that he wanted to die … They sent him home … Had he gone to Spain, he surely would have gotten his wish, and I would not be writing this."
All this reminds me of a similar story told by the father of a friend of my youth — that first introduced me personally, as it were, to the ambivalent romance of the Spanish Civil War in the later 1930s. Joe Fiorito also notes that a documentary featuring old audio interviews with Canadians who fought in this war — in the Mackenzie-Papineau Battalion, named after the leaders of the Canadian rebellions of 1837 — will be broadcast on CBC Radio 1 in two parts,  on this coming Sunday, November 11 at 8 PM, and then on the subsequent Sunday, November 18.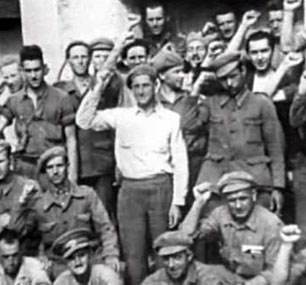 There is no doubt in my mind that the Canadians who fought in the Mackenzie-Papineau Battalion — like the Americans who fought in the Lincoln Battalion, or George Orwell and his like-minded  fighting colleagues from the UK or France, who fought against fascism on the side of the Spanish Republic and on and on — deserve our attention right now, much, much more than either or both of Lindsay Lohan and Paulina Gretzky.
I don't often listen to CBC Radio nowadays, but I will make a point of listening to the documentary Joe Fiorito mentions this coming Sunday evening. (And I'm very glad as well to see right now on cp24 TV here in Toronto, footage of ceremonies already in motion to commemorate the sacrifices of all those many aboriginal Canadians who have fought in defence of Canada, in all the major wars in which this country has participated, from the 1867 confederation down to the present. These ceremonies should also be reminding us that "Canada" itself is an aboriginal word. And, as the near-great Canadian historian Harold Innis told us as long ago as 1930 as well: "We have not yet realized that the Indian and his culture have been fundamental to the growth of Canadian institutions.")