The debt-ceiling blues .. what does latest crazy Washington game of chicken mean way up north?
Jul 11th, 2011 | By
L. Frank Bunting
| Category:
In Brief
[UPDATED JULY 12, 2011]. House Speaker John A. Boehner (R-Ohio) is apparently abandoning "effort for $4 trillion in deficit reductions … in the face of stiff GOP opposition to any plan that would increase taxes as part of the deal." But Senate Minority Leader Mitch McConnell (R – Kentucky) has nonetheless declared that "Nobody is talking about not raising the debt ceiling. I haven't heard that discussed by anybody." (Well, some might say, what about the Minnesota congresswoman below?)
Similarly, "President Obama's top advisers said he will continue to press for a far-reaching, $4 trillion deal to cut the deficit when he meets with congressional leaders on Sunday evening, despite new opposition from Republican leaders to such a compromise." But White House Chief of Staff William M. Daley has "also said the debt limit will be raised. 'By the 2nd of August, there's no question in my mind that the leaders of America . . . will not allow the first default in the history of the country to occur,' he said." (Well again, others might add, in fact it wouldn't quite be "the first default.")
And then, btw: "Negotiations on Sunday failed to forge agreement, leaving the talks deadlocked, a historic default looming and a fragile economy increasingly vulnerable to the consequences of Washington's entrenched partisanship and ideological divide over taxes and entitlements." Meanwhile, there is the "the impression, common among the Tea Party faction of the [Republican] party, that there is no urgent need to raise the debt ceiling at all … 'Don't let them scare you by telling you that the country's going to fall apart,' Minnesota congresswoman Michele Bachmann urged her supporters in Iowa, where she was campaigning Saturday for the GOP presidential nomination."
Up here in the true north strong and free we can only wonder what this latest game of political and economic chicken in Washington may or may not mean for us. We are, it seems, insulated in some degree from the worst North American impacts of the current global economic turbulence by the international resource or commodity boom, linked in at least some key respects to the rise of China and India. But just how insulated are we, really? If the game of chicken did finally crash the US economy (Michele Bachmann notwithstanding), wouldn't we be in big trouble too? As best as I can make out, you better believe it!
Resource or commodity boom and changing face of Canadian exports

The resource or commodity boom in the most northerly part of North America, some would stress, has more to do with Western than Eastern Canada. But that is only partly true. There is also a growing energy resource industry in Atlantic Canada. Both Ontario and Quebec have historic resource sectors with some surviving economic muscle. And the Toronto financial sector that has recently refused an allegedly subservient link with the European financial sector that rotates around London, England owes some of its current international profile to the new strength of the traditional Canadian resource economy.
You can see the impact of the international resource or commodity boom in the changing sectoral composition of Canadian exports over the past few years. Between 2006 and 2010, Canada-wide, Agricultural and fishing products rose from 6.9% to 9.1% of all Canadian exports, Energy products from 19.1% to 22.5%, and Industrial goods and materials (including metals and metal ores and chemicals and plastics) from 20.8% to 23.8%.  At the same time, exports of Machinery and equipment declined from 20.8% of the total in 2006 to 18.8% in 2010, and exports of Automotive products fell even more dramatically, from 18.1% to 14.0%.
Ultimately fuelled as it is by the rise of China and India to economic roles that at least begin to match their demographic weight, the international resource or commodity boom has also somewhat lessened the Canadian economy's longstanding dependence on export markets in the adjacent United States. In 2005 81.8% of all Canadian exports were going to the USA. By 2010 the share had fallen to 73.3%. (And the decline here is even more striking if you trace it back to the start of the past decade!)
The are some slightly intriguing subsidiary trends in markets that have increased their share of Canadian exports over the same period. Japan has just held its own (2.3% in 2005, 2.4% in 2010). But the United Kingdom share has doubled — from 2.1% in 2005 to 4.2% in 2010. (And behind this is another intriguing minor trend: "Gold accounted for over one-half of the … merchandise exported to the United Kingdom in 2010.") The share of what Statistics Canada calls "Other European Union" (Austria, Belgium, Bulgaria, Cyprus, Czech Republic, Denmark, Estonia, Finland, France, Germany, Greece, Hungary, Ireland, Italy, Latvia, Lithuania, Luxembourg, Malta, Netherlands, Poland, Portugal, Romania, Slovakia, Slovenia, Spain and Sweden) rose from 4.1% to 4.8% . The share of "Other OECD" (Australia, Iceland, Mexico, New Zealand, Norway, South Korea, Switzerland and Turkey) went from 3.2% to 4.4%. The greatest change in Canadian export shares between 2005 and 2010 was nonetheless in so called "All other countries (including both China and India) — 6.5% in 2005 and 10.9% in 2010!
But what does it all mean?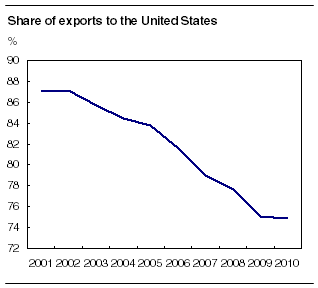 As intriguing as all this is, however, it remains true that close to three-quarters of all Canadian exports still go to the United States. And there is some hint in the latest trends that this current US share has flattened out in the more recent past. (Ie it may not continue to decline!)
Australia — which in this as in other respects shares a booming resource economy with Canada —  is also more closely tied to the current source of the most dynamic international economic energy in China and India, by virtue of its geographical proximity. The same kind of proximity of course continues to tie Canada to the United States. (Although, as in the USA itself, imports from China have been growing quite dramatically in Canada over the past decade. And then in Australia as in Canada there is yet another question: just how long can the resource boom itself carry on? Certainly not forever?)
Similarly, the actual value of Canadian exports was quite dramatically reduced by the international "Great Recession" that struck in the last quarter of 2008. In millions of dollars, the value of all exports from Canada ("on a balance-of-payments basis," as the statisticians say) rose from $450,210.0 (2005) to $453,951.9 (2006) to $463,120.4 (2007) to $488,754.1 (2008), but then fell to $369,343.2 (2009) and $404,834.2 (2010).
Moreover, in 2009 and 2010 another sign of weakness and potential stress ahead has appeared in Canadian merchandise trade statistics. For many years we have had a so-called positive trade balance; ie the value of our exports to other countries has exceeded the value of our imports from other countries — thanks again, to no small extent, to our positive trade balance with the United States. In 2009 and 2010, for the first time in our more recent history, we have been running a modest but consistent negative trade balance. And the latest available results for March and April 2011 suggest that this trend is continuing. (As do the still more recent numbers for May 2011, which became available a day after this article was first posted — although the negative balance for May was at least somewhat lower than it had been in April.)
Our merchandise trade balance with the United States is still positive, but our balance with most other countries (China is of course a prominent case in point) is quite negative — a sense in which Canada  might be said to share a common current North American economic development problem. Clyde Prestowitz, the iconoclastic economic strategist who once worked so impressively on international trade policy for the Reagan administration has posted two related and intriguing recent items on the Foreign Policy website: "How much will San Francisco's Chinese bridge really cost?" and "Diagnosing the American decline: a guest post."
Last week the Business Week website ran another intriguing piece on "How America Ceded Capitalism's Bastion to Germans Seizing NYSE … The 219-year-old symbol of American capitalism, now called NYSE Euronext, is about to complete a $9.42 billion merger with Deutsche Boerse AG that will give the Frankfurt-based firm 60 percent of what would be the biggest exchange company in the world." It may or may not be a good and somewhat parallel Canadian sign that at least a strategic (and fairly large) minority of Toronto stock exchange shareholders recently rejected a similar deal with the London stock exchange.
Even if "Saying yes to Canada by voting no … two cheers for the death of the TMX-LSE merger deal" is even just half true, however, the Toronto stock exchange continues to move with trends in international financial markets — and especially of course with financial markets in the United States next door. The Globe and Mail report at the close of business this very day is somewhat disconcerting at best: "An ugly day in markets, you may want to quit work early … 'Global equity markets and US stock index futures are a sea of red, commodity prices (except gold) are lower, the greenback is firmer, and the 10-year Treasury yield is back below 3 per cent on safe-haven buying,' said Sal Guatieri of BMO Nesbitt Burns … 'Financial markets remain on edge following Friday's disappointing US jobs report amid heightened concerns about Europe's credit crisis, the US budget deficit and deadline to raise the debt ceiling, and hard-landing fears in China (following data showing higher-than-expected inflation and slowing import growth). Peripheral Europe's credit spreads continue to widen to euro-era highs amid growing contagion from Greece and concerns about Italy.'"
Mmmmmmm … We may like to think that we live in some kind of fireproof house in the Canadian economy today. But of course we do not. And if David Brooks's controversial 4th of July column in the New York Times finally proves correct ("The Mother of All No-Brainers …  The struggles of the next few weeks are about what sort of party the G.O.P. is — a normal conservative party or an odd protest movement that has separated itself from normal governance, the normal rules of evidence and the ancient habits of our nation"), the ensuing big trouble will not be confined to the "Yankee to the south of us" who "must south of us remain"!
UPDATE JULY 12, 2011: There has been one slightly intriguing new proposal on the debt ceiling from the Republican senate leader. See, eg: "McConnell outlines new proposal on debt ceiling" ; and "Republican senate leader proposes giving Obama power to increase debt limit."