The Toronto film festival .. with Jennifer Aniston, Paris Hilton, and Helen Mirren's Age of Consent
Sep 12th, 2008 | By
Dominic Berry
| Category:
Entertainment
I ended with Helen Mirren on TV. But I told my wife I was going out to look for Jennifer Aniston. The one thing I did learn from her at the 2008 Toronto International Film Festival, however, is that "grand romantic gestures … only happen in movies." So I guess I was bound to be disappointed. This wasn't a movie. It was my real life.
The unexpected compensation was that I bumped into Ka Yan Ng, who told me how "Paris Hilton lights up Toronto film festival." This was – and still is – a movie, and in it Paris "talks openly about her infamous sex tape … Everything she does comes under the glare of the media spotlight and the business of being Hilton seems to carry on non-stop. In one scene, a makeup artist prepares Hilton for a public appearance – while she's asleep." When the movie ended, Paris and her boyfriend "scurried out a side door without waiting for the … question-and-answer session that is common after public screenings at the Toronto film festival." Out on the street Paris did "what she does best: stopping briefly, signing a few autographs, posing for cameras but not saying much. Then, she quickly faded into the Toronto night."
The friend I never did meet in person …
I've always thought Brad Pitt made a big mistake when he left Jennifer Aniston. (Or let her leave him?) To me she is the girl next door, cast as a drop-dead gorgeous movie star. Who in their right mind could want anything more?
We have a little something in common, it seems. She was born in the same month that I was – though in a much more recent year (in her case 1969 – my first full year working at a full-time job). She was born in a part of Los Angeles called Sherman Oaks – "one of the first [San Fernando] Valley communities to experience intensive real estate development," west of Burbank, north of Beverly Hills, and somewhat south of Van Nuys.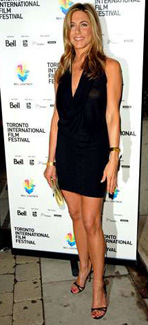 Jennifer's father, John Aniston (most famous for his portrayal of the character Victor Kiriakis, on the daytime TV soap opera Days of Our Lives) "is a Greek American, born Yannis Anastassakis, on the island of Crete." And Jennifer "lived in Greece for one year as a child with her family," which "later relocated to New York City." Jennifer's mother, Nancy Dow, was born in New York City and qualified as a quite beautiful actress in her youth, who had small parts in such TV series as the Beverly Hillbillies and the Wild Wild West. Nancy Dow separated from John Aniston when Jennifer was 9 years old.
In New York Jennifer attended the Rudolf Steiner School. (I can claim some connection here as well. In my own youth I knew a girl who was interested in Rudolf Steiner's anthroposophy movement, and I attended at least one meeting on the subject in Toronto.) Jennifer then graduated from the Fiorello H. LaGuardia High School of Music & Art and Performing Arts. For a short time after she lived with her mother in New York, and worked in Off Broadway productions, while supporting herself "with several part-time jobs, including … telemarketer and bike messenger." In 1989, when she was 20 years old, she moved to Los Angeles.
In Los Angeles (or Hollywood, to be more exact), Jennifer "was cast in her first television role in 1990, starring as a regular on the short-lived series Molloy ." Over the next four years she managed guest-star appearances on a number of TV shows (including, e.g., Burke's Law). She also won starring roles in a number of series that were quickly cancelled, and appeared in "the critically derided 1992 horror film, Leprechaun."
She was apparently thinking about "giving up acting" when she won the role of Rachel Green in Friends, "a sitcom that was set to debut on NBC's 19941995 fall line-up." The rest, as they say, is history. (At least until 2004, when Friends finally ended its run – though you can still see Rachel Green in re-runs of course, unless you live in the South Pole, etc. I may be hallucinating, but I also believe that somewhere I have read or heard that Jennifer Aniston was asked to lose 30 pounds to play the role of Rachel – a request with which she promptly complied. And at least one promotional photo I've seen for Leprechaun does seem to show her as a rather more chubby young lady than she is now.)
I don't want to go on any longer about Jennifer Aniston's further (and sometimes rather impressive) career in various kinds of movies – or her marriage to Brad Pitt (2000-2005). I just note that this September 2008 she was at the Toronto International Film Festival to promote her new romantic comedy Management, costarring Steve Zahn. Mark Olsen of the Los Angeles Times has covered her TIFF appearance in a somewhat snotty short article entitled "TORONTO INTERNATIONAL FILM FESTIVAL … Aniston manages to endure it." (I would just stress that when Olsen talks about the question-and-answer session that is common after public screenings in this case, and says "If it all seemed a little much, sure enough, the second question came from a man in the front row who announced he had a letter that he wanted to give Aniston," the man in question was certainly NOT ME!)
Finally, the current Toronto Globe and Mail website includes three short videos in which Jennifer Anniston is involved. In the first, called "Aniston takes TIFF by storm," she talks about the "really beautiful, clumsy, awkward script" to Management, and a number of other charming things. The second is called "Aniston's TIFF hook up," and talks about how Jennifer was allegedly "a little boy crazy" during her time in Toronto. (Again, in case my wife is watching, this reference has nothing to do with me. I am too old to qualify as a boy.) And then Jennifer appears along with a few other Hollywood big names in "Stars get political at TIFF." The most interesting point here is that while everyone else at the end comes out for Barack Obama, Jennifer just says: "I just hope whatever's supposed to happen, the right thing happens." (And whatever, she still looks good enough to eat – if that's not the wrong kind of thing to say.)
Paris Not France (and Helen Mirren in 1969, when Jennifer was born …)
Now that I've come to it, I don't really have a lot to say about Paris Hilton. Mark Olsen urges: "An appearance by a star of the magnitude of Jennifer Aniston can certainly be a force to be reckoned with and really does change the temperature of the room." Whatever else and/or however otherwise hot she may be, Paris Hilton is not a star of the same magnitude.
That is probably why Ka Yan Ng reports that, at the end of the TIFF screening of the documentary Adria Petty has just made about Paris Hilton (Paris Not France), Paris and "her boyfriend, rocker Benji Madden of the band Good Charlotte …scurried out a side door without waiting for the director's question-and-answer session." The only other thing I'd say is you should definitely read Ka Yan Ng's quite excellent piece "Paris Hilton lights up Toronto film festival." I especially like how it ends with Paris and her boyfriend quickly fading "into the Toronto night." (And I wish we had some kind of photo of Ka Yan Ng.)
But the main point here is that when I finally got back home, so to speak, I wound up watching a late late movie on Toronto cable TV. It was called Age of Consent – made in 1969 (the year Jennifer Aniston was born), in Australia, and starring James Mason, as an aging artist, and a very youthful Helen Mirren, as a young lady who restores his enthusiasm for life.
This movie, it seems, is now something of a cult classic. It was director "Michael Powell's final full-length feature … the second film he made during his exile' in Australia following the overwhelming negative reception to Peeping Tom (1960) in his native England." As for Ms Mirren in particular (certainly a match for both Jennifer Aniston and/or Paris Hilton): Her "passion for sinking her teeth into her craft … shines from the moment her career began … with her capricious, commanding and sexy portrayal of Cleopatra with England's National Youth Theatre in 1965. A successful run with the Royal Shakespeare Company followed, as well as Mirren's proper screen debut opposite James Mason in Age of Consent (1969) – a film that caused a sensation because of the 40-year age gap between its on-screen lovers."
Another point about Helen Mirren is that she was born in the same year I was (1945 if you must know). And although I fell asleep once or twice during the late-night Toronto cable TV presentation of Age of Consent in September 2008, I can report that, in her earlier 20s, she appears quite naked in this movie, more or less a few times. (It is one mark of her career that she has never been afraid to take her clothes off – although this of course did not happen in her recent award-winning portrayal of The Queen!)
With or without her clothes on, Helen Mirren is always fascinating and certainly almost always sexually provocative to watch. Seeing her a few times without her clothes on in Age of Consent from 1969 helps you understand that, even in her earlier 20s, she did not have an altogether perfect body. But it is interesting, to match her very interesting face, and she uses it boldly and with great provocation (or something like that).
As for the rest of the movie, I have never liked James Mason very much myself. And in Age of Consent I couldn't help feeling that he didn't really deserve someone as interesting as a 20-something Helen Mirren, to restore his enthusiasm for life.
In any case, at my current age (or Helen Mirren's for that matter) it would no doubt be very good to have someone like Helen Mirren in 1969 pretend that she was interested in you, even if just fleetingly. I would definitely prefer this, I think, to Paris Hilton today. I think I would finally prefer it as well to Jennifer Aniston – though it still does seem to me that she is still the girl next door, cast as a drop-dead gorgeous movie star. Even in her late 30s I find Jennifer Aniston quite interesting, and I believe Brad Pitt made a great mistake. (And, besides, as my wife likes to point out, the actual chances that anyone is really going to be interested in restoring my enthusiasm for life, at this point in time, and even just in the movies or on TV, are very slim indeed.)