30 years since death of Elvis.. and 50 years since his only tour outside US
Aug 16th, 2007 | By
Citizen X
| Category:
Entertainment
Especially if you are older, you may remember that August 16, 2007 marks the 30th anniversary of the death of Elvis Presley – the king of rock n' roll, in America and around the world. And this is important enough to prompt a special tribute from Vision TV, "Canada's multi-faith and multicultural broadcaster, dedicated to programming that celebrates diversity and promotes understanding and tolerance among people of different faiths and cultures."
But how many also remember that "Elvis never performed live outside the United States … except for one five-show, three-city tour of Canada in 1957"? This is not exactly a match for the 60th anniversaries of Indian and Pakistani independence this week. But for Canadians at least Elvis Presley's performances in Toronto, Ottawa, and Vancouver 50 years ago are worth remembering. Those were the days, my friend. We thought they'd never end. But they did, just around the corner from Heartbreak Hotel.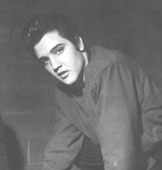 To say that Elvis went on even just a "three-city tour of Canada in 1957" is somewhat misleading. Early in April he played two concerts in Toronto, quickly followed by two concerts in Ottawa. This was the first time he performed "outside the US," but Toronto of course is only a rather short drive from Buffalo, NY. Then in late August Elvis added Vancouver to a "Westcoast tour" that also "took him to Seattle, Spokane and Tacoma, Washington," and "Portland, Oregon."
The Elvis Presley who performed in Canada in 1957 had nonetheless just reached the first great peak of his amazing popularity – as suggested by the short chronology of his career recently made available by the Reuters new service:
1955 – Elvis signs a management contract with Hank Snow Attractions, owned equally by Snow and Colonel Tom Parker, who negotiates the sale of Elvis' Sun contract to RCA.
1956 – Elvis' first RCA single, "Heartbreak Hotel," is released, becoming the first Elvis single to sell over 1 million copies, followed by his first album, Elvis Presley, which goes to No. 1 on Billboard's pop album chart … Elvis makes the first of three appearances on television's Ed Sullivan Show attracting the highest ratings ever for any television variety show. His first movie, Love Me Tender, opens in November.
1957 – March, Elvis buys Graceland Mansion.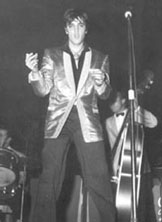 It was just after he bought Graceland that Elvis arrived in Toronto, on April 2 (and apparently with Colonel Tom Parker in tow). He played two concerts that day at Maple Leaf Gardens. You can still hear the jocular CBC Radio report on these events by CLICKING HERE (and then clicking again as instructed on the CBC Archives website). There were "two crowds of 14,000 screaming teenagers" at the Gardens, vaguely superintended by 92 policemen. And "once Elvis came on stage all you could hear was the screams."
After the shows in Toronto, "Elvis and his band caught the overnight train to Ottawa's Union Station" (nowadays the downtown conference centre, across from the Chateau Laurier). They arrived at 8:00 in the morning on April 3, 1957 – a sunny day in Ottawa but still just hovering around the freezing mark, at 32 degrees F. (Elvis, a southern boy born in Tupelo, Mississippi, on January 8, 1935, later told reporters that "the people in Ottawa were real friendly, but he found the temperature a little cool.")
In Ottawa Elvis "got off the train wearing a black suit, burgundy velvet open-necked shirt, rose coloured raincoat and white bucks. He carried a stuffed yellow and brown teddy bear. There was a small crowd of girls who screamed when they saw him walking their way across the station floor to a waiting taxi. The taxi took him to the nearby Beacon Arms Hotel to rest up before his two shows that day" at the Ottawa Auditorium – one "at 4:30 pm and the other at 8:30 pm."
Again "more than 100 policemen guarded the stage," and "Elvis sang but no one could hear him." After the second Ottawa show "Elvis spoke to reporters as he sat cross-legged on a table in one of the hockey dressing rooms. One reporter asked Elvis if he ever had thought of becoming a doctor or a psychiatrist, and Elvis said: No sir, I haven't thought of becoming a psychiatrist, but I've often thought of going to one.'" As a sign that Elvis' popularity was impressing non-teenagers too, it is said that on April 3, 1957 "only 37 of the 259 MPs showed up for the night session" in the Canadian House of Commons: "The rest went to see Elvis perform." (Well, many of them in any case?) Other adults were not so impressed. The next day an "Ottawa-area convent suspended eight students for attending the show of the depraved, sex-crazed, devil incarnate.'"
After the second Ottawa show Elvis and his entourage went back to the USA. It would be almost another five months before they returned for the last leg of their 1957 "Canadian tour." Then on August 31, in the midst of the wider "Westcoast" journey that year, they arrived in Vancouver for one show at Empire Stadium. Here the police supervision was apparently not quite so well organized. Some time into the performance "thousands left their seats and rushed the stage," forcing Elvis "to abruptly end the show." A subsequent Vancouver radio interview with the king of rock n' roll still survives today as part of a collection known as The Elvis Tapes.
In the end, some say nowadays that Elvis Presley's live Canadian appearances of 1957 marked a new phase in the endless "Americanization of Canada." Yet if this is true it is also worth noting that in the late 1950s Canada was not the only part of the global village being "Americanized." Check out, e.g., the entries for "1957" on an intriguing international website called "1960s British Rock and Pop Chronology."
Across the ocean in the old United Kingdom it was something of a remarkable year too – even if Elvis never did appear there in person. In January 1957 "John Stephen opens his men's clothing shop in Carnaby Street" in London. In April "Government announces intention to end further conscription under the National Service Acts after 1960." In July "Althea Gibson (US) is first black woman to win at Wimbleton." In September "Report of the Departmental Committee on Homosexual Offences and Prostitution recommends that homosexuality no longer be considered criminal." In November "Government announces that women will be admitted to the House of Lords" and "Elizabeth II announces the end of debutante presentation at court." And finally it was 1957 when "Ian Fleming publishes From Russia, with Love."
It was a great year for rock and pop music in the UK as well. Many of the recorded tunes will be equally familiar to anyone old enough to remember from the US and Canada and many other parts of the world. Elvis's own big hits included "Rip It Up," "All Shook Up," "Teddy Bear," "Paralysed," "Loving You," and "Santa Bring My Baby Back to Me." In the UK as elsewhere the incomparable Little Richard had such hits as "Long Tall Sally," "Tutti Frutti," "The Girl Can't Help It," "Lucille," "Jenny Jenny," and "Keep a Knockin'." And then there was the likes of Fats Domino's "Blue Monday," Buddy Holly's "Peggy Sue," Jerry Lee Lewis's "Whole Lotta Shakin' Goin' On," and (from Canada itself, so to speak) Paul Anka's "Diana."
It was only 20 years later, on August 16, 1977, when (as another recent chronology on the Internet explains) "Elvis Presley dies at Graceland, found on the floor of his bathroom by fiancee Ginger Alden."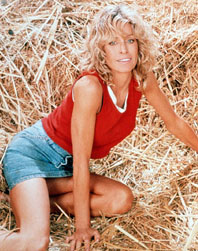 Now it is 30 years later again, on August 16, 2007. And here in Canada the TV news this morning has been reporting on the long lineups at Graceland down south, in Memphis, Tennessee, still paying tribute to the king of rock n' roll. There are some troubles on the stock markets, and problems with toys from China. A woman and a black man are battling it out for the leadership of the Democratic Party in the USA. (And here's hoping they will be on the same ticket in the very end.)
Who knows? Fifty years from now people from all around Marshall McLuhan's global village may be pointing to 2007 as another very intriguing year, full of quite fascinating and pregnant developments for the human future on planet earth, etc etc – just as we point to 1957 today.