Harper sort-of slays softwood dragon .. nice prelude to first budget (unlike stalled aboriginal policy dialogue)?
Apr 29th, 2006 | By
L. Frank Bunting
| Category:
Key Current Issues
I know this already too-long meditation on Canada's new Conservative government (with special reference to its aboriginal policy failings) is supposed to have ended. But the Canada-US softwood lumber trade deal announced late on Thursday, April 27 begs for a final exception to the rule.
You can find the details of the deal tidily  summarized in The New York Times, The Globe and Mail, Le Devoir, and The Vancouver Sun. But "the big political message," according to the CanWest News Service, is that new Prime Minister Stephen Harper "pulled off a feat that Paul Martin, his Liberal predecessor, never could."
Nelson Wiseman, "a politics professor at the University of Toronto," carries on: "It will be a credit for him … It will boost him and he'll crow that 'I got something that the Liberals, for all these years, didn't get.' He'll have proved also that [David] Emerson was the guy to keep on this beat … He'll be claiming, trumpeting, that this is a product of my good relations with the U.S."
Or, you might guess, suddenly things couldn't look better for the government's first budget on Tuesday, May 2. Meanwhile, the Can West News Service also predicts, "as the prime minister crows,' the Liberals will be eating crow because the broad terms of the deal … are eerily similar to agreements-in-principle the Grits had in place at least twice over the course of the last year." Still, the biggest question seems to remain: how will it all look by the time of the next Canadian federal election? Thursday's standing ovation from Mr. Harper's own parliamentary caucus could be as good as it gets.
On the very bottom line …
Even if you don't like Stephen Harper at all, you probably do have to give him marks for something in the new softwood deal. Whether it is something that will finally make practical sense, even just politically, seems to be what we won't really know until at least the next federal election.
As the Can West News Service suggests, the outline agreement endorsed by both Canadian and US governments, to be finalized over the next few months, is rooted in well-advanced legwork by David Emerson, when he was in Paul Martin's Liberal cabinet rather than Stephen Harper's Conservative one. The big difference appears to be that there are now more domestic political (and economic) reasons for both the US president and the Canadian prime minister to make the deal in the air finally work down on the ground.
From this angle, cleaning up the longstanding silly softwood lumber trade dispute between the United States and Canada has fortuitously become a minor part of the current charm offensive of the beleaguered George W. Bush administration in US domestic politics.
It is certainly much less important than the recent press-secretary change, or the horizontal job promotion of Karl Rove. (And if the administration ever were to take the advice offered by the Los Angeles Times, and give Dick Cheney an early retirement, softwood lumber in Canada would be altogether less important than anything like that.) But, as the Associated Press has reported: "This agreement shows how NAFTA partners can overcome differences and work together,' Bush said in a statement … referring to the North American Free Trade Agreement among the United States, Canada and Mexico."
Of course, it can't help but help that Mr. Harper is a conservative much like George W. Bush (if not quite so much as to be unelectable in Canada). And it probably helps too that Mr. Harper is from Alberta, which is Canada's oil-rich version of oil-rich Texas, in about the same kind of sense that George W. Bush is from Texas. All in all, and however insignificant it is in the grand scheme of things, Stephen Harper must be something of a fresh friendly face on the block for George W. Bush – in a world where such things are not easy to find.
So … now we have a deal. On this lately (in Canada at least) all-too-much-discussed Canada-US trade irritant – which is probably not of such great consequence for most Canadians as the attention lavished on it in Canadian media and political debate of the past several years might lead a person from Mars to expect.
Peering through the smoke and mirrors …
Inevitably, the deal is somewhat in the long tradition of the Alaska Boundary Dispute – finally resolved to Canada's disadvantage in 1903, thanks to an old British imperial official who thought that good relations between the United Kingdom and United States were finally more important than any overly aggressive promotion of a nascent Canadian national interest.
As wise Canadian newspaper columnists have been urging, more than 100 years later, you don't really negotiate with the United States, especially when you are even a now altogether independent country like Canada today. The United States finally just decides what it is going to do. And then you quibble for a bit, about the details of how you are going to adjust. As theoretically unsatisfactory for Canada as the new softwood deal may be, even Paul Martin's old Liberal minority government might likely enough have taken what Stephen Harper's new Conservative minority government has managed to get from Washington in the spring of 2006.
LAST-MINUTE GLITCHES. The inevitable difficulties of selling any such deal in Canada were reflected in the second sentence of the Associated Press report in the New York Times: "The deal was announced by the countries' top trade negotiators late Thursday … after the two sides ironed out some last-minute glitches." In Ottawa the glitches had partly to do with certain smoke-and-mirrors adjustments, designed to make what Stephen Harper's new government had actually achieved seem a little more like the we-will-not-settle-for-less it had said it would get.
US STILL KEEPS $1 BILLION IN DUBIOUS DUTIES. On one item the Government of Canada has just decided to shrug its shoulders and move on. In very round numbers, all Canadian politicians have said that all of the approximately $5 billion the US Government has collected from Canadian softwood lumber producers in dubious extraordinary duties over the past several years must be returned. As finally agreed, only about $4 billion will be returned. This is apparently Washington's way of showing that it still does not exactly accept the North American Free Trade Agreement dispute-resolution rulings that have gone against it on this issue.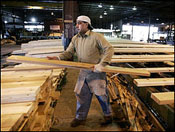 REAL FREE TRADE VS. MANAGED TRADE. At first blush at least, the last-minute smoke-and-mirrors adjustments seem to come in most obviously on the more general philosophical question of guaranteeing "free trade" in softwood lumber – which all Canadian politicians have also said is essential to Canadian interests.
The original draft agreement clearly stated that Canadian producers were to be limited to a 34% share of the US market. And this clearly was not free trade. The final agreement re-states the concepts involved in terms of prices. And, thanks to the recent strength of the Canadian dollar, among other things, at the current high softwood lumber prices Canadian producers will not have to pay export charges to anyone (even the Government of Canada), when shipping into the USA. (In fact, the current high lumber prices are probably another part of what has made such a deal acceptable to the US lumber industry right now.)
At the same time, according to the the New York Times: "In place of the U.S. tariffs, Canada agreed to impose taxes on its lumber exports to the United States if the price of lumber falls below a specified level. Softwood lumber is currently averaging $370 per 1,000 board feet and that price would have to fall to $355 per 1,000 board feet to trigger the Canadian border tax, which would start at 5 percent and rise to 15 percent if prices kept falling … The U.S. goal is to use the Canadian tax to keep Canada's share of the U.S. softwood lumber market from exceeding the current level of around 34 percent."
A Vancouver forest industry analyst has spelled out potential problems ahead with the "free trade" concept here, for British Columbia and other Canadian producers. With "the U.S. housing market in decline, the price of lumber could easily fall to $320 or less within three months … well past the threshold at which BC exporters will be paying to move their lumber out of the country … Right now it looks okay but three months from now it might not look so good if lumber prices go down and Canadians are paying taxes to gain access to the US market.'"
LAST-MINUTE CONCESSIONS TO BC AND ONTARIO. The BC provincial government itself raised some concerns with the details of a so-called "surge mechanism" in the initial draft of the agreement – which were apparently resolved to its satisfaction by Thursday evening. The Ontario government apparently sought and received the explicit preservation of its current regional share of the US softwood lumber market in the final agreement as well.
SHADES OF BRIAN MULRONEY? The Harper federal government similarly made clear to both provincial governments and the Canadian lumber industry that if they did not buy into the new deal with all its final glitches, Ottawa would not be trying to negotiate any new deal beyond that. This negotiating style may remind some of the late 1980s and early 1990s Canadian Conservative prime minister Brian Mulroney (who was such a good friend of George W. Bush's father). But it did finally bring essential endorsements from the major Canadian lumber companies, and the biggest lumber-producing provinces of BC, Quebec, and Ontario. (Or so at least it seems for the moment.)
STILL NOT QUITE AT THE FINISH LINE. Just to be on the safe side, it is worth underlining that, as the Associated Press report has put it: "The outline of the agreement reached Thursday must now be fleshed out with legal language, a process that was expected to take between one and two months … Industry groups from both countries will have to make various commitments to put the deal into effect. In Canada, the parliament will have to approve the new border taxes that would take effect if lumber prices fell." (Though while the NDP and even the BQ might vote against such taxes you could guess at the moment that the Liberals would not?) Along with various producer interests in Canada, a US group called the American Consumers for Affordable Homes is still not happy at all – and has voiced some "Hope Rushed Deal Will Fall Through as Final Details are Negotiated."
AU REVOIR. The very last words here ought to go to Mr. Harper's new-found friends in la belle province, from the pages of Le Devoir: "Mais est-ce que le Canada aurait pu aller chercher un meilleur accord avec un peu plus de patience? Je suis l-dedans depuis cinq ans et je suis convaincu que nous avons tir le maximum possible de cette ngociation, a expliqu en confrence tlphonique Pierre Marc Johnson, le ngociateur du Qubec Washington dans ce dossier. Personne n'a le got de laisser de l'argent sur la table, mais en matire de litige commercial, les ententes de la sorte, c'est monnaie courante. La perspective de paix et de stabilit a aussi un prix. L'autre solution, c'tait de se battre en cour pendant encore trois ans."
April 27: NATIVES STILL RESTLESS IN CANADA .. and new Conservative government .. and many other things too?
UPDATE: THURSDAY, APRIL 27, 2006. 1 AM (EDT). It's time to wind up the story of the Six Nations land-claim protest in Caledonia, Ontario. But it just won't end.
My story here at least began more than 10 days ago – as a first stab at how the new Harper federal government in Canada is settling in. Then the Six Nations protest flared up. And this seemed to highlight some loopholes in Mr. Harper's plans to get re-elected with a majority government as soon as possible.
Now the main Harper government focus is its first budget on Tuesday, May 2. But this is being somewhat sidelined itself by controversy over honouring Canadian soldiers killed in Afghanistan. (And then there is, e.g., the recent Los Angeles Times editorial, urging that Dick Cheney go on early retirement.) Meanwhile, the Six Nations of the Grand River are still occupying the Caledonia construction site they say belongs to them, in darkest southwestern Ontario.
Discussions to resolve the issue, among aboriginal and provincial and federal government representatives, are under way again. But some non-aboriginal residents of Caledonia have become even more restless than the natives. A new sympathy protest by aboriginal peoples of Canada far to the west snarled northbound traffic on the Lions Gate Bridge in Vancouver for about an hour Tuesday afternoon. Far to the north on James Bay, flooding has prompted fresh difficulties at the Cree village in Kashechewan (remember the drinking-water problems there this past November?). And yet still no one in Ottawa really seems to be talking about the aboriginal policy that the Harper government has left out of its current plans.
A last look at the syndrome in Caledonia …
On balance, it is certainly a good thing about the often-elsewhere-despised most populous Canadian province of Ontario today that, for almost any kind of official purposes, you can't really be against what the Six Nations are doing in Caledonia at the moment. (Even if some of their spokespeople do sometimes say some pretty bizarre things.)
Thus the Toronto Star informed us on Wednesday: "Haldimand County Council has swiftly distanced itself from comments made by Mayor Marie Trainer suggesting that Indians blocking a highway and occupying a disputed tract of land don't work for a living … The council apologized to members of the Six Nations Territory yesterday, hours after an ugly exchange near a barricade on Highway 6 between Trainer and Clyde Powless, a Six Nations spokesperson."

Wrapped up in all this are many of the problems that the Canadian people need a strong aboriginal policy to help deal with in the early 21st century. (And you can see them still more starkly in the Star's reporting from Caledonia, on how "tensions simmered in town in the wake of a wild mob scene on the roadway on Monday night, when 500 townspeople screamed insults at members of the Ontario Provincial Police and members of the Six Nations Reserve and their supporters … Police were pushed back some 40 metres by the crowd.")
From coast to coast to coast, the aboriginal peoples of Canada are one of the fastest-growing segments of the Canadian population today. Especially for rising legions of young people on the reserves, there are far too many challenges and problems. It does seem clear that the reserves themselves are home to decreasing shares of the total aboriginal population. But many of the challenges and problems follow the young people when they move from the reserves to the cities.
Whatever else may or may not be true, it is increasingly hard not to see the current troubles at Caledonia (and Kashechewan – and on the Lions Gate Bridge in Vancouver) as somewhat ominous straws in a much stiffer breeze, that could easily enough quickly develop into a strong wind. Canada today needs a strong and practical aboriginal policy that works, with key leadership shown by the federal government in Ottawa (even if there are a few exceptions for Quebec, where the main official language is different?)
Some form of progress in this direction seemed to be made at the talks among aboriginal and government leaders in Kelowna, BC this past November. At the very least, the new Harper government ought to be picking this "Kelowna Accord" up much more aggressively than it appears to be doing right now.
What will the Canadian people learn from the Harper government?
By way of at last ending my all-too-extended (and originally quite unplanned) meditations in this particular cyberspace box, is there some quick way of summing up the new Harper federal government on the eve of its first budget?
Government budgets, Robert McNamara is said to have pronounced in Washington many years ago, are just the quantitative expression of government policy. On May 2 the new Harper government policies rather vaguely alluded to in its first throne speech on April 4 will appear in numbers – and thus become clearer, and so forth. So the Harper minority government budget on May 2 should be interesting. And so should the ways in which the majority opposition parties in Parliament finally choose to handle it.
At the same time, as you think a bit about this (or at least as I do), the controversy over the Harper government's recent decisions on how best to honour Canadian soldiers killed in Afghanistan serves as a reminder of just how much power there is in the executive office of the prime minister of Canada nowadays – quite apart from the budget and other such legislative business that is more or less transparently accountable to the elected Parliament.
It is true enough that, at least since the effective end of the old Canadian two-party system at the end of the First World War, this increasing executive power has more often than not been wielded by governments that did not command a democratic majority of the popular vote in the election which put them into office. (There have been 26 Canadian federal elections from 1921 to the present. The government of the day – with a minority or a majority of seats in Parliament – has won at least 50% or more of the popular vote in only five of these 26 elections: in 1940, 1949, 1953, 1958, and 1984. Scroll down to the end of the recent counterweights piece on David Emerson for all the numbers here.)
Even in this kind of perspective, however, it is notable that the present Harper minority government has come into office with the second-lowest percentage of the Canada-wide popular vote in the entire history of the Canadian confederation since 1867. The only government with a somewhat lower percentage was Joe Clark's short-lived minority Conservative regime of 19791980.
At the same time again – current Harper Conservative partisans may rightly enough want to point out – the Paul Martin Liberal minority government that immediately preceded the Harper government had the third lowest percentage of the popular vote in the entire history of the confederation (36.7% for Martin's Liberals in 2004 vs. 36.3% for Harper's Conservatives in 2006.)
Stephen Harper's solution to all this, as already noted above and below again, is to be re-elected with a majority government (i.e. a majority of seats in Parliament) as soon as humanly possible. But we also know from the past that even this can be done with a bit less than 40% of the cross-Canada popular vote. (The political master Jean Chretien, e.g., won three consecutive Liberal majority governments with 41.3%, 38.5%, and 40.8% of the popular vote.)
Mr. Harper clearly enough does want to change some things about Canada, in some serious degree. (Just read the April 4 throne speech.) As you await his first budget, it's hard not to wonder whether, before his career as prime minister has ended, the Canadian people may just start worrying a little more than usual about the present quality of democracy in their country. Watching Prime Minister Harper over the past few months – even before his first budget – it is somewhat striking just how much power democracy in Canada today does give to a government executive that has won not much more than a third of the democratic popular vote.
April 23: APOLOGIES TO THE IROQUOIS .. how do the aboriginal peoples of Canada fit into Harper's plans?
UPDATE: SUNDAY, APRIL 23, 2006. 1 PM (EDT). The Six Nations Iroquois land-claim protest in the Grand River Valley at Caledonia, Ontario has now calmed down. And the potentially very troublesome sympathy blockade of Montreal-Toronto railway traffic, undertaken by the Bay of Quinte Iroquois a few hundred kilometres east, has ended.
This has happened, apparently, because after some 19 hours of negotiations that began this past Friday morning: "Aboriginal leaders and the provincial and federal governments have agreed to appoint representatives who will have the authority to negotiate a draft agreement [regarding the disputed construction site], which would then be subject to ratification."
Meanwhile, Six Nations Iroquois are still occupying the disputed construction site at Caledonia itself. But local non-aboriginal residents "who attend the Caledonia Baptist Church – which is just behind the blockade – were allowed to pass through" for their Sunday services. And the Ontario Provincial Police are not trying again to remove the occupiers forcefully, for now.
This is no doubt a credit to all of "aboriginal leaders and the provincial and federal governments." But as yet it has not ended the occupation of the construction site, or resolved the particular land-claim issue behind it (whatever that might prove to be). And it still points to problems ahead for the new Harper federal government's current abject lack of any forward-looking aboriginal policy in Canada today.
What is the real issue for the Six Nations on the Grand River?
A recent piece in the Vancouver Sun has argued that "the bitter dispute in Ontario" shows how "the future prosperity of all British Columbians depends on building bridges with aboriginal communities scattered around the province."
It also urged that BC had "experienced a conversion of sorts in 2002 over land claims negotiations with British Columbia's first nations." And it almost seemed to imply that Ontario might want to consider some similar conversion.
Yet it is hard to actually listen to the Six Nations Iroquois at Caledonia, on TV and in the press, and imagine that any such conversion could be helpful in Ontario right now. What "land claims negotiations" mean in BC today and what they mean in Southern Ontario – and especially in the Grand River Valley of southwestern Ontario – are apparently quite different things.
If you have your ears close to the ground, the dispute over the 40-hectare parcel of land at Caledonia, that a local real estate developer has already sunk some $6 million into, does not seem the main issue. It appears to be more of a pretext for raising some vast and unsettling complex of grievances, whose ultimate proper redress and resolution is not at all clear.
How we have forgotten the native past (or never really remembered it in the first place?)
To start with, we in the mainstream society of Canada today just do not have any real idea of who the diverse and various aboriginal peoples of Canada are – and how they stretch back into the deep past of the North American lakes and forests, and prairies and mountains, and so forth.
Both the Iroquois of the Grand River Valley, e.g., and their Bay of Quinte Iroquois sympathizers to the east, were probably the first organized groups of the once locally legendary United Empire Loyalists, in the late 18th century pays d'en haut of Upper Canada.
They fought for the British Crown in the American War of Independence. After the war they were rewarded with grants of Crown land north of the Great Lakes in Canada, in the Grand River Valley and the Bay of Quinte. They fought for what subsequently became today's Canada again, many times, in subsequent wars – including the First and Second World Wars.
They have also continued to retain their connections with the historic heartland of the Six Nations Iroquois Confederacy in upstate New York, south of Lake Ontario. (At Akwesasne, near Cornwall, Ontario, on the St. Lawrence River, there is actually what amounts to an Iroquois reserve – or reservation, as the US usage has it – that straddles the Canada/US border, and ultimately effectively includes both Canadian and US citizens, along with an inevitable gambling casino.)
Apologies to the Iroquois …
If we only knew it, the Six Nations Iroquois Confederacy of the Great Lakes has an interesting and even noble history, which has made some  significant contributions to the subsequent modern histories of both Canada and the United States – and the subsequent historic transcontinental commercial empires of both Montreal and New York City. These are the people to whom the New York literary giant of the mid 20th century, Edmund Wilson, addressed a poignant book of the early 1960s called Apologies to the Iroquois.
Some of the noble grit and grandeur – and political cunning and skill – of the now ancient Six Nations Iroquois Confederacy is still alive today. As one of the Caledonia protesters has pointed out on TV, they have been to the United Nations with their present-day grievances, and even secured some limited results.
Somehow, in the midst of everything else about the fate of the 40 hectare parcel of land, they want Canada and even what Stephen Harper rightly and nicely calls the Canadian people – and not the mere Province of Ontario or Premier Dalton McGunity or anything like that – to recognize and "respect" (another word other protesters have used) just who they really are.
Or, as the National Post has reported about even the current calm around the Caledonia construction site: "with no local traffic being allowed through, natives acknowledge removal of the blockade is a contentious issue … I don't believe (it will come down,)' said Clyde Powless, a 38-year-old iron worker who has been speaking on behalf of Six Nations. If you want the road open, call your prime minister.'"
Friday, April 21, 2006: STEPHEN HARPER AND THE RED LOYALISTS .. Canada better stand up and take notice?
UPDATE: FRIDAY, APRIL 21. 12 NOON. The Six Nations Iroquois land-claim protest in Caledonia, Ontario, just southwest of Hamilton, has now expanded quite provocatively to eastern Ontario as well. The Canadian Press has just reported:
"A simmering land-claim standoff in southwestern Ontario spawned a sympathy protest Friday that has halted at least a dozen CN freight trains and disrupted Via Rail passenger service … Mohawks from the Tyendinaga reserve about 20 kilometres east of Belleville, Ont., lit bonfires beside a CN track to show support for natives maintaining barricades in the dispute in Caledonia…
"CN Rail spokeswoman Julie Senecal said the sympathy protest had left at least 12 freight trains waiting to get through … She said the rail company would seek a court injunction to ensure unimpeded passage through the area … We're going into court as soon as possible in order to end this blockade,' Ms. Senecal said."
Still more to the point, others will say, the challenge all this presents to Prime Minister Harper's current Five-Priority toolkit for getting re-elected with a majority government is starting to seem vaguely like a snowball rolling down a steep hill in the dead of winter. Read on for at least a bit more of the further and increasingly fascinating deep background. Already Canadian politics seems to be struggling to escape the chains in which Mr. Harper would apparently like to bind it. And it is also catching the eye of places abroad, like the BBC.
MR. BUNTING'S EARLIER REPORT FROM THURSDAY, APRIL 20 …
UPDATE: THURSDAY, APRIL 20, 2006. 11 PM (EDT). The day after Prime Minister Harper told the burghers of Winnipeg that his new minority government was going to be getting very tough on crime in the streets (and the majority opposition parties in Parliament better believe it), a resolute band of what section 35 of the Constitution Act 1982 calls "the aboriginal peoples of Canada," some distance to the east, have pointed to a few key missing ingredients in the patent medicine the doctor is trying to sell.
As Jennifer Graham of the Canadian Press has just reported, this very morning: "Police helicopters roared overhead as defiant native protesters climbed atop buildings and set tires ablaze Thursday in an escalating confrontation between police and Six Nations members occupying a southwestern Ontario construction site."
All this is taking place near the small town of Caledonia, on the Grand River, not too far southwest of Hamilton. Ms. Graham goes on: "A spokeswoman for federal Indian Affairs Minister Jim Prentice has said the occupation is a provincial matter …On Wednesday, Premier Dalton McGuinty answered opposition questions about the occupation by saying the province and the authorities were committed to a peaceful resolution to the dispute."
But, as Ms. Graham further relates, it was Canada and not Ontario that one of the protesters had in mind when he shouted out: "It's time Canada better stand up and take notice." And you don't have to be a rocket scientist to appreciate that what the Six Nations are currently up to in the historic Grand River Valley of Ontario highlights some  problems with the simple-minded "Five Points" that Stephen Harper apparently wants to make the exclusive focus of current Canadian public debate.
No aboriginal policy in the Five Points …
To start with, the Five Points or Priorities or whatever they are can be summarized in alphabetical order as Accountability, Child care, Crime, Health care, Tax reduction. That can be further shortened to the mnemonic device ACCHT! But there is still no A for aboriginal policy.
In fact, the Harper Conservative federal minority government in Ottawa is not all that interested in aboriginal policy. It does not really have such a thing – or at least not that it can or wants to talk about in public at any great length. And as the Six Nations occupation in the Caledonia area of Ontario might suggest all by itself, that is a bit of a problem.
In the Ontario legislature on the afternoon of Thursday, May 20, Liberal Premier Dalton McGuinty certainly accepted his province's constitutional responsibility for the property and civil rights (or whatever it is) side of the Six Nations' Caledonia occupation. He went on to point out that the Ontario Provincial police were in charge of what the forces of law and order were doing at the moment, in response to a court order to end the occupation. It would be improper for him to interfere politically with the police action.
And, insofar as his provincial government did have some real concern to help negotiate "a peaceful resolution to the dispute," he wanted the leader of the official Conservative opposition at Queen's Park, John Tory, to know that the Six Nations protesters did not really want to talk to any mere provincial government.
Remember the Kelowna Accord?
Well, who do they want to talk to then? Fortunately, or otherwise, CBC Newsworld managed to elicit a fairly exact answer, from the Six Nations protesters' spokeswoman, Janie Jamieson. Was it the federal minister of Indian affairs that the protesters wanted to talk to, asked David Gray of CBC Newsworld in Calgary? Well, not exactly, Ms. Jamieson finally coughed up.
She was most concerned to point out the long history of struggle for the rights of the great first nation of the Six Nations Iroquois. (Who, as it happens, also have quite a good claim to being the very first United Empire Loyalist refugees in what later became the old Province of Upper Canada, long ago in the wake of the American War of Independence.) But, she said at last, when it comes right down to it, the Six Nations in Canada have historically been accustomed to dealing with the Governor General (or, if you like, "the Crown," who gave them their original grant of land along the banks of the Grand River in the first place, back in 1784).
Mmmm … . This does raise a few problems. Constitutional problems, even. Listening to Ms. Jameison talk on television, it is easy to conclude that, from the standpoint of mainstream ordinary life across Canada today, she has just arrived from outer space. But as she and her fellow protesters are trying to tell us, what she is talking about is still a practical problem. That's why the protesters are flying the Canadian flag upside down – and so forth. (And meanwhile don't bother trying to visit Caledonia. There are tire fires blocking the highway.)
Paul Martin's old federal Liberal minority government did have at least a better understanding of this practical problem than Stephen Harper's new Conservative minority government. And it did have an aboriginal policy that it even periodically tried to talk about in public. The New Democrats (and even the Bloc Quebecois) had enough respect for this policy to delay defeating the Martin minority government in Parliament this past November – to make time for a conference between government and aboriginal leaders in Kelowna, BC. But since then the new Harper government has seemed to be turning its back on the "Kelowna Accord."And that probably does have something to do with the tire fires in Caledonia, Ont. right now.
Meanwhile back at crime in the streets …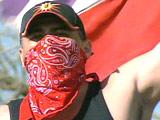 Of course, all this can quickly enough slip into the category of getting very tough on crime in the streets – which actually is one of Prime Minister Harper's magical Five Points.
What Janie Jamieson seems to be claiming, from the standpoint of the law of the land today, is that she and her fellow Six Nations' protesters at Caledonia are engaging in traditional non-violent civil disobedience (in defence, if you like, of what section 35 of the Constitution Act 1982 also calls the "existing aboriginal and treaty rights of the aboriginal peoples of Canada").
Yet, as Jennifer Graham at the Canadian Press has put it: "The protesters argued that the [construction] site [they have occupied] was part of a large land grant back in 1784, but the provincial and federal governments say the land was surrendered in 1841 to help build a major highway." And the courts have agreed with the provincial and federal governments.
What's more, a "judge granted an injunction in March to remove the occupiers," at the request of the present property owners, the Douglas Creek Estates housing project. (The occupiers have been occupying the site since February 28.) Since then police have "been negotiating to have the natives leave the land peacefully." Then after "talks broke down" earlier this week, on the morning of Thursday, April 20 "police moved in with overwhelming force' in a pre-dawn raid, but the occupiers called in reinforcements and police had to retreat." The police have arrested 16 protesters so far. The protesters are still occupying the site. But the OPP is said to have secured a wider perimeter around the site.
No one is above the law … right?
Meanwhile, many of the non-aboriginal people who live in and around Caledonia are not happy about the disruption the ongoing and now escalated protest is inevitably bringing into their lives. Thus, as Ms. Graham has reported: "The protest has upset local residents, 500 of whom turned out earlier this month for a rally to demand that authorities end the occupation."
Watching the weekly Studio 2 political panel on TV Ontario, on the evening of Thursday, April 20, it was instructive how even the lovely Janet Ecker – probably the most reasonable minister in the former provincial government of Ontario's former neo-con premier, Mike "The Knife" Harris – is now resolved that even aboriginal peoples of Canada are not above the law. One way or another, the Six Nations' occupation of the Caledonia construction site must end.
Which is, perhaps, reasonable enough, from some points of view. Except exactly how it is going to happen remains a bit of a mystery. According to a late Thursday report from CTV: "They're saying they're gong to talk again tomorrow, and there's a lot of hope on both sides that a settlement is imminent … As night approached, a busload of supporters from other reserves in the province arrived. More were expected through the night … Truckloads of gravel and barricades blocked the main road into the disputed land."
Of course, the Ontario Provincial Police could start shooting protesters, to show they mean business. But that would be too much like what tragically happened in the early fall of 1995, during another conflict between provincial police and aboriginal peoples of Canada at Ipperwash Provincial Park – in the early days of the get-tough-on-crime Conservative provincial government of Mike Harris. And the official inquiry into all this sad history is still going on.
The OPP has "no negotiating power"
In Caledonia in 2006 the OPP is showing some praiseworthy restraint – and doing its best to achieve the "peaceful resolution to the dispute" that Premier McGuinty continues to say his government wants to see. But it may well be that no kind of conventional police action by itself can end the dispute. "We, unfortunately, are in the situation where we have no negotiating power, if you will – we are caught in the middle of this situation,' provincial police deputy commissioner Maurice Pilon told a news conference."
Another Six Nations protester, Clyde Powless, has said "Emotion is very high and tense … So I asked the OPP, 'Let's let things settle down for a little while, a day, two days, three days.' Hopefully, by then the politicians will step in." But what politicians?
To quote from Jennifer Graham's latest Canadian Press report: "it's time for Ottawa to also get involved, said Ontario Native Affairs Ministers David Ramsay … he has suggested to federal Indian Affairs Minister Jim Prentice that he send a personal envoy to help find a resolution to the dispute." According to Premier McGuinty, the protesters "want to deal with the government of Canada on a nation-to-nation basis." (Though again, we already know from TV that Ms. Jameison says she would prefer to deal with the Governor General, who isn't a politician at all.)
And then: "Speaking in Montreal, Prime Minister Stephen Harper said his government is keeping tabs on the conflict, but offered little in the way of concession … It's a situation we're obviously watching carefully,' Harper said. We obviously prefer to have peaceful resolutions, but I gather there has been some attempt at that and the situation is quite complex on the ground.'"
What does this have to do with getting tough on crime?
At some point in all this, at least some Canadians are likely enough to start wondering as well about the new federal Conservative minority government's broader enthusiasm for getting very tough on crime in the streets, as in the Five Points or Priorities or whatever they are.
When you start to think about it, at all seriously, there are a few similarities between the breeding grounds of gun violence among young people in certain parts of big cities today, and the breeding grounds of a new impatience among rapidly growing populations of young people on Indian reserves. (And the Grand River reserve in Ontario is the largest in Canada.)
Aboriginal Canadians are already woefully over-represented in Canadian prison populations. At the bottom of everything many aboriginal Canadians do not feel that they are properly included in Canada today. Their rights and their roles in history as the first Canadians are not respected, and they can see no future for themselves in the larger society – and so forth.
Again, Paul Martin's Liberals were at least trying to do something about this. It may be that Stephen Harper's Conservatives are going to have to start thinking about it much harder too – even if it is not part of their Five-Point strategy for getting re-elected with a majority government as soon as possible. Any federal government that does not have some kind of constructive act put together on aboriginal policy is probably going to have a hard time getting through the next several years. That may be the deepest message borne by the current stench of burning tires around Caledonia, Ont.
From April 18: IS IT TRUE THAT CANADIANS DON'T LIKE BULLIES.. and is Stephen Harper in trouble if it is?
UPDATE. TUESDAY, APRIL 18. 7 PM (EDT). Just when it was starting to seem that Stephen Harper's government was settling into something more or less sensible, the new Conservative prime minister of Canada has apparently decided that being a bully is his best chance for building support.
The Canadian Press has reported: "The Conservative election promise to give parents cash for child care will be included in the upcoming federal budget and will be subjected to a confidence vote, Prime Minister Stephen Harper said today … Harper challenged his Liberal, Bloc and New Democrat critics to take his minority government down over the pledge.
"My purpose here is to deliver a clear message,' he said after attending a discussion at a suburban Vancouver community centre … We were elected on this, we ran on this. We are going to proceed with it. It will be in the budget. So I hope the Opposition considers the alternatives very carefully.'"
Say whatever else you like, this is a plain violation of what a clear majority of the electorate voted for on January 23. Mr. Harper does not have a majority government, and was not "elected" to do exactly what he wanted, all by himself. And if he follows through on this plan he deserves to be defeated on his confidence vote. (Why does it have to be a confidence vote anyway, some will ask?) As even the new Conservative minister of emergencies, Stockwell Day, said in Parliament last week, "Canadians do not like bullies." So stay tuned. Mr. Harper may win the battle on this one. But he has probably just started to lose the war. This seems even more arrogant than the Liberals ever were. It is certainly contemptuous of the democratic will of some 63% of the Canadian people in the January 23 election.
From April 15: HOLIDAY EGG HUNT .. what's the new Canadian Conservative government like so far?
As the traditional Easter long weekend arrives, Stephen Harper has been the new Conservative prime minister of Canada for 10 weeks. Any detailed report card would be premature. But what about a vague early assessment?
The emerging Harper minority regime in Ottawa does seem a more confirmed conservative federal government than Canadians have known for some time. Easter may not be the holiday it used to be elsewhere. But it is probably still a big thing for Stephen Harper's Canada.
It is too early to tell whether Mr. Harper is succeeding famously with the larger part of the electorate he will need to win a majority of parliamentary seats in the next federal election. But it is also too early to say that he is failing miserably.
Already there does seem an unusual clarity in his vision of governing Canada. And this is bound to appear a bit fresh, in a country accustomed to so much confusion. You may not like the Harper vision yourself, at all. Yet, in a political system that still does not worry too much about democratic majorities of the popular vote, there may be a big enough minority of the Canadian people who do like it to keep Mr. Harper in office for a while yet.
The first six points …

THRONE SPEECH. The first Harper government throne speech on April 4 was short. It was a maybe slightly more attainable version of the so-called "five points" from the Conservative election campaign, plus what some call "the other five points." Prominent among the latter were: "The Government is committed to an open federalism that recognizes the unique place of a strong, vibrant Quebec in a united Canada;" and "it will explore means to ensure that the Senate better reflects both the democratic values of Canadians and the needs of Canada's regions."
AFGHANISTAN & THE MILITARY. Prime Minister Harper made a surprise visit to Afghanistan even before the throne speech said his "Government will support … a stronger military," and "stands firmly behind the vital role being played by our troops in Afghanistan today." He has also just visited young soldiers training in Alberta on his way home to Calgary for Easter. "I believe that military service is the highest calling of citizenship,' Harper told the troops, who had just completed basic infantry and leadership training" (Calgary Sun). Canada, you might say, has at last joined the early 21st century Anglo-Saxon military alliance that already includes the United States, the United Kingdom, and Australia (and, in a way, India too?).
ACCOUNTABILITY ACT & CULTURE CHANGE IN OTTAWA. Even before the Easter Rabbit had hidden his (or her?) eggs, the Harper government had introduced new "Federal Accountability" legislation – to get moving on the first point in its first easy-to-understand five-point program to "turn a new leaf" in Canada. Globe and Mail columnist John Ibbitson has said: "On the upside, there will be less abuse of advertising dollars," and "lobbyists will lose some (though not all) of their influence … But the bureaucracy will also become more rigid and timid, with everyone looking nervously at the watchdog sniffing in the hall … So we'll see. We'll see."
Meanwhile, New Democrat MP Pat Martin has complained "there's enough loopholes [that] you could drive a truck through them" in the proposed new rules on lobbying by former public servants and office holders. But Treasury Board President John Baird has said: "You shouldn't be selling your contacts and your knowledge to the highest bidder for a reasonable period of time … We've got to create a culture change and that's what we're trying to do." There are many reasons to wonder about just what will become of all this. But it also seems hard to deny that there ought to be some kind of "culture change" in Ottawa.

FISCAL IMBALANCE & THE PROVINCES. Canada's 10 provincial premiers (and three territorial leaders) – a.k.a. the Council of the Federation, or something like that – met this past week in Montreal. They were trying to see if they could get their act together on how to solve the federal-provincial "fiscal imbalance," with special reference to the provincial "equalization payments" required by section 36 of the Constitution Act 1982. The bottom line was that they could not. And Canada's most populous (and equalization-paying, as opposed to receiving) province of Ontario may have particularly isolated itself.
As some premiers noted, it is Mr. Harper's job to sort this mess around in the end. If he does this on the model he is currently said to like best, he will probably deeply annoy the provincial government of Ontario. But this may finally work for the other provinces, including Quebec. It may not harm Mr. Harper's prospects in Ontario in the next federal election in any crucial way either. And it may actually improve the prospects of Ontario's Liberal Premier Dalton McGuinty in his next provincial election. So everyone could be happy in the end here, sort of.
GETTING REAL RESULTS ON THE ENVIRONMENT? Just after visiting the troops in Alberta "Prime Minister Stephen Harper … denied an allegation that his new Conservative minority government is planning to slash Environment Canada programs designed to combat global warming … That's not true. The government has terminated a small number of programs that were set to expire,' he told reporters … However, he said his government's hand has been forced on this issue because the previous Liberal federal government spent billions of dollars on so-called climate-change programs and we have the worst results in the world … Obviously, we are going to wind up programs that don't get results and move things toward a program that is focused not just on spending money, but also on achieving some objectives.'"
Mmmm … It is no doubt a good idea to focus "not just on spending money, but also on achieving some objectives" in any government program (Afghanistan too, e.g.?). But it also seems a pretty good guess that Prime Minister Harper himself does not lose much sleep worrying about global warming and the environment. Or about what section 35 of the Constitution Act 1982 calls the "existing aboriginal and treaty rights of the aboriginal peoples of Canada."
MARIJUANA & GAY MARRIAGE. Just before his government's first throne speech Prime Minister Harper told a meeting of the Canadian Professional Police Association: "We will not be reintroducing the Liberal government's marijuana decriminalization legislation." (And when this won a round of applause, he added: "I thought we might find a receptive audience here.")
This was hardly surprising. But the big moment of truth on the broader issue will come when the new Conservative government has to decide whether or not to extradite BC's Prince of Pot Marc Emery to stand trial in the United States, as the US Drug Enforcement Agency has requested. Two further pieces of recent political intelligence suggest some grounds for optimism:
(1) A GlobeandMailOnline opinion poll showed 70% of more than 22,000 respondents answering NO to the question "Do you think the federal Conservative government should crack down on marijuana use in Canada?"
(2) The often interesting Manitoba Conservative MP Inky Mark has told the press that "instead of decriminalizing weed as the Liberals proposed" Mr. Harper's new government "should take things a step further and legalize pot … Personally, I would legalize it like … alcohol and tobacco. Then you actually would control it. I know that's not the party's position, but that's my preference … It's a waste of resources' to get the police to prosecute pot smokers, Mark added. You're not getting ahead.'"
Meanwhile, Prime Minister Harper has also said that "he'll keep his campaign pledge to hold a free vote in Parliament on whether to reopen the matter" of gay marriage. But he "has signalled it won't happen before the Commons breaks for summer vacation … We intend to have a free vote of all MPs on this question during the life of this Parliament,' Mr. Harper told Radio-Canada … My preference is to do this sooner rather than later, but not this spring.'"
When this free vote does happen in the new fractured 39th Parliament of Canada, there also still seems quite a good chance that it will preserve the legalization of gay marriage put in place by the fractured 38th Parliament early last summer. When the chips finally are really down in the new democratically elected Canadian House of Commons this way, there don't seem to be many more votes for banning gay marriage than there were the last time. (Though of course, in politics things can always change.)
The second six points …
There could be a second part to this vague early assessment of Stephen Harper's new Conservative Government of Canada, under the headings:

IS THERE ANY PRACTICAL REASON FOR LEARNING TO LOVE THE GEORGE W. BUSH ADMINISTRATION IN THE USA? … MORE PRIVATE SECTOR INVOLVEMENT IN HEALTH CARE … REGIONAL MEDIA STRATEGY … WATCHING THE LIBERAL LEADERSHIP RACE … AGE OF PERMANENT CONSERVATIVE ELECTION CAMPAIGN … and MAKING MINORITY GOVERNMENT WORK.
But for whatever reason (Passover, e.g., and conceivably what else?) it does seem to be a holiday weekend, and enough is enough for now.
Except to say that, with 10 weeks in office under its belt – and all 308 Members of Parliament back in session at last – Mr. Harper's new Conservative minority government seems not quite as improbably blustery and bullying as it did when it first rushed out of the gate on February 6. Mr. Harper, e.g., did finally go along with a parliamentary debate on the "significant commitment" in Afghanistan – even if he did not bother to show up for it himself. And his government does seem more aware of the problems of MAKING MINORITY GOVERNMENT WORK than Paul Martin's 2004 Liberal regime (the "first minority government in 25 years").
But these problems are still not Mr. Harper's main focus. He apparently still has his best eye squarely on yet another Canadian federal election soon enough – when he hopes to win a proper and traditional majority government at last. So that the quite conservative new leaf he wants to turn can be turned much more boldly and firmly.
It remains uncertain whether the share of the country-wide vote he will likely need to win even a bare working majority of parliamentary seats lies within his grasp. (Or as pollster Allan Gregg has just put it, Mr. Harper "has still not captured the population's imagination to the point where they are saying what we need is a Conservative majority government.") But if it does, it already seems reasonably clear that this will mean going back to essentially the same old game in Ottawa, with just a somewhat different, more conservative group of men in suits (and a few women) in charge – along with a bit of preliminary tinkering on Quebec's unique role and Senate reform (and federal government advertising budget accountability).
On the other hand, if what the April 4 throne speech called "the change demanded by the Canadian people" proves to be not Stephen Harper more completely in charge, but a third consecutive minority government, of whatever partisan stripe, then what is happening now just might be start of something new and more interesting in Canadian federal politics. In any case, all this is still some considerable distance down the road. For the moment the new prime minister can enjoy his traditional Easter dinner 2006, confident that, just by being where he is right now, he has already done a few things that many people once said were impossible. (Thanks, to no small extent, to his current vague fair-weather friends among Jack Layton's theoretically left-wing NDP, to say nothing of M. Duceppe's sovereigntist Bloc Quebecois.)