Waiting for Jon Stewart .. preeminent political analyst of our time goes Hollywood?
Feb 26th, 2006 | By
Counterweights Editors
| Category:
Entertainment
UPDATE: Monday, March 6, 2006, 2 AM EST. Some people are already searching "jon stewart oscar disappointment." Just for the record, we didn't think he was.
Politically there was no rough assault on the Bush administration. But it's not democratically sporting to hit someone too hard when they're already down. And there was a quiet political tone diffused throughout the show, in which Mr. Stewart seemed to have had some kind of hand. This was clearly meant to be the other America on display – the one that does not believe in pre-emptive wars, or shooting friends on hunting trips, etc.
More generally, Jon Stewart was a credible Oscar host. The celebrity studio audience was maybe understandably not relaxed enough to always appreciate his style of humor as well as his own studio audience does. But it was all quite close enough for jazz – and the opening and several other bits were very good. Now that he's had some fun in Hollywood, he can go back refreshed to his usual good works in New York.
(And read on below for our original report from last Sunday, when it was all still ahead, in the future that is now the past.)
* * * *
This coming Sunday, March 5 Jon Stewart of the fake-news Daily Show will host the Academy Awards – one of the biggest TV shows in at least one version of the global village today. "As a performer," he has apparently said, "I'm truly honored to be hosting the show. Although, as an avid watcher of the Oscars, I can't help but be a little disappointed with the choice."
As best we can make out from the rising youth, that kind of half-sincere self-effacement is very hip these days. Others even older than we are seem to be getting similar messages. According to the 71-year-old "Gil Cates, who is producing his 13th Oscar telecast," Jon Stewart was picked to host the show in 2006 because: "He's hip, he's with-it, he's 'today."
He is (or was?) also, according to Bill Moyers in a 2003 PBS TV interview, "a man many consider to be the preeminent political analyst of our time … You simply can't understand American politics in the new millennium without The Daily Show."
But time marches on, and there's no business like show business. The burning question now is does hosting the Hollywood classic signal a new, more moderate and even less political Jon Stewart than the one Bill Moyers talked to in 2003? As the different drummer website has lately complained, just "being asked to host the Academy Awards in 2006 testifies to his increasing respectability." And what could be worse for a hip political comic? So will the real Jon Stewart be standing up for just what on Sunday, March 5, 5 PM PST / 8 PM EST, on ABC? We will just have to wait and see.
Who is "Jon Stewart" anyway?
Jon Stewart of The Daily Show was born on November 28, 1962 in New York, NY as Jonathan Stuart Leibowitz. He was raised in Lawrence Township, New Jersey (near the city of Trenton), and currently resides in downtown Manhattan. He legally changed his name to Jon Stewart in 2001, either to protect Leibowitz "loved ones from embarrassment (they signed a petition)," or because Leibowitz is "too Hollywood," or has "too many syllables," etc. And yes, at 5′ 7″, even as an adult he is at the short end of the range for early 21st century North American males.
Stewart's father is a physicist and his mother is an educational consultant. He has an older brother, Larry Leibowitz, and two younger half-brothers on his father's side. He and his brother Larry lived with both parents until a 1971 divorce, after which they lived with their mother. Jon graduated from Lawrence High School in New Jersey in 1980 – third in his class, even though he apparently "barely studied." He then attended the College of William and Mary in Virginia, where he graduated with a BA in Psychology in 1984.
After graduation, Stewart went back to New Jersey, "but did not live with family members." He "had a variety of roommates in New Jersey and in New York … including at least one live-in girlfriend." His subsequent success "didn't happen overnight. He claims to have been fired from six stores in one mall alone." He moved to New York City "in order to do standup comedy in 1986, but didn't actually get on stage until April 1987." His first gig was a major "humiliation" and "it was another four months before he took the stage again" But "it was clear from then on what he wanted to do with his life."
By the early 1990s he had become "rather well known" on the New York standup comedy circuit, and he started writing for TV too. He became host of the old Comedy Channel's Short Attention Span Theatre. Then that was canceled, and he continued doing standup, eventually moving to MTV, where he hosted You Wrote It, You Watch It, which lasted only 13 weeks. Then "he pitched the idea of a talk show to MTV, which became The Jon Stewart Show." This lasted off and on 19931995 – though "critically acclaimed," it "didn't do well in the ratings."
After The Jon Stewart Show was canceled, "Jon signed a three-year, six-movie deal with Miramax." As he has subsequently confessed often enough on The Daily Show, he proved an indifferent movie performer. During this period he also "signed a deal with David Letterman's production company Worldwide Pants," but it "doesn't appear that anything ever came of that deal." At about the same time, however, he wrote his first successful book, Naked Pictures of Famous People – "humorous essays in the style of Woody Allen or Steve Martin."
Back in the world of TV Stewart began to serve as a frequent guest host on The Late, Late Show with Tom Snyder. Then he "went on to play himself playing Larry Sander's permanent guest host on The Larry Sanders Show," starring Gary Shandling. He was "also a finalist to replace David Letterman when Letterman left NBC for CBS." But: "Instead, the slot went to Conan O'Brien."

Finally, on January 4, 1999 "Jon Stewart moved into his office at The Daily Show," on the Comedy Central cable TV network (the old Comedy Channel, where Stewart had started his TV performing career in Short Attention Span Theatre). This time the show seemed "a perfect match for Jon's talents" as "a self-professed news junkie."
By the end of 1999 (it seems) Stewart had also married "Tracey Lynn Stewart (formerly Tracey McShane)," who went on to become a veterinarian in her own right, and the mother of two children. Meanwhile, The Daily Show's ratings just kept rising, down to the present. And the rest, as they say, is history. Along the way Stewart may or may not have become what Bill Moyers has called "a man many consider to be the preeminent political analyst of our time." But his role as (in his own words) "the straight man … surrounded by such talented people" on The Daily Show's fake news reports, 1999-2006, has at least turned him into what even one of his harsher recent critics has called "a far hipper and funnier incarnation of past liberal political comedians: Tom Lehrer and Mort Sahl." And in some still demographically weighty quarters of the USA today this has proved an increasingly marketable commodity, ever since the fake election of President George W. Bush in the year 2000.
What to watch for on Sunday night, March 5, 2006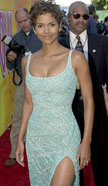 The not-quite-so-fake re-election of President George W. Bush in the year 2004 seems to have been something of a watershed for Jon Stewart's career, as both preeminent American political analyst and hipper and funnier reincarnation of such "past liberal political comedians" as Mort Sahl. (Stewart is also said to be an admirer of the original hip American comedian Lenny Bruce.)
Former President Jimmy Carter has a compelling short explanation of the 2004 US presidential election – which he pointed out in a comparatively recent Daily Show interview. In wartime, or a reasonable facsimile thereof, about 10% of the electorate votes for the president in office, as an act of unexamined patriotism. (And in a related smaller and slightly more neutral case, it is similarly intriguing that the highest percentages of the popular vote won by any governments in Canadian political history have been in elections held during the First and Second World Wars.)

Even with this kind of compelling explanation at hand, the harsh political fact that George W. Bush did manage to win at least a bare majority of the popular vote in 2004 does appear to have impressed Jon Stewart, a bit. As his second successful book suggests (America, The Book: A Citizen's Guide to Democracy Inaction – written with the Daily Show writers) , he is, as he ought to be, someone who still takes democracy seriously.
The willingness of so many among the still interested voters to opt for re-electing the younger George Bush, despite Mr. Stewart's best advice otherwise, prompted the preeminent American political analyst to perhaps shrewdly re-examine a few of his own views. (As he has alluded to in various sly ways on The Daily Show more than once, over the past year or so.)
The major consequence of this re-examination, it would seem, has been the new Daily Show spinoff, The Colbert Report (pronounced "Coal-Bear Repore"). This stars Stephen Colbert – who began as one of the "talented people"on The Daily Show. Stewart, Colbert, and Daily Show executive producer Ben Karlin reportedly pitched the concept of the new show to Comedy Central chief Doug Herzog "with one sentence: Stephen Colbert parodies The O'Reilly Factor'." (I.e. the aggressive right-wing fake news show hosted by the mindless Bill O'Reilly.)
Herzog bought the concept, and Comedy Central has apparently been "thrilled with the results." Starting in mid October 2005 as a mere eight-week experiment, The Colbert Report has now had its contract extended for all of 2006. It immediately follows The Daily Show on late night TV, and has so far been keeping an impressive 86% of Jon Stewart's own audience.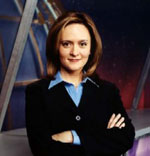 The main culture-war objective of The Colbert Report appears to have something to do with persuading more footloose and thoughtful people who voted for George W. Bush in 2004 that, however down-to-earth his TV image may be, far too many of his hardcore supporters are beyond the pale of reason in democracy in America today. Meanwhile, Jon Stewart himself has lately been taking a few small pains to be civil to Daily Show guests from opposing camps (including Bill O'Reilly). He has also shown some concern to intermittently point out that, as appalling as the Republicans are these days, the Democrats are not in very good shape either – and need to start working much harder to pull up their socks, acquire real cajones, etc.
All this has suggested to some critics on the left that Jon Stewart nowadays is going soft on neo-conservatism – and even perhaps growing more concerned about his bank balance than the broader cause of progress and the future of the American people. (Which has of course happened before to other US progressive tribunes). To some as well Mr. Stewart's decision to host the 2006 Academy Awards just aids and abets this kind of new mainstream "respectability" scenario. And, from this as from several other angles, it will certainly be quite interesting to see just how he handles the tricky assignment on Sunday, March 5.
Jon Stewart himself is taking a suitably professional view. According to a recent piece in the New York Times: "If Mr. Stewart is feeling any preshow jitters, he did not betray them in an interview last week. So you give up a home run in the All-Star Game,' he responded when asked if he feared bombing in front of tens of millions, to say nothing of Jack Nicholson and Tom Hanks. You're not risking anything. This is a reward. If I made my living hosting awards shows, then this would be a perilous track, I guess.'" This also seems a pretty hip answer. And who knows? He may wind up showing that he hasn't gone soft on neo-conservatism at all. He is only getting older, and wiser too?