Boogie woogie rumble of dream deferred not so loud as PM Trudeau visits T.O. just after State of the Union
Jan 14th, 2016 | By
Randall White
| Category:
In Brief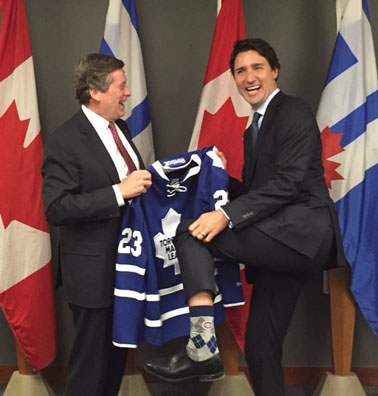 Locally at least, it is hard to know what is crazier about the excellent "JOHN TORY VIA TWITTER" photo, also posted on the Toronto Star site. It shows Prime Minister Justin Trudeau's reaction to being presented with a Maple Leafs jersey by Mayor John Tory, at Toronto City Hall yesterday.
Just to recap, before flags of Canada and Toronto Mayor Tory is holding the historically fabled blue and white jersey, while PM Trudeau is flashing one of his trademark grins and raising his pant-leg to reveal a sock bearing the legendary C/H logo of les Canadiens from Montreal.
For some what is, whatever else, undeniably  crazy about our new prime minister, who is just as much loved in Toronto as in Atlantic Canada (or Vancouver), is that he actually owns and even  wears such things as socks with Montreal Canadiens logos emblazoned on them.
(And this does seem more in the spirit of his Vancouver mother than his Montreal father.)
And then, of course (just to confirm that he is indeed also his father's son), there's the point that our new prime minister deliberately chooses to wear a Montreal Canadiens pair of socks, on the occasion of his first official visit to the City of Toronto.
For others, the craziest thing is appearing so upbeat when so many others in high places are pointing fearfully to such headlines as "Canadian dollar will drop to 59 cents US in 2016, Macquarie forecasts …."
And a guy who "plays a billionaire on TV" has apparently seriously offered to invest $1 million in nowadays oil-poor Alberta, if duly elected New Democrat Premier Rachel Notley agrees to resign … adding one more delusional local master of the universe, etc, etc, etc.!
The happiest truth, in a traditional Canadian tradition of compromise, just may be that the one kind of craziness cancels the other. And who knows? That may be Prime Minister Trudeau the Younger's ultimate saving grace too (if history does finally show he has one, of course).
* * * *
Whatever happens to the Canadian dollar, Canada is one of the hardest working and most fortunate countries in the world today. If international financial markets choose to link our fortunes too closely to the price of oil, that will ultimately be their problem, not ours.
We faced a very low dollar relative to the friendly elephant next door in the later 1990s and earlier 2000s, and still lived to tell the tale. It is refreshing — and almost certainly good for the economy in its own right as well —  to read such early 2016 headlines as "Morneau insists Liberal plan will grow economy despite falling loonie, oil" in the Winnipeg Free Press.
It is similarly refreshing (and helpful) to see a prime minister who includes a scion of the Bronfmann business dynasty among his close advisers point to the eternal truths of such things as the ancient Montreal-Toronto and all similar Canadian hockey rivalries, in the midst of our latest transient economic bumps in the road.
(Even or especially at a time when, in alphabetical order, Calgary, Edmonton, Ottawa, Vancouver, and Winnipeg also have NHL teams with better recent historical records than the Toronto Maple Leafs.)
Moreover,  even the increasingly stodgy Globe and Mail in Toronto welcomed the prime minister to town with an editorial that is almost refreshingly free of its more recently usual reactionary cast of mind.
It is called  "Trudeau government bravely marches into the weeds."
For much of its time it just rehearses yet again all the reasons that legalization of marijuana in Canada, as PM Justin Trudeau has promised, raises difficulties —  especially in the minds of the still substantial enough minority of voters who do not support it in the first place. (And don't really believe in democracy as majority rule either.)
But here the Globe editorialists at least end on a not entirely negative note : "There are compelling reasons to legalize the production and sale of cannabis. Prohibition has been costly, ineffective and counterproductive. Unfortunately, that's not the same thing as saying legalization of pot will be cheap, easy and automatically beneficial."
Justin Trudeau's ongoing sunny ways message here, it would seem, is finally in the spirit of a Barack Obama-like "Yes We Can." And some of PM Trudeau's optimism in Toronto yesterday must have flowed from President Obama's brilliant State of the Union message to the US Congress the night before.
See, eg, Steve Benen's take on the Rachel Maddow site : "President Obama makes his case for hope over fear." Personally, I think he did this and considerably more. And I'd certainly agree with  Isaac Chotiner on the Slate site : "Tuesday night he seemed to show that he had made a certain amount of peace with his standing in opinion polls precisely because he feels so certain of his standing in the history books."
With any luck, Justin Trudeau's ultimate election victory on October 19, 2015 — after a long preceding year of various ups and downs, from various Canadian likes of both Donald Trump and Bernie Sanders — could be some kind of small precedent for what finally happens in the neighbouring great free and democratic republic on November 8, 2016!
And Langston Hughes's immortal "Good morning, daddy! / Ain't you heard / The boogie-woogie rumble / Of a dream deferred?," from the early 1950s, will become even quieter and more kinder and gentler than it has struggled so impressively to at least start to be, under the seminal presidency of Barack Obama from Honolulu, Hawaii (and his formidable wife Michelle from Chicago, Illinois), USA, 2009–2017.