In California again .. East Bay Area and Santa Cruz, rememberin' how relaxin' it was at Camarillo in 1946 (and 1947)
Mar 16th, 2015 | By
Counterweights Editors
| Category:
In Brief
Everyone in the office here except Bunting will be off to California this coming March 17, 2015, for another hard-working seminar series with our Bay Area technical advisors and consultants.
We will be back in Toronto for the weekend of March 28—29. The next counterweights posting will appear during the week that begins on Monday, March 30.
Our home base for this round of our regular Canada-US business meetings will be near a local BART stop in the East Bay Area. But we will also be making a more recreational excursion to Santa Cruz.
As Wikipedia has usefully explained, Santa Cruz is the county seat and largest city of Santa Cruz County, California, with a current population of about 63,000 people. It is located on the Pacific Ocean, on the northern edge of Monterey Bay, about 75 miles south of San Francisco.
Wikpedia goes on : "Santa Cruz is known for its moderate climate, the natural beauty of its coastline, redwood forests … and socially liberal leanings. It is also home to …  the Santa Cruz Beach Boardwalk, an oceanfront amusement park operating continuously since 1907 … in 2003, the Santa Cruz City Council became the first City Council in the US to denounce the Iraq War. The City Council of Santa Cruz also issued a proclamation opposing the USA PATRIOT Act."
(Wikipedia notes as well that : "As a center of liberal and progressive activism, Santa Cruz became one of the first cities to approve marijuana for medicinal uses." It is possible some in our party will get sick while visiting the place over the next while.)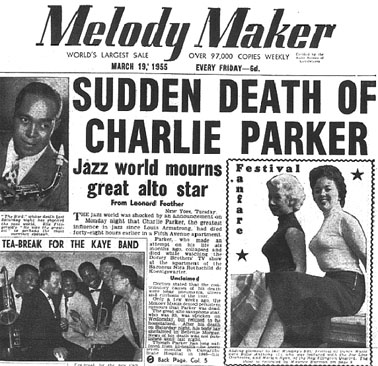 We would also like to take this opportunity to salute the 60th anniversary of the tragic death of the legendary American jazz giant and saxophone player Charlie Parker, this past Thursday, March 12, 2015. Dr. White claims that to celebrate this milestone, he has been re-reading Ian Penman's "Birditis" piece from the 23 January 2014 issue of the London Review of Books.
Later, over a quick drink at Faulkner's, the rest of us (maybe because we were thinking so much about all the packing we still had to do for California ) started talking about Charlie Parker's great tune "Relaxin' at Camarillo." It is a kind of tribute to the (not quite?) six months he spent at the Camarillo State Mental Hospital in 1946 and early 1947 – in an apparently enchanted desert  area north of Los Angeles.
Relaxin' at Camarillo

Mercifully to many, no doubt, we really don't have time to say all that much more on this occasion. But if you want to pursue this particular legendary Bird story further, a late 2011 piece on the net called "Charlie Parker at Camarillo" is one plausible place to start. It is the work of William A. Pryor , "professor Emeritus at Louisiana State University and presenter of 'Classic Jazz' on WBRH-FM, Baton Rouge."
Pryor summarizes one credible enough version of the tale, even if he does "choose to use the dates given in the authoritative book by Ross Russell, Bird Lives."
(We've just been reminded that Ian Penman in the London Review of Books early last year actually had some positive things to say about "Russell's much disparaged Life of Bird." Though some narrow minds over here will say 'what does anyone over there know about jazz'? And we could almost get a quorum among our cw editors group  to agree! Well … not really … but …)
We at least shouldn't have time to go on. We'll conclude by just quoting a standard source on the death of the greatest jazz musician – and saxophone player – of all time (albeit just in our opinion of course) :
"Parker was visiting with his friend Baroness Pannonica "Nica" de Koenigswarter [a Rothschild heiress, conveniently enough] when he suffered an ulcer attack and refused to go to the hospital. On March 12, 1955, Charlie Parker died in the baroness' New York City apartment of lobar pneumonia and the devastating effects of long-term substance abuse."
He was 34 years old.. His music at its best shows his brighter side. And it was very bright.
Meanwhile, back in the Golden State Jack Kerouac called Camarillo the place "where Charlie Parker'd been mad and relaxed back to normal health." William Pryor writes that "Bird's stay at Camarillo must have been poignant … It is in the California desert area north of LA with a climate that is uniformly warm and dry with a cloudless blue sky and a cool breeze."
Mr. Pryor goes on : "One can imagine Bird in that picture-perfect setting successfully drying out." And his recovery "was miraculous judging from the recordings of some of his best playing ever when he returned to LA and cut a series of marvellous Dial sessions. These sessions featuring a sober Charlie Parker include, in February 1947, 'Relaxing At Camarillo' …"
Later, at Faulkner's, we all agreed.. That's the Charlie Parker we're looking for. That's the Charlie Parker we hear when we listen to his music. Maybe he should have stayed in California … and, yeah, that's the right note for us to end on now. We really have to finish packing.
L'envoi – Camarillo today

Except, btw, nothing lasts forever, perhaps especially in the old Bear Flag Republic on America's Pacific Coast.
According to Wikipedia, the "Camarillo State Mental Hospital, also known as Camarillo State Hospital … closed in 1997. The site has been redeveloped as the California State University, Channel Islands. The university has retained the distinctive Mission Revival Style architecture, and the bell tower in the South quad has been adopted as the symbol of the university."
As the Bird legend has it, in Charlie Parker's day Camarillo was known as the "Country Club" of Southern California psychiatric hospitals. And he was lucky he wound up there, instead of such apparently much grimmer places as the Patton State Hospital in San Bernardino.
Professor Emeritus Pryor from Louisiana State was also lucky enough to somewhat accidentally visit the site of the old Camarillo State Mental Hospital with his wife Gail in 1999, when "the State of California was in the process of converting the Hospital to the California State University, Channel Islands, which officially opened in 2002."
It seems only fitting to give the professor at least the second last word here (for the time being at any rate). He notes that there are four takes still extant of the sober February 1947 Charlie Parker's "Relaxing At Camarillo."
He goes on to say that the originally released fourth "version includes a spectacularly wonderful introduction by Dodo Marmarosa [on piano],  a lovely solo by Bird, and a long, touching legato solo by Wardell Gray. The tune 'Relaxing at Camarillo' is a tribute to Muggsy Spanier's 'Relaxin' at the Touro,' recorded November 1939, just 8 years before Bird's version, although in a strikingly different style. Muggsy's blues honors the New Orleans hospital where Muggsy dried out from the earlier jazzmen's addi[c]tion, alcohol …"
We finally do conclude by quickly noting how, not on our own last trip to California, but the one before that, a combined GTA-Bay Area counterweights blues band played 'Relaxin' at Camarillo' at a house party in Gilroy, last stop on the Caltrain south from San Francisco.
And very finally, for the very (but still very worthwhile) few who might be altogether seriously interested here are four much better versions of the tune, then and now, on You Tube :
* Charlie Parker's New All-Stars 1947 – Relaxin' At Camarillo : the original version alluded to by Professor Pryor above. Recorded at the C.P. MacGregor Studio, Hollywood CA, February 26, 1947.
* Relaxin' at Camarillo – Joe Henderson (1990s) : an update some a half century later, by a tenor sax master (and equally masterful friends) of a newer era.
* Eric Alexander plays "Relaxin' at Camarillo" (2010) – At the Ibiza Lounge, September 16, 2010. Another still more recent tenor study, accompanied by Steve Einerson (piano), Dmitri Kolesnik (bass) and Gerry Gibbs (drums).
* Relaxin At Camarillo – Howard Alden et al (2011). At last, some might say, the guitars take over even in jazz. Here Howard Alden is at the Alvas Showroom 8/31/11, with Brandon Bernstein, Putter Smith, and Kendall Kay.
(Oh and btw again even in California today it seems that Spanish pronunciations of Spanish names still prevail : and it's pronounced CAM-AR-EE-O. Or so we're told!)