Summer in the city 2014 : will John Tory at last be new big surprise Mayor of Toronto that everyone misses?
Jul 9th, 2014 | By
Citizen X
| Category:
In Brief
The counterweights editors have presented me with two pieces of evidence as the Summer of 2014 descends on the city with the heart of a loan shark. (And its wider environs – from the depths of downtown just north of the Great Lake waterfront, to the refreshing and reviving, much less industrially spolied smaller lake, some three hours further north, by automobile).
The first piece of evidence is that something I foolishly wrote almost four years ago now has lately been getting fresh attention in the statistics for the site from Google Analytics : "Can John Tory finally win an election as Mayor of Toronto in 2010?" The second is that something called "Campaign 2014 … @JohnTory2014" has just become a counterweights follower on Twitter.
(And here the editors want me to emphasize that whatever I say in what follows, counterweights as a corporate entity endowed with human rights [well maybe not quite in Canada, yet?] respects and values every one of its Twitter followers very highly. But in the first place I have no intention of saying anything that might offend "Campaign 2014 … @JohnTory2014", even if I do feel obliged to make clear up front that I remain a supporter of Olivia Chow.)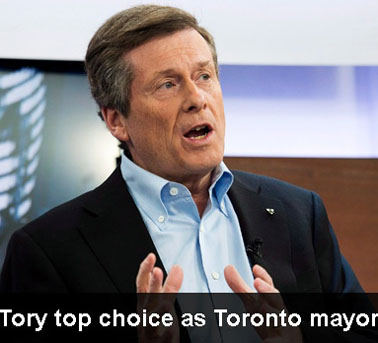 And all this in any case is just mere miniature background scenery to the sudden potential big news, at the start of the first full work week of July. As in, eg : "John Tory has the lead in new Toronto mayoral poll … New poll suggests John Tory would be Toronto mayor if election held today" ; and "Poll has John Tory leading in Toronto's mayoral race …   The Nanos Research poll commissioned by the Ontario Convenience Stores Association found that if Toronto voters went to the ballot box today, John Tory would win with support from 39.1% of decided voters, followed by Olivia Chow at 32.7% and Rob Ford at 21.7%."

1. Digging into the latest statistics, a little …
The first thing my local TV will want to say about this is that the "real" Toronto mayoral campaign will not begin until most voters start paying attention, after Labour Day – which falls on the first of September this year (too bad, school kids). The results of the new Nanos Research poll commissioned by the Ontario Convenience Stores Association (mmmm … what on earth is that?) nonetheless seem to me quite striking.
Up to this point John Tory has largely appeared as an also-ran to the main show between Rob Ford on the Rising Old/New Right and Olivia Chow on the Diverse New/Old Left. A Forum Research poll from just this past Wednesday did show that "Rob Ford has seen his approval and electoral chances equal the lowest point noted … Meanwhile John Tory has seen his numbers improve, edging him forward in races where Ford does not compete." But it still placed Olivia Chow at 36% of the decided vote  well ahead of John Tory at 27% and Rob Ford at 26%. The new Nanos poll, sampling opinion from this past Wednesday to Saturday, is putting John Tory more than six points ahead of Olivia Chow, and has him drawing support away from both Chow and Ford supporters, when compared with the Forum poll results from only a little less recently.
Nik Nanos has also argued that his July2—5 poll "to his knowledge … is the first publicly released survey conducted using proper random sampling of land and cell lines with live human beings validating identity … 'These types of survey have the best and most consistent track record in terms of capturing voter opinion,' he wrote." And I am lucky to  have a professional polling advisor in the field who tells me that Nik Nanos is probably right!
At the same time, Forum Research has a not bad track record in its recent political polling at the moment. (As reported on this site just before the June 12 Ontario election : "the final poll from Forum Research is headed 'Liberals to form government in Ontario … Set to win slim majority'" – which is more or less what finally happened, even if there remains some room to quarrel over just what "slim majority" means.) And certainly virtually all the recent polls someone in my position as an ordinary interested voter has seen have so far been putting Olivia Chow as the ultimate winner of any main three-way race.
And then there are the two pieces of evidence that the counterweights editors have brought to my attention – about this site's boutique digital encounters with the recent John Tory scene. Call me crazy, but in their own small ways these pieces of evidence strike me as  minor froth from some pretty aggressive efforts by the John Tory campaign to get out there and shake the bushes. One thing my piece on  "Can John Tory finally win an election as Mayor of Toronto in 2010?" from four years ago shows is that, like others of my sort, in late July of 2010 I was still altogether missing (?in denial about?) the growing new political muscle of Rob Ford. Four years later, are we making the same mistake about John Tory? Are we underestimating the new resolve of the old Red Tory Toronto Lion in Winter – his sheer determination to win an election at last, before he retires to the Bahamas (for the cold weather in Canada at least)?
An ultimate John Tory victory this fall (October 27)Â  does seem to me possible (for further reasons below, among other things). My own guess right now, however, is that it is still a little too early to anoint Mr Tory as the new front runner in the Toronto mayoralty campaign of 2014. If he really has moved into first place, that will be confirmed even by at least some less methodologically rigorous pollsters than Nik Nanos, over the still quite long rest of the hazy lazy summer ahead, and then, more critically, after Labour Day. Meanwhile, if I were involved in Olivia Chow's campaign, I'd be a little worried by these latest Nanos Poll results. And I'm guessing/hoping that someone who actually is involved is starting to think about what to do!
2. The last roundup of John Tory … is even Rob Ford's Crazy Toronto still not quite ready for Mayor Olivia Chow?
As I have a second look at what I wrote some four years ago, in "Can John Tory finally win an election as Mayor of Toronto in 2010?," I am of course properly embarrassed by such retrospective howlers as "the increasingly clear political fact that Rob Ford is a little too rabidly right-wing to defeat 'Slitherman,' in the otherwise quite non-Tory Toronto of 2010."
And I'm guessing that more professional detections of the Ford nation's growing political muscle finally and quite correctly convinced the aspiring Tory campaign of 2010 that the timing would be wrong. (Mr. Tory's ultimate decision not to go ahead was reported in an August 6 update to my July 28 original article.)
On the other hand, I am also struck by the extent to which much of what proved to be the wrong political argument I was vaguely pointing to in the summer of 2010 has suddenly started to seem potentially right at last, in at least the early summer of 2014. (When all sorts of pipe dreams and wild fantasies also dance around in our heads? As in that wonderful 1950s Marilyn Monroe movie about summer in New York City, The Seven Year Itch … but, even so … )
If John Tory does start to move ahead and even lead in the Toronto mayoralty polls (and/or already has started etc, with the Nanos Poll), it will strike me as evidence that "Toronto" in some deep and wide sense is still not quite ready for Mayor Olivia Chow.
For some voters at any rate, there will be  a certain logic to the notion that, if a seriously "progressive conservative" candidate like John Tory is available (as he is for certain this time around, in 2014), then maybe he will be a safer alternative to Rob Ford than the beautiful Olivia (aka Chairman Chow), widow of Jack the Great Socialist Hope (especially in Quebec)?
Moreover, some may well have already started asking themselves, we have just very broadmindedly given the premiership of the province to the first openly gay female holder of that office in history, who is also a card-carrying left Liberal and/or closet New Democrat. Is it altogether wise to, at the same time, put the fate of the city in the hands of even a beautiful Hong Kong schoolteacher's daughter, with some perhaps vague resemblances to Soong May-ling aka Madame Chiang Kai-shek, and a lifelong subscription to the NDP in Canada?
3. Progressive scion of an ancient local establishment
I am immodestly letting myself think that I did not too bad a job sketching a little of the further deep background here in my piece from four years ago. And I'd beg the liberty of just quickly quoting two paragraphs, by way of example :
"John Tory (you may remember) is a scion of an ancient local establishment that stretches all the way back to the 19th century, when a visiting Charles Dickens moaned: 'the rabid Toryism of Toronto is, I speak seriously, appalling.' And it is true enough that one of his current boosters is former rabid right-wing Ontario premier Mike 'the Knife' Harris.
"On the other hand, it is part of Mr. Tory's contemporary attraction that even the likes of the self-confessed local 'political hack in search of a mayoralty candidate," Calgary-raised Liberal (and liberal) Warren Kinsella, are enthused about this latest permutation of his potential candidacy. There is a pinko side to the old Toronto Tory establishment that is vaguely progressive, and reaches out to a wider constituency than either Mike Harris or Stephen Harper. It is one of John Tory's virtues that he is still seen by more than a few Torontonians as personifying this earlier tradition (which has otherwise seemed dead as a doornail lately, even in the old Upper Canada)."
You can of course urge that the "more than a few Torontonians" here is in fact a fading rump of the Old Anglo-Saxon/Anglo-Celtic City of the British Empire, increasingly marginalized in the New Multicultural City of the Global Village, etc, etc. But it is one of both the triumphs and the tragedies of Toronto today that this kind of generalization is not exactly or even usefully true.
John Tory comes from a family that has a long history among the various ruling elites of the old anglophone central Canadian heartland. He is a thoughtfully updated but still unmistakable descendant of the Old Anglo-Saxon/Anglo-Celtic City of the British Empire.
But he is also smart or progressive or whatever-else enough to know that some big part of the future is going to belong to the New Multicultural etc. And people like him have to reach out. And to a big enough extent they do, and have, as the old ruling elites recruit their own new multiculturalism. (Further extended by reaching back to what an earlier generation called the "French and Indian Period.")
4. The Tory legend of Liberal Mitzie Hunter … and the future of Olivia Chow
And so already on the Toronto-centred barbecue and cottage circuit this summer you can hear political junkies talking about how the new provincial Liberal cabinet minister Mitzie Hunter is supporting the Tory Campaign 2014. She was born in Jamaica, and then raised in the old Toronto eastern suburb of Scarborough (like Mike Myers), and then at the University of Toronto, Scarborough Campus. And then she became one of John Tory's business and public service proteges, culminating with her appointment as  CEO of his Civic Action Alliance on Thursday, December 1, 2011.
And then the former leader of the Ontario Progressive Conservative party, John Tory, more or less openly supported the candidacy of his protege Mitzie Hunter, when she ran and won for the Liberals in the provincial riding of Scarborough–Guildwood. And now Minister Hunter, in the new Kathleen Wynne cabinet at Queen's Park, is just doing the right thing, and supporting her mentor's mayoral candidacy with all due reciprocity.
Moreover, John Tory really is quite different from Rob Ford. He is a conservative, in some respects, but he also really is a progressive in other ways. (Or so it seems convenient for many among us to believe these days. And I do think the view has enough truth to count myself.)
I will end these too-long meditations by saying that, whatever may or may not happen to the John Tory campaign over the next few months, I will continue to reserve my one small but important vote on October 27 for Olivia Chow. (If her victory seemed virtually certain, I would probably vote for the intriguing campaign of the jazz saxophonist and world traveller, Richard Underhill. But that doesn't seem like much of a prospect right now, in the first half of July.)
To me Olivia Chow is more about the future of Toronto. She is undeniably a new woman of the New Multicultural City. I am, I suppose, enough of a  descendant of the Old Anglo-Saxon/Anglo-Celtic City of the British Empire to remember a few last blazing rites in my earlier youth. But I was also part of something that wanted more or better. And I was part of the place where more and more people  from all over the world began to gather as I was growing up,  and into my early adulthood. I feel I am now a part of the New Multicultural City myself, through still more diverse channels that we are only beginning to notice. I want to vote most of all for the future, and that still seems to me best approximated by Olivia Chow.
But I suppose I think I have grown up among at least many of those who may be  starting to take John Tory more seriously as well. And my sense as I travel around, on the streets and the public transit system is, in the first place, that the old anglodom still has some significant enough demographic weight – and an even wider influence. And then there's the poignant point that, without even trying, or in yet another fit of absence of mind, the Toronto region's rather cautious old white middle class seems to have embarked on its own multicultural recruitment. Many migrants of the past half century have come because they wanted what was already here, and they have been only too happy to quickly adapt the older habits of mind.
And then again, Toronto today is home to an utterly vast assortment of cultural origins. And one thing we refugees from the old anglodom have learned is that not all peoples from other parts of the world like each other or even get along. To imagine that all current Toronto migrants from other places will be supporting Olivia Chow from Hong Kong is of course absurd. (Another lesson, some might even say, from the wit and wisdom of Rob Ford, who, despite his intermittent "racist" outbursts, has many multicultural followers himself, even now!)
In any case, apologies again for rambling so much. It's been a bit of a strange summer day. As many are in this part of the world. And there is one last thing I want to say I like about my piece from four summers ago, on a second reading today. That's the four Sunshine girls from the old Toronto Tory artifact (surviving fragment?) known as the Toronto Sun, who beautifully illustrate my rambling text. I personally selected and recommended each photograph to the editors. And on that score I still think I was absolutely right. That part of the argument remains entirely impeccable and incontestable. A warm-breezy tribute to the summer, north of the Great Lakes.