Justin Trudeau – what is he?
Mar 25th, 2013 | By
Counterweights Editors
| Category:
In Brief
With some three weeks to go before the Liberal Party of Canada chooses its next leader, there seems little doubt that Justin Trudeau will be the man (or woman, of course, as the case may in theory be : "Joyce Murray and Martha Hall Findlay are fighting over who'll finish second.").
Even those who are quite convinced that Justin Trudeau is no intellectual match for his father, and/or that he lacks substance or any kind of serious qualifications as a student of public policy, seem to concede, when they meet him first hand, that he definitely has the undefinable "charisma," which the great early 20th century German social scientist Max Weber saw as the magic potion of modern democratic politics.
At the moment, no doubt, just what this means for the larger Canadian future is impossible to judge.  On the one hand, we have "Justin Trudeau writes 'Just watch me' when asked if he can beat Stephen Harper" and "Canadian voters may be experiencing seven-year itch with Tories: Hébert." And there is the frequent perception that, while NDP federal leader Thomas Mulcair has done well in the Canadian House of Commons in the so-called nation's capital, he has not yet seriously mobilized any progressive constituency beyond the banks of the Ottawa River.
On the other hand, there are the names Stephane Dion and Michaerl Ignatieff. Just sticking to personal opinions, we liked both federal Liberal leaders in their time. But neither proved capable of doing anything seriously worthwhile for the broader Canadian future, or for the narrower self-interests of the Liberal Party. And it is still too easy to imagine that Justin Trudeau's charismatic magic of spring 2013 will finally reduce to the Dion-Ignatieff model in the fall of 2015.
On the other hand again, there is also the vague prospect that Mr.Mulcair and Mr.Trudeau together will somehow finally conspire (or even coalesce) to give the continuing progressive majority in Canada the voice it ought to have in Ottawa, from coast to coast to coast.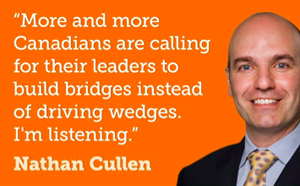 Cynics will stress that both M.Mulcair and M.Trudeau have lately been saying progressive co-operation of this sort will just never happen – "lips that touch liquor will never touch mine."Â  But other cynics will note that Stephen Harper once said, eg, that he would never appoint any non-elected person to the unreformed Senate of Canada. In the real world of Canadian politics, history shows that almost anything can happen, despite what leading politicians may say before the results of the next election are clear. And that may even be the most encouraging thing about the current undeniable charisma of Justin Trudeau (and his oh-so-charming wife, Ms Sophie Gregoire). The charismatic M. Trudeau and the substantial M. Mulcair may finally prove able to do things together, that neither can do on his own!