A historic by-election in Ontario .. or not????
Sep 7th, 2012 | By
Citizen X
| Category:
In Brief
Not too long ago the estimable Graham Murray, publisher of the Ontario government and politics newsletter Inside Queen's Park, circulated an excellent paper on the "46 Ontario by-elections from 1977-2010."Â  It concluded that these contests "did more to maintain the status quo than to transform it … [m]ost of the seats contested (32 / 69%) did not change hands."
If Premier McGuinty's staff had studied this document more assiduously, they might have saved their boss the embarrassment – to say nothing of wasted time and energy – involved in the September 6, 2012 by-election in Kitchener-Waterloo.  (See, eg, "NDP take Kitchener-Waterloo, block Liberal majority" ; "Ontario NDP's by-election win leaves majority outside Liberals' grasp" ; "NDP take Kitchener-Waterloo, block Liberal majority as government holds Vaughan" ; "Cohn: NDP win in Kitchener-Waterloo byelection leaves McGuinty humbled, Hudak humiliated.")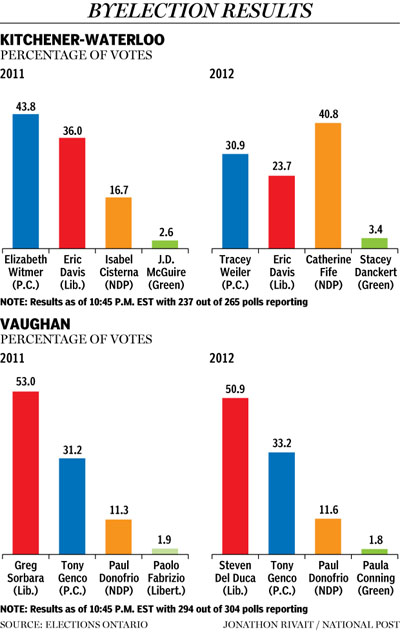 One thing the Kitchener-Waterloo result does (New Democrat Catherine Fife 40.2%, Tory Tracey Weiler 31.5%, and Liberal Eric Davis 24%, with 264 of 265 polls reporting) is confirm the relative technical proficiency of the September 4 Forum Research poll, which had put Ms Fife at a then surprising 42%, with Ms Weiler and Mr Davis tied at 26%. (So that, in my own case, eg, the next time I see a surprising Forum Research poll like this, I'll probably believe it.)
Last night's results more generally also helped me understand just why former Liberal mastermind Greg Sorbara had resigned when he did, creating a need for another by-election in Vaughan, which the Liberals have managed to retain quite convincingly. The September 6 Liberal win in Vaughan at least makes the Liberal failure to take advantage of the oh-so-tidily engineered Kitchener-Waterloo by-election at least somewhat less embarrassing.
At the same time, there also seems no getting away from the conclusion that the surprising NDP victory in Kitchener-Waterloo suggests Premier McGuinty's strategy with regard to the Ontario teachers' wage freeze bill has been considerably less than brilliant.
Martin Regg Cohn at the Toronto Star has also suggested that : "Now, Ontario politics is about to get more interesting – for us, and all three party leaders." I am somewhat less convinced about this myself (though, no doubt, a lot here depends on just what you mean by "interesting").
It may well be that the "Liberal Conservative détente" Mr Cohn had speculated about last spring, and that had finally seemed to settle in just a few weeks ago, with Conservative leader Tim Hudak's support for the teachers' wage freeze bill, will finally prove to be very short-lived. And, arguably, NDP leader Andrea Horwath's hand as an alternative partner for the McGuinty minority government has been greatly strengthened by her party's win in Kitchener-Waterloo.
On the other hand, it would seem that for any serious revival of some new round of the sort of Liberal-NDP co-operation which finally got this year's budget through the Legislative Assembly, Ms Horwath would have to find some fresh enthusiasm for the priorities introduced into Ontario politics by the nicely engineered "Don of a new era" from much earlier this year. And Ms. Horwath's earlier view that "Drummond was but 'one voice' in the province and his singular focus on service cuts was out of step with every day Ontarians" appears pretty much intact. A week is a long time in politics, of course. But the most obvious conclusion the September 6, 2012 by-election result in Kitchener-Waterloo suggests to me at the moment is that there will probably be another general election in Ontario in the not too distant future! (Of course again, on yet another hand, I could also be quite wrong …???? Though I don't see how right now.)
CWEDITORS' UPDATE: Our friends on the front lines of the NDP campaign in Kitchener-Waterloo have stressed how big a role the  the quality of Catherine Fife as a candidate played in the NDP win. Ms Fife had managed only a third place finish when she ran in this riding for the NDP in 2007. But she has apparently seasoned a lot in the last five years (helped along by her career as a "a high-profile public school board trustee since 2003") . She has become a worthy successor to Elizabeth Witmer, whose long record as Conservative MPP  for Kitchener-Waterloo had a lot to do with her personal attractions as well.  Emmett Macfarlane, assistant professor of political science at the University of Waterloo, has also stressed the importance of "a pretty positive campaign by Catherine Fife."  And Ms Fife herself had earlier argued that "her reputation within her own party as a moderate, who 'understands that in order to further our social policy goals, we need to have a strong economy,' will do much to erode the jitters of a riding that has never elected an orange MPP ." She is no doubt someone to keep an eye on in Ontario politics today.