Did I bump into Mitt Romney and/or his dog in Grand Bend, Ontario?
Dec 12th, 2011 | By
Citizen X
| Category:
In Brief
I see from an article in yesterday's Toronto Star that Mitt Romney, current contender for the 2012 Republican presidential nomination among the Yankees to the south of us, "made the 12-hour drive from Boston to Grand Bend [Ontario] with the family dog strapped to the roof of his car," in the summer of 1983.
This incident began to cause something of a stir in the USA as long ago as 2007, apparently, because it allegedly hints at Mr. Romney's cruelty to animals. (And who knows what someone who is cruel to animals is prepared to do to human beings, etc, etc?)
It caught my attention because I was actually in Grand Bend during the summer of 1983 – and other summers before and after that. And it suddenly strikes me that, without quite recognizing either sentient being, I might have very easily walked by either Mr. Romney and/or his dog, or both – on my way, say, to purchasing a paper cup of the excellent fresh cut fries at The Cheryl Ann sidewalk stand on the Main Street drag.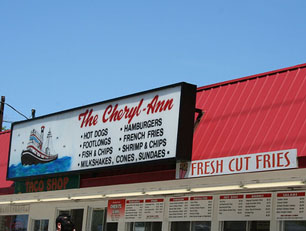 I see too from another recent newspaper article ("Romney's Grand Bend connection" in the Sarnia Observer) that the Romney family has had a "white-sided lakefront cottage at Beach O' Pines, a mostly American enclave" in the beautiful Grand Bend beach region on Lake Huron, ever since Mitt's father George built the place "shortly before becoming president of American Motors from 1954 to 1963."
Some may remember too that George Romney was "Michigan governor from 1964 to 1969" – a precedent for his son Mitt's subsequent political career, no doubt. Grand Bend is quite accessible from Michigan – via the Bluewater Bridge between Port Huron, Michigan and Sarnia, Ontario – and its Lake Huron beach vacation paradise has long attracted Michigan residents.
For some reason Grand Bend has similarly long had various enclaves of politicians – Canadian as well as American. Someone I have seen and actually recognized at grocery stores and whatnot there is the former Ontario Treasurer W. Darcy McKeough, aka the Duke of Kent (for the old Kent County in Ontario, whose capital city of Chatham once hosted the head office of McKeough Supply Inc., which was sold to "US-owned Emco Corporation" some three years ago now). Mr. McKeough's service to the people of Southwestern Ontario is also commemorated in the "W. Darcy McKeough Floodway … the largest flood diversion project in Ontario. The floodway was completed in 1984 to reduce the threat of flooding in the Town of Wallaceburg."
Personally, I hope that Mitt Romney does not win the 2012 Republican presidential nomination. And if this hope is disappointed, I altogether hope (and even fervently believe) that he will be comfortably enough defeated by Barack Obama – who seems to me a much better President of the USA than his current poll numbers might lead you to imagine.
Still, it is always interesting for we ordinary members of the great unwashed 99% – in both Canada and the United States, and the rest of the global village too no doubt – to think that, at some point we didn't even know about at the time, we actually have brushed up against the splendour of the other 1%. (And, assuming Mitt Romney still periodically makes the trek to the family cottage at Beach O' Pines in Grand Bend, one thing I do wonder about is how does he find getting across the Canada-US border these days – compared to what it was like when he was 5 years old, or even as recently as the summer of 1983?)