This Georgia has Vera from Vancouver on its mind ..
Jul 31st, 2010 | By
Dominic Berry
| Category:
In Brief
[UPDATED AUGUST 4: SEE BELOW]. Just as we awake in Canada to such improbable headlines as "Census clamour wakes sleeping nation," yet another Vancouver expatriate (remember Edison Chen?) has arisen in a faraway region of the global village to provide relief — conceivably comic and perhaps tragic too?
Canadians are bound to think that the Vancouver Sun has summarized the story best: "A racy photograph of the Georgian economy minister, said to be taken at a Vancouver strip club, is creating international media furore … Vera Kobalia, 28, who lived in Vancouver and was educated at BCIT [British Columbia Institute of Technology], is pictured posing salaciously with a group of scantily clad women … The Russian media has sprung forward, criticizing President Mikheil Saakashvili for appointing 'strippers' to his cabinet … The UK's Independent newspaper is reporting that Saakashvili appointed the brunette beauty to the ministerial post after meeting her during his trip to Vancouver in February during the Winter Olympics."
An account from a Georgian source, just over a month ago, when Ms. Kobalia became economy minister, strikes rather different notes: "Economy Minister, Zurab Pololikashvili, was replaced by Vera Kobalia, a newcomer in the government … Vera Kobalia, who will turn 29 this August, has lived in Canada until recently, where her family, displaced from Abkhazia as a result of armed conflict in early 90s, emigrated fifteen years ago … Until late last year Kobalia worked for Vancouver-based European Breads Bakery, established by her father in 2001 … After return to Georgia she co-established Coalition for Justice, a non-governmental organization with a declared goal to protect rights of IDPs [Internally Displaced Persons] in Georgia and to increase international awareness about their problems. The NGO and personally Kobalia have been gaining significant publicity recently."
This of course is the other Georgia — not the red-dirt homeland of Jimmy Carter in the USA. It is a "mountainous country … nearly twice as large as Switzerland," with a declining population currently estimated by the CIA World Factbook at just over 4.6 million  (considerably less, eg, than the Greater Toronto Area). It is bounded on the west by the Black Sea, on the north and east by Russia, and on the south by Turkey, Armenia, and Azerbaijan.
The "revolution of roses" six-and-a-half years later ????
It is not easy to know just what to make of either the former Vancouverite Vera Kobalia or her native Georgia lately. Georgia used to be part of the Soviet Union. Josef Stalin, in fact, was from Georgia. A statue of him in his Georgian hometown of Gori has recently been removed — at almost the same time that Vera Kobalia became the new economy minister. According to President Mikheil Saakashvil: "A memorial to Stalin has no place in the Georgia of the 21st century." ( A "statue commemorating the victims of Georgia's short and disastrous war with Russia in 2008" will apparently "take the Stalin statue's place.")
Like other similar parts of the old Soviet Union — including neighbouring  Armenia and Azerbaijan — Georgia became independent with the collapse of the Soviet Union in the early 1990s. But independence proved far from an unqualified good, and brought many fresh problems with it.  The "armed conflict in early 90s" in the Abkhazia region, which brought Vera Kobalia's family to Vancouver is one case in point. The ongoing problems of IDPs or Internally Displaced Persons, which helped bring Vera back to Georgia earlier this year (on one version of the story at least) are another. Extensive governmental corruption is yet another.
At the same time, the current president Mikheil Saakashvil was the leader of the so-called "revolution of roses" on 22 November 2003. And there are sides of his still comparatively new and ostensibly democratizing, liberalizing, and westernizing regime that at least appear forward-looking and progressive Under Western Eyes. The deep background here is still helpfully enough outlined in depth in the now more than six-year-old London Review of Books article, "After the Revolution … Neal Ascherson reports from Georgia."
As Ascherson reported in March 2004: "Mikheil Saakashvili is 36 years old, dark and already a bit joufflu, wildly talkative and often indiscreet. His own rhetoric is ebullient. He will break down Georgia's monstrous corruption, bring order to the chaos of state finances, set the nation on a course towards the European Union, get rid of the Russian military bases, deal (we don't yet know how) with the ten-year-old secession of Abkhazia. At the presidential election on 4 January (clean, barring irregularities described by foreign observers as 'frequent but not systematic'), he got 97 per cent of the votes on an 83 per cent turnout. Everybody wants to share his optimism, and to believe in their own vaulting expectations. But Georgians have seen a lot of false dawns."
More than six years later Saakashvili is still president. But there are those who will say that another false dawn has been added to the traditional list. See, eg, from a recent Russian source: "Georgia's Saakashvili trying to cling onto power — opposition leader." Such related recent headlines from Russian sources as "Georgia's Saakashvili Labels Russia as Imperialist Enemy" and "Saakashvili prepares for war with Russia" suggest just how difficult life with the new Russia on your northern border can still be, for former Soviet Socialist Republics that have at least formally gained a new independence from the fall of the old Soviet Union.
On the other hand again, the "UK's Independent newspaper … reporting that Saakashvili appointed the brunette beauty," Vera Kobalia, as economy minister "after meeting her during his trip to Vancouver in February during the Winter Olympics" may make it seem that the once progressive Georgian president has finally fallen into the same bad habits as the Silvio Berlusconi who appointed his former showgirl girlfriend Mara Carfagna Italian Minister for Equal Opportunities. But some will ask why would Mikheil Saakashvili even want to do such a thing? His own wife, the "Dutch-born beauty Sandra Roelofs" was number one on a 2009 list of "The 5 most shaggable women in world politics and how to seduce them."  (And Mara Carfagna herself was only number five on the same list.)
Is the  former Vancouverite Vera Kobalia for real in Georgia today?
The case of the soon-to-be-29-year-old Vera herself may be even harder to judge. To start with the positive side, see for yourself: the allegedly offensive photograph of her "posing salaciously with a group of scantily clad women" (the first image above) is hardly pornographic or even more than mildly erotic.
Moreover, although "Georgian and Russian newspapers opposed to Mr. Saakashvili tried to insinuate that the photograph showed Ms. Kobalia dancing with her sister Nina and an unidentified friend in Vancouver during the Georgian president's visit to that city for the Winter Olympics," Vera herself has claimed "that the photograph was taken nearly a decade ago during a vacation in Florida."  And a New York Times blog seems to lend credence to this story.
The New York Times has also noted that the The Independent, which has reported "Saakashvili appointed the brunette beauty to the ministerial post after meeting her during his trip to Vancouver in February during the Winter Olympics," is "a British newspaper now owned by a Russian oligarch."
Another criticism of Vera has come from the Vancouver Sun itself: "According to her official biography on a Georgian government website, Kobalia worked as a television producer in Vancouver for Global TV and CBC. However, no one at the Global TV newsroom could recall the name, and Petra Mehner at Global's Human Resources department said there is no record of her having been on the payroll … The website also says Kobalia graduated from BCIT [British Columbia Institute of Technology] in 2004, where she studied business administration and informational technologies. BCIT would not confirm or deny whether she graduated from a program, saying it is policy to protect students' privacy."
Ms. Kobalia's response to all this has been reported on a Georgian website: "'I understand it very well, that Russia, the Russian authorities and those who support the Russian authorities do not want the Georgian economy to develop and do not want Georgia to become a strong country. They are wrong if they think that they will obstruct me doing my job by disseminating disinformation and rumors of this type …  Yes, of course I've worked' in Global TV, she said."
There can be no doubt that Vera Kobalia's qualifications for serving as Georgia's economy minister are not at all vast. As the same Georgian website notes: "President Saakashvili's decision to appoint Kobalia, who will turn 29 in August, as the Economy Minister was source of controversy with critics questioning her experience."
According to a more caustic Georgian critic, Gia Khukhashvili: "The business of the Government is to create a healthy and conducive environment for business and economic development, and issues like what time businessmen get up at are not their business, especially when such remarks are made by a Minister of Economy who does not understand what economics is."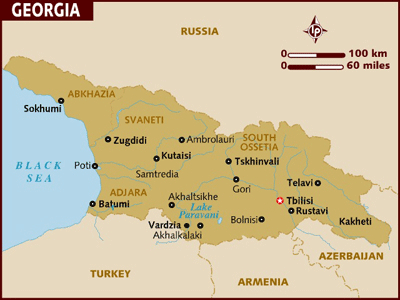 We must all come to our own free and democratic judgments in such global village matters, no doubt. Meanwhile, giving the Georgian future the befit of the doubt, Vera Kobalia's father Otari Kobalia, who started the Vancouver bakery where she without any ambiguity gained her most serious practical business experience, may be reasonably enough assigned the last words, for the time being: "Vera has always been directed to something big, to change the world … She is very well-educated, she reads a lot of books, she is involved in the environment. Georgia needs a person who will be western-oriented and pushes always in western directions and new kinds of development …Some people want to put Vera in mud … These reporters in Russia, they won't understand how to build democracy. They have to obey laws and respect others, not to create garbage."
UPDATE AUGUST 4: I have now had a chance to look a bit hastily into Andor's tip about the "fashinistas blogs before Nina takes down some pictures of hers at the Mishiko's palace" (see his intriguing comment below about "Vera's little baby sister, the vixen").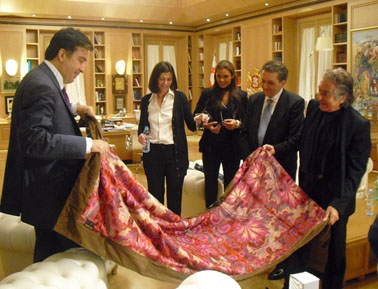 I am guessing this is at least one website he has in mind — "NONCHALANT … Fashion with a passion. For those who love style breathe vouge and scream couture. This is a fabulous place to see hot new trends and exchange ideas. Life is to make a statement. Do it Nonchalantly … Posted by Nina Kobalia." And I'm guessing too that at least one of the photographs from this website I've included in this update is among "some pictures of hers at the Mishiko's palace." (What Andor calls "Mishiko," I take it, is some form of diminutive for Georgian President Mikheil Saakashvili — who appears in one of the new photographs in this update as well, admiring a blanket presented by the visiting Roberto Cavalli.)
While looking into all this I was also reminded of two other strands in this story, which I did not delve into in my account above (for lack of space, among other things, say).
First, there is an oil angle to current domestic and international conflicts in Georgia.  See, eg, the websites "Georgia — Oil & Gas Politics" and "In the Caucasus, It's About Oil." Without getting into details, it also seems fair enough to say that, eg, both Russia and the United States (and its allies) have at least some conflicting oil interests in Georgia.
Second, the flickr site on which various controversial photos of Vera and especially Nina were apparently first posted, also contains a photo of Nina with John McCain, who somewhat famously told Georgian President Mikheil Saakashvili, during the 2008 Russia-Georgia conflict (and the 2008 US presidential campaign) "Today, We Are All Georgians." (For some reason I certainly do not understand we were unable to post this photo on our site here, as we usually can. But, as of the time of writing at any rate, if you CLICK HERE you should see it. And note the accompanying notation "This photo was taken on July 19, 2010." For other photos in the collection see "mdesad's photostream." For further discussion of Georgia and John McCain, see "Saakashvili's erratic behaviour threatening US commitment to Georgia.")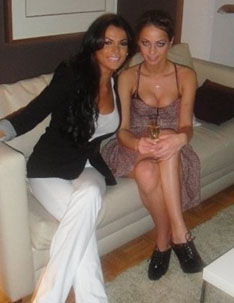 So … Andor (again see his comment below — and my initial response) has, I think, passed along a helpful hint in his urgings about "Vera's little baby sister, the vixen." And that's why I've taken the time for at least a minor second cut at things in this update. My guess too would be that there may well be some kind of sexual hanky panky going on in all this, as there often enough is in politics in all parts of the global village (Henry Kissinger's "aphrodisiac of power" and all that). But it still seems to me that Mishiko's Dutch wife is hotter-looking than either Vera or Nina. And there probably are vaguely more serious plots afoot as well. Who knows? The real role of the Kobalia sisters from Vancouver in Georgia today may even finally have something to do with American oil interests and John McCain. (George Soros can also be worked into the plot, as I recall reading somewhere.) Or not, of course. But it is another intriguing speculation. And if Andor can shed any further light on the subject, I and I'm sure all the counterweights editors would be pleased to hear from him again! D.B.