Happy 4th of July USA today 2010 .. still crazy after all these years ..
Jul 4th, 2010 | By
Randall White
| Category:
In Brief
In what at least ought to be his classic late 1940s essay, "Great Britain, the United States and Canada," Canada's one near-great historian Harold Innis wrote: "The United States has been described by John Gunther as 'the greatest, craziest, most dangerous, least stable, most spectacular, least grown up and most powerful and magnificent nation ever known.' Her attitude reminds one of the fanatic fear of mice shown by elephants."
Some 60 years later, on the 4th of July, 2010, much of this Innis-Gunther judgment still rings true enough, even in a new global village where the ancient spectacular civilizations of China and India are taking out new leases on life.
There were hints of what the early 21st century would bring in the late 1940s. "It may be," George Orwell wrote in 1947, "that Europe is finished and that in the long run some better form of society will arise in India or China."  Orwell nonetheless believed it was "only in Europe, if anywhere, that democratic Socialism could be made a reality."
What about the United States? In 1947 Orwell felt that: "In North America the masses are contented with capitalism, and one cannot tell what turn they will take when capitalism begins to collapse." Observers of the recent G20 meeting in 2010 might be pardoned for thinking that Europe and America have recently switched sides. The Europe of Berlusconi, Cameron, Merkel, and Sarkozy appears at any rate slightly more mindlessly "capitalist" than the America of Barack Obama (if not the Mexico of Felipe Calderon or the Canada of Stephen Harper).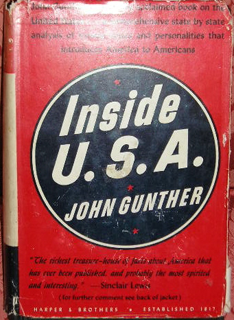 On the other hand, there is still more than a little evidence for the persistence of what John Gunther called "the greatest, craziest …  least stable …  least grown up … nation" in his still "astonishing tour de force" of 1946, Inside USA. A July 2, 2010 story in the New York Post (tweeted, or is it re-tweeted?, at least 34 times by other sources) frets about the recent survey finding that "26 percent of Americans have no clue what country US fought to gain its independence."
Some will want to link this to the recent Gallup poll finding that: "One in three Americans (32%) now say they are 'extremely patriotic,' up from 26% in 2005 and 19% in 1999 … At least 7 in 10 Americans since 2002 have consistently said they are 'extremely' or 'very' patriotic; 74% say so this year. This is up slightly since the 1990s." You might say: 74% are either very or extremely patriotic, and 26% "have no clue what country US fought to gain its independence." If you add these two numbers together you get 100%. And the 26% who have no clue are just the 26% who are not either very or extremely patriotic in 2010.
Yet, as Canadians know deep in the pits of their stomachs, it is part of what still makes the USA today such a "dangerous … spectacular …  powerful and magnificent nation" that perhaps the largest portion of the  26% who "have no clue what country US fought to gain its independence" are actually found among the 74% who are either extremely or very patriotic.
And, as evidence that the spirit of George Orwell is unusually alive in the USA today, see the reasonable conservative David Brooks's piece "Such, Such Are His Joys" in the July 1, 2010 New York Times. The title is a play on Orwell's classic schooldays' confession, "Such, Such Were the Joys."  But Brooks's piece is a warm and enthusiastic review of the recent memoir by Christopher Hitchens — the contemporary English political writer whose "model is Orwell," but who now makes his home in the United States, for which he has developed a "strong and growing affection." (And Brooks characteristically ends with the hope "that Hitchens [will] make a speedy recovery" from his recently announced cancer of the esophagus.)
* * * *
As evidence that some currents in the USA today are also more on the side of Orwell in the late 1940s than the dominant currents of 2010 in Orwell's own "Country Right or Left," see another July 1 New York Times piece, by Paul Krugman. Here, the Nobel Prize winning economist carries on with his latest crusade: "Yes, America has long-run budget problems, but what we do on stimulus over the next couple of years has almost no bearing on our ability to deal with these long-run problems."
Where, some might ask, is the contemporary European voice to match Krugman's call from the moderate progressive left (granting that virtually no serious person of influence nowadays is talking about what Orwell called "democratic Socialism" some two generations ago)? And Krugman and others like him are pressing on, even though the path is not easy. As Gallup also reported late last month: "Conservatives have maintained their leading position among US ideological groups in the first half of 2010. Gallup finds 42% of Americans describing themselves as conservative; 35% are moderate and 20% are liberal."
Similarly, some in America today are actually listening to Krugman's kind of voice (moderate-liberal or even just moderate-sensible?). See, eg, "Obama Promotes Clean Energy Economy in Weekly Address … In his weekly address Saturday, President Obama touted almost $2 billion in new investments in two US solar energy companies" ; "LA's library cuts don't add up" ; and "Should BP officials go to jail over pattern of unsafe practices? … Survivors of 2005 explosion in Texas City say enough is enough."
And of course, then again, there have been some appalling recent decisions by a US Supreme Court with a slender majority of right-wing appointees, after too many years of conservatives in the White House, starting with Ronald Reagan in the 1980s. But the progressive tradition in America is resilient — and it has not altogether forgotten how to fight back. See "Tough gun-control ordinance is passed in Chicago … A city measure that restricts the use, sale and transport of firearms is approved after a Supreme Court ruling extended handgun rights."
It no doubt remains true that "Gulf Coast is expecting a glum Fourth of July." And who can doubt that this applies to many other parts of the USA today as well. America is being tested in the early 21st century — as it has so often been in its still quite slender past, which at least 26% of Americans know so little about. (For an example of current troubles in the largest Golden State of California, see "Appeals court affirms Schwarzenegger's bid to cut state workers' pay.")
At the same time, diversity has always been a part of the American experience. No matter what your point of view, for everything in one or another place that you dislike, there is always something in one or another place that you like, if you just look hard enough. Or, as the merely interesting Canadian historian Frank Underhill wrote many years ago: "The thing which is most impressive to anyone who really tries to make himself acquainted with American civilization is the extraordinary variety of American cultural expression, and the extraordinary variety of self-criticism within the American community."
In 2010, say whatever else you like: it is still a vast achievement of American civilization that it elected Barack Obama President of the United States of America in 2008. Kathleen Parker in the Washington Post has got herself in some trouble over her June 30, 2010 article "Obama: Our first female president." (See, eg, her "Following up on 'the first female president'," dated Sunday, July 4.) And I think myself that all this kind of talk is just too clever by half.
There can be no doubt Obama's approval ratings have declined dramatically since his inauguration — from just under 70% in February 2009 to 47% today, on the Gallup reading, nation-wide. But along with his higher approval among females than males (hello Ms Parker), there is also an apparent direct relation between your age and your approval of President Obama. The younger you are, the more likely you are to approve of him. And in this and probably various other senses too, the future is on his side.
Canadians will note as well that President Obama remains more popular in Canada than in the United States. He apparently quipped to Governor General Michaelle Jean, when he paid his first state visit to Ottawa some time ago, that if things got too bad for him in the United States he might have to move to Canada. And many Canadians would no doubt be happy if he did.
On the other hand, it is almost certainly the case that there is less chance of Canada's ever actually becoming part of the United States of America in any formal sense nowadays than there has ever been before — since the birth of the United States (without Canada, despite the efforts of Benjamin Franklin and a few other emissaries) back in the late 18th century.
But by one of the strange ironies that make history so interesting, the clearer it has become that the United States and Canada are to remain forever apart, politically and constitutionally, the closer Canadians have become to Americans in almost every other way imaginable.
And so it is with some warmth and enthusiasm of our own — just three days after the Canada Day on which we increasingly celebrate our Canadian independence (despite the looking-backwards appearance of Queen Elizabeth II in various parts of the true north strong and free this year) — we wish our brothers and sisters south of the still somewhat undefended and at least un-walled northern border a very happy 4th of July, 2010.